Bible Verses about 'Their'
«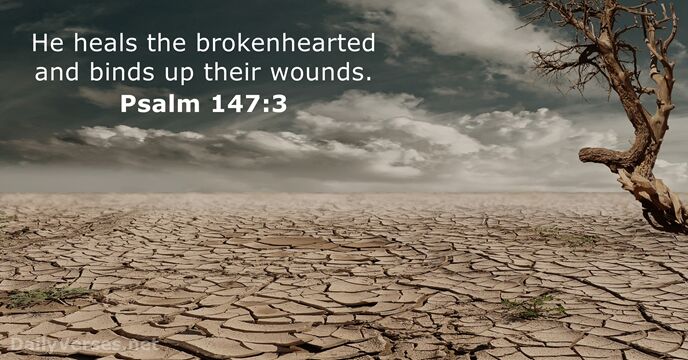 »
For I will forgive their wickedness
and will remember their sins no more.

In this same way, husbands ought to love their wives as their own bodies. He who loves his wife loves himself.

He heals the brokenhearted
and binds up their wounds.

If my people, who are called by my name, will humble themselves and pray and seek my face and turn from their wicked ways, then I will hear from heaven, and I will forgive their sin and will heal their land.

After he said this, he was taken up before their very eyes, and a cloud hid him from their sight.

In their hearts humans plan their course,
but the L

ord

establishes their steps.

When you fast, do not look somber as the hypocrites do, for they disfigure their faces to show others they are fasting. Truly I tell you, they have received their reward in full.

Two are better than one,
because they have a good return for their labor.
The eyes of the L

ord

are on the righteous,
and his ears are attentive to their cry.
It was not by their sword that they won the land,
nor did their arm bring them victory;
it was your right hand, your arm,
and the light of your face, for you loved them.
Children's children are a crown to the aged,
and parents are the pride of their children.

But if you do not forgive others their sins, your Father will not forgive your sins.

So after they had fasted and prayed, they placed their hands on them and sent them off.

She will give birth to a son, and you are to give him the name Jesus, because he will save his people from their sins.

Oh, that their hearts would be inclined to fear me and keep all my commands always, so that it might go well with them and their children forever!

And when you pray, do not keep on babbling like pagans, for they think they will be heard because of their many words.

He sent out his word and healed them;
he rescued them from the grave.
As goods increase,
so do those who consume them.
And what benefit are they to the owners
except to feast their eyes on them?

Whoever finds their life will lose it, and whoever loses their life for my sake will find it.

Those who guard their lips preserve their lives,
but those who speak rashly will come to ruin.

For if you forgive other people when they sin against you, your heavenly Father will also forgive you.

For whoever wants to save their life will lose it, but whoever loses their life for me will save it.

Blessed are those who keep his statutes
and seek him with all their heart.
Whoever keeps commandments keeps their life,
but whoever shows contempt for their ways will die.

Every day they continued to meet together in the temple courts. They broke bread in their homes and ate together with glad and sincere hearts, praising God and enjoying the favor of all the people. And the Lord added to their number daily those who were being saved.
The prudent see danger and take refuge, but the simple keep going and pay the penalty.
Personal Bible reading plan
Create an account to configure your Bible reading plan and you will see your progress and the next chapter to read here!
Read more...