38 Versículos de la Biblia sobre la Fuerza
«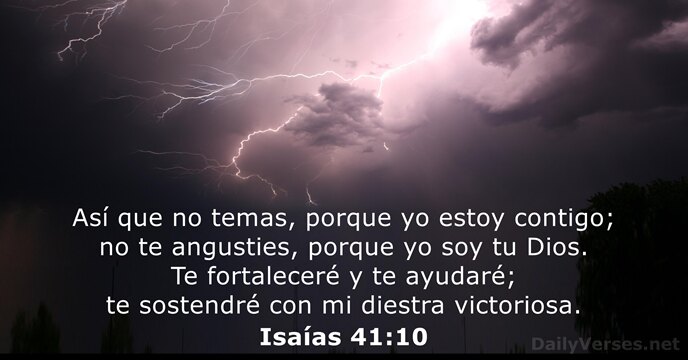 »
Así que no temas, porque yo estoy contigo; no te angusties, porque yo soy tu Dios. Te fortaleceré y te ayudaré; te sostendré con mi diestra victoriosa.

So do not fear, for I am with you; do not be dismayed, for I am your God. I will strengthen you and help you; I will uphold you with my righteous right hand.

Pero los que confían en el S

eñor

renovarán sus fuerzas; volarán como las águilas: correrán y no se fatigarán, caminarán y no se cansarán.
But those who hope in the L

ord

will renew their strength. They will soar on wings like eagles; they will run and not grow weary, they will walk and not be faint.

Podrán desfallecer mi cuerpo y mi espíritu, pero Dios fortalece mi corazón; él es mi herencia eterna.

My flesh and my heart may fail, but God is the strength of my heart and my portion forever.

Todo lo puedo en Cristo que me fortalece.

I can do all this through him who gives me strength.

Él fortalece al cansado y acrecienta las fuerzas del débil.

He gives strength to the weary and increases the power of the weak.

Por eso me regocijo en debilidades, insultos, privaciones, persecuciones y dificultades que sufro por Cristo; porque cuando soy débil, entonces soy fuerte.

That is why, for Christ's sake, I delight in weaknesses, in insults, in hardships, in persecutions, in difficulties. For when I am weak, then I am strong.

Pues Dios no nos ha dado un espíritu de timidez, sino de poder, de amor y de dominio propio.

For the Spirit God gave us does not make us timid, but gives us power, love and self-discipline.

¡Cuánto te amo, S

eñor

, fuerza mía! El S

eñor

es mi roca, mi amparo, mi libertador; es mi Dios, el peñasco en que me refugio. Es mi escudo, el poder que me salva, ¡mi más alto escondite!
I love you, L

ord

, my strength. The L

ord

is my rock, my fortress and my deliverer; my God is my rock, in whom I take refuge, my shield and the horn of my salvation, my stronghold.

Pero el Señor es fiel, y él los fortalecerá y los protegerá del maligno.

But the Lord is faithful, and he will strengthen you and protect you from the evil one.

¡Refúgiense en el S

eñor

y en su fuerza, busquen siempre su presencia!
Look to the L

ord

and his strength; seek his face always.

Manténganse alerta; permanezcan firmes en la fe; sean valientes y fuertes.

Be on your guard; stand firm in the faith; be courageous; be strong.

Pero yo le cantaré a tu poder, y por la mañana alabaré tu amor; porque tú eres mi protector, mi refugio en momentos de angustia.

But I will sing of your strength, in the morning I will sing of your love; for you are my fortress, my refuge in times of trouble.

¡Ah, S

eñor

mi Dios! Tú, con tu gran fuerza y tu brazo poderoso, has hecho los cielos y la tierra. Para ti no hay nada imposible.
Ah, Sovereign L

ord

, you have made the heavens and the earth by your great power and outstretched arm. Nothing is too hard for you.
El S

eñor

omnipotente es mi fuerza; da a mis pies la ligereza de una gacela y me hace caminar por las alturas.
The Sovereign L

ord

is my strength; he makes my feet like the feet of a deer, he enables me to tread on the heights.

Por último, fortalézcanse con el gran poder del Señor.

Finally, be strong in the Lord and in his mighty power.

El S

eñor

es mi fuerza y mi escudo; mi corazón en él confía; de él recibo ayuda. Mi corazón salta de alegría, y con cánticos le daré gracias.
The L

ord

is my strength and my shield; my heart trusts in him, and he helps me. My heart leaps for joy, and with my song I praise him.

Ciertamente, la palabra de Dios es viva y poderosa, y más cortante que cualquier espada de dos filos. Penetra hasta lo más profundo del alma y del espíritu, hasta la médula de los huesos, y juzga los pensamientos y las intenciones del corazón.

For the word of God is alive and active. Sharper than any double-edged sword, it penetrates even to dividing soul and spirit, joints and marrow; it judges the thoughts and attitudes of the heart.

Tuyos son, S

eñor

, la grandeza y el poder, la gloria, la victoria y la majestad. Tuyo es todo cuanto hay en el cielo y en la tierra. Tuyo también es el reino, y tú estás por encima de todo.
Yours, L

ord

, is the greatness and the power and the glory and the majesty and the splendor, for everything in heaven and earth is yours. Yours, L

ord

, is the kingdom; you are exalted as head over all.

Al que puede hacer muchísimo más que todo lo que podamos imaginarnos o pedir, por el poder que obra eficazmente en nosotros, ¡a él sea la gloria en la iglesia y en Cristo Jesús por todas las generaciones, por los siglos de los siglos! Amén.

Now to him who is able to do immeasurably more than all we ask or imagine, according to his power that is at work within us, to him be glory in the church and in Christ Jesus throughout all generations, for ever and ever! Amen.

Ama al Señor tu Dios con todo tu corazón, con toda tu alma, con toda tu mente y con todas tus fuerzas.

Love the Lord your God with all your heart and with all your soul and with all your mind and with all your strength.

Así que el ángel me dijo: «Esta es la palabra del S

eñor

para Zorobabel:» "No será por la fuerza ni por ningún poder, sino por mi Espíritu —dice el S

eñor

Todopoderoso—."
So he said to me, "This is the word of the L

ord

to Zerubbabel: 'Not by might nor by power, but by my Spirit,' says the L

ord

Almighty."

Me explico: El mensaje de la cruz es una locura para los que se pierden; en cambio, para los que se salvan, es decir, para nosotros, este mensaje es el poder de Dios.

For the message of the cross is foolishness to those who are perishing, but to us who are being saved it is the power of God.

¿Quién es Dios, si no el S

eñor

? ¿Quién es la roca, si no nuestro Dios?
For who is God besides the L

ord

? And who is the Rock except our God?

Porque no fue su espada la que conquistó la tierra, ni fue su brazo el que les dio la victoria: fue tu brazo, tu mano derecha; fue la luz de tu rostro, porque tú los amabas.

It was not by their sword that they won the land, nor did their arm bring them victory; it was your right hand, your arm, and the light of your face, for you loved them.

Porque desde la creación del mundo las cualidades invisibles de Dios, es decir, su eterno poder y su naturaleza divina, se perciben claramente a través de lo que él creó, de modo que nadie tiene excusa.

For since the creation of the world God's invisible qualities—his eternal power and divine nature—have been clearly seen, being understood from what has been made, so that people are without excuse.
El S

eñor

es mi pastor, nada me falta;
en verdes pastos me hace descansar.
Junto a tranquilas aguas me conduce.
Todos ustedes son hijos de Dios mediante la fe en Cristo Jesús, porque todos los que han sido bautizados en Cristo se han revestido de Cristo.
El S

eñor

es mi pastor, nada me falta; en verdes pastos me hace descansar. Junto a tranquilas aguas me conduce.
Plan de lectura de la Biblia
Registrar y configurar su plan de lectura de la Biblia que desea ver su progreso y el siguiente capítulo para leer aquí!