Bible Verses about Goodness
«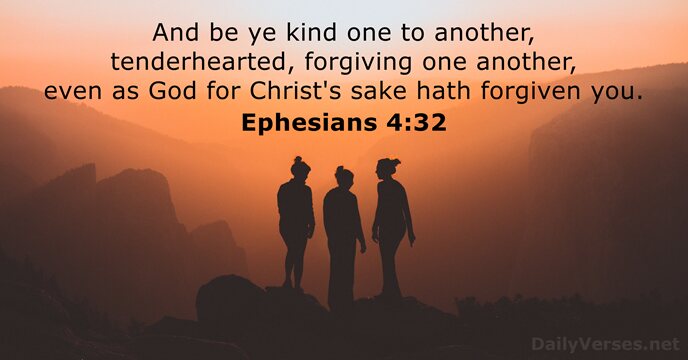 »
And be ye kind one to another, tenderhearted, forgiving one another, even as God for Christ's sake hath forgiven you.

Wees goed en hartelijk voor elkaar. En vergeef elkaar. Want God heeft ook jullie fouten vergeven, omdat Christus voor jullie gestorven is.

As we have therefore opportunity, let us do good unto all men, especially unto them who are of the household of faith.

Zolang we daarop wachten, moeten we dus goed zijn voor iedereen, en zeker voor andere christenen.

Be not overcome of evil, but overcome evil with good.

Laat je niet overwinnen door het kwaad. Maar overwin het kwaad door het goede.

The L

ord

is good, a strong hold in the day of trouble; and he knoweth them that trust in him.

De Heer is goed. Als er gevaar is, is het bij hem veilig. Hij zorgt voor de mensen die bij hem bescherming zoeken.

The L

ord

is righteous in all his ways, and holy in all his works.

De Heer is altijd rechtvaardig, alles wat hij doet, is goed.

Let love be without dissimulation. Abhor that which is evil; cleave to that which is good.

Jullie liefde voor elkaar moet echt zijn. Blijf ver weg van alles wat slecht is, en houd vast aan alles wat goed is.

But the fruit of the Spirit is love, joy, peace, longsuffering, gentleness, goodness, faith, Meekness, temperance: against such there is no law.

Mensen die zich laten leiden door de heilige Geest, leven heel anders. Zij houden van elkaar. Ze zijn blij en leven in vrede. Ze hebben geduld en zijn goed voor elkaar. Ze geloven in Christus. Ze zijn vriendelijk en gedragen zich goed. Als je zo leeft, doe je precies wat de wet eigenlijk wil.

All things are lawful for me, but all things are not expedient: all things are lawful for me, but all things edify not.

Jullie zeggen: 'Wij mogen doen wat we willen.' Maar ik zeg: Ja, maar niet alles is goed. Jullie zeggen: 'Wij mogen doen wat we willen.' Maar ik zeg: Ja, maar alleen als je daarmee ook de anderen helpt.

Neither do men light a candle, and put it under a bushel, but on a candlestick; and it giveth light unto all that are in the house. Let your light so shine before men, that they may see your good works, and glorify your Father which is in heaven.

Niemand zet een brandende lamp onder een emmer. Je zet een lamp juist hoog. Dan schijnt het licht voor alle mensen in huis. Zo moeten ook jullie een licht zijn en schijnen voor alle mensen. Dan zien ze de goede dingen die jullie doen. En dan zullen ze jullie hemelse Vader eren.

Trust in the L

ord

, and do good; so shalt thou dwell in the land, and verily thou shalt be fed.

Vertrouw op de Heer en doe wat goed is. Dan zul je veilig leven in het land waar je woont.

And beside this, giving all diligence, add to your faith virtue; and to virtue knowledge; And to knowledge temperance; and to temperance patience; and to patience godliness; And to godliness brotherly kindness; and to brotherly kindness charity.

Daarom moeten jullie je uiterste best doen om je geloof te laten groeien. Je geloof zal groeien als je volmaakt wordt. Je wordt volmaakt als je meer begrijpt van het geloof. Je begrijpt meer van het geloof als je geduldig bent. Je wordt geduldig als je volhoudt in moeilijkheden. Je kunt volhouden in moeilijkheden als je God eert. Je eert God als je van elkaar houdt als broers en zussen. En je kunt pas van elkaar houden als je van alle mensen houdt.

And God is able to make all grace abound toward you; that ye, always having all sufficiency in all things, may abound to every good work.

God heeft de macht om jullie al het goede te schenken. Hij kan jullie alles geven wat je nodig hebt. Zelfs zo veel dat jullie altijd meer dan genoeg hebben, en veel overhouden om andere mensen te steunen.

I had fainted, unless I had believed to see the goodness of the L

ord

in the land of the living.

De Heer is goed voor mij, zolang ik leef. Dat weet ik zeker.

The desire of a man is his kindness: and a poor man is better than a liar.

Mensen willen graag betrouwbaar zijn. Je kunt beter arm zijn dan onbetrouwbaar.

Depart from evil, and do good; seek peace, and pursue it.

Doe geen kwaad, maar wees goed. Probeer in vrede met anderen te leven, elke dag weer.

Let no corrupt communication proceed out of your mouth, but that which is good to the use of edifying, that it may minister grace unto the hearers.

Zeg geen slechte, negatieve dingen over mensen. Maar zeg, als het nodig is, dingen die het geloof van anderen sterker maken. Zeg iets dat mensen goeddoet.

And who is he that will harm you, if ye be followers of that which is good?

Als je je best doet om goed te leven, zal God je beschermen. En dan kan niemand je kwaad doen.

Thus saith the L

ord

, Stand ye in the ways, and see, and ask for the old paths, where is the good way, and walk therein, and ye shall find rest for your souls. But they said, We will not walk therein.

De Heer zegt: 'Volk van Israël, denk eens na over hoe jullie leven. Denk eens aan de wet die ik jullie lang geleden gaf. Ik heb jullie de weg gewezen. Ik beloofde dat jullie in vrede zouden leven als jullie het goede zouden doen. Maar jullie zeiden: 'Dat doen we niet.''

Be ye therefore merciful, as your Father also is merciful.

Jezus zei ook: 'Wees net als jullie Vader goed voor andere mensen.'

Remember, O L

ord

, thy tender mercies and thy lovingkindnesses; for they have been ever of old. Remember not the sins of my youth, nor my transgressions: according to thy mercy remember thou me for thy goodness' sake, O L

ord

.

U bent altijd goed geweest voor uw volk. Wees dan nu ook goed voor mij. Toen ik jong was, heb ik veel verkeerd gedaan. Heer, vergeet het! Denk daar niet meer aan. U bent toch goed en trouw?

Then shalt thou understand righteousness, and judgment, and equity; yea, every good path.

Luister goed! Als je luistert naar mijn wijze lessen, leer je wat goed en eerlijk is. Dan zul je altijd doen wat goed is.

Be not deceived: evil communications corrupt good manners.

Denk aan het spreekwoord: 'Omgaan met slechte mensen maakt goede mensen slecht.' Pas dus op voor mensen die niet geloven dat de doden zullen opstaan!

Who gave himself for us, that he might redeem us from all iniquity, and purify unto himself a peculiar people, zealous of good works.

Hij gaf zijn leven om ons te redden. Daardoor heeft hij ons bevrijd van alle schuld. Zo maakte hij van ons zijn heilige volk, een volk dat zijn best doet om goed te leven.

In like manner also, that women adorn themselves in modest apparel, with shamefacedness and sobriety; not with broided hair, or gold, or pearls, or costly array; But (which becometh women professing godliness) with good works.

De vrouwen moeten eenvoudige, nette kleding dragen. Ik wil niet dat ze de aandacht trekken met dure kleren, goud, parels of mooi gevlochten haren. Laat ze aandacht trekken met hun goede daden, zoals dat hoort bij gelovige vrouwen.
The Lord is with you, while ye be with him; and if ye seek him, he will be found of you; but if ye forsake him, he will forsake you.
Personal Bible reading plan
Create an account to configure your Bible reading plan and you will see your progress and the next chapter to read here!
Read more...