«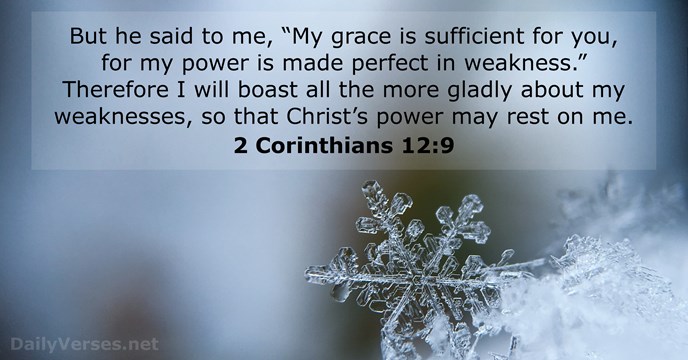 »
Many will be purified, made spotless and refined, but the wicked will continue to be wicked. None of the wicked will understand, but those who are wise will understand.

But he said to me, "My grace is sufficient for you, for my power is made perfect in weakness." Therefore I will boast all the more gladly about my weaknesses, so that Christ's power may rest on me.

I have made you known to them, and will continue to make you known in order that the love you have for me may be in them and that I myself may be in them.

Who, being in very nature God,
did not consider equality with God something to be used to his own advantage;
rather, he made himself nothing
by taking the very nature of a servant,
being made in human likeness.
And being found in appearance as a man,
he humbled himself
by becoming obedient to death—
even death on a cross!

John's clothes were made of camel's hair, and he had a leather belt around his waist. His food was locusts and wild honey.

Fight the good fight of the faith. Take hold of the eternal life to which you were called when you made your good confession in the presence of many witnesses.

When times are good, be happy; but when times are bad, consider this: God has made the one as well as the other. Therefore, no one can discover anything about their future.

The Word became flesh and made his dwelling among us. We have seen his glory, the glory of the one and only Son, who came from the Father, full of grace and truth.

I will hasten and not delay
to obey your commands.

"Haven't you read," he replied, "that at the beginning the Creator 'made them male and female,' and said, 'For this reason a man will leave his father and mother and be united to his wife, and the two will become one flesh'? So they are no longer two, but one flesh. Therefore what God has joined together, let no one separate."

And by faith even Sarah, who was past childbearing age, was enabled to bear children because she considered him faithful who had made the promise.

Remember the Sabbath day by keeping it holy. Six days you shall labor and do all your work, but the seventh day is a sabbath to the L

ord

your God. On it you shall not do any work, neither you, nor your son or daughter, nor your male or female servant, nor your animals, nor any foreigner residing in your towns. For in six days the L

ord

made the heavens and the earth, the sea, and all that is in them, but he rested on the seventh day. Therefore the L

ord

blessed the Sabbath day and made it holy.
Because I rescued the poor who cried for help,
and the fatherless who had none to assist them.
The one who was dying blessed me;
I made the widow's heart sing.
I lift up my eyes to the mountains—
where does my help come from?
My help comes from the L

ord

,
the Maker of heaven and earth.

"Go," said Jesus, "your faith has healed you." Immediately he received his sight and followed Jesus along the road.

You are the salt of the earth. But if the salt loses its saltiness, how can it be made salty again? It is no longer good for anything, except to be thrown out and trampled underfoot.

I, even I, am he who comforts you.
Who are you that you fear mere mortals,
human beings who are but grass.
Then the L

ord

God made a woman from the rib he had taken out of the man, and he brought her to the man. The man said, "This is now bone of my bones and flesh of my flesh; she shall be called 'woman,' for she was taken out of man." That is why a man leaves his father and mother and is united to his wife, and they become one flesh.

For we were all baptized by one Spirit so as to form one body—whether Jews or Gentiles, slave or free—and we were all given the one Spirit to drink.

For we know that if the earthly tent we live in is destroyed, we have a building from God, an eternal house in heaven, not built by human hands.

A generous person will prosper;
whoever refreshes others will be refreshed.

So Peter was kept in prison, but the church was earnestly praying to God for him.

Hearing this, Jesus said to Jairus, "Don't be afraid; just believe, and she will be healed."

But now apart from the law the righteousness of God has been made known, to which the Law and the Prophets testify. This righteousness is given through faith in Jesus Christ to all who believe. There is no difference between Jew and Gentile.

Dear friends, now we are children of God, and what we will be has not yet been made known. But we know that when Christ appears, we shall be like him, for we shall see him as he is. All who have this hope in him purify themselves, just as he is pure.
Deceit is in the hearts of those who plot evil, but those who promote peace have joy.
Personal Bible reading plan
Create an account to configure your Bible reading plan and you will see your progress and the next chapter to read here!
Read more...