Bible Verses about 'Made'
«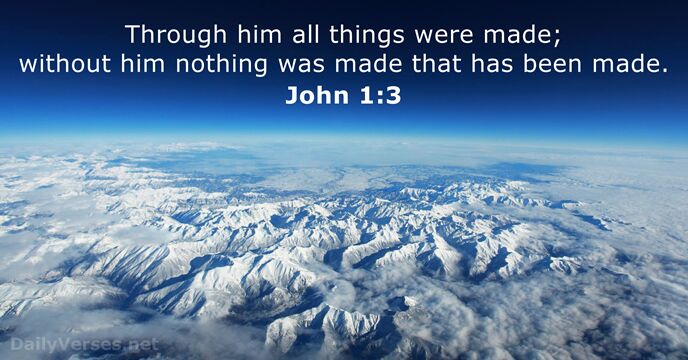 »
Through him all things were made; without him nothing was made that has been made.

For just as through the disobedience of the one man the many were made sinners, so also through the obedience of the one man the many will be made righteous.

I made a covenant with my eyes
not to look lustfully at a young woman.

For as in Adam all die, so in Christ all will be made alive.

I thank and praise you, God of my ancestors:
You have given me wisdom and power,
you have made known to me what we asked of you,
you have made known to us the dream of the king.
The L

ord

God made garments of skin for Adam and his wife and clothed them.
By the word of the L

ord

the heavens were made,
their starry host by the breath of his mouth.

God made him who had no sin to be sin for us, so that in him we might become the righteousness of God.

And, once made perfect, he became the source of eternal salvation for all who obey him.

Then God blessed the seventh day and made it holy, because on it he rested from all the work of creating that he had done.

Ah, Sovereign L

ord

, you have made the heavens and the earth by your great power and outstretched arm. Nothing is too hard for you.
Even to your old age and gray hairs
I am he, I am he who will sustain you.
I have made you and I will carry you;
I will sustain you and I will rescue you.

Then the eyes of both of them were opened, and they realized they were naked; so they sewed fig leaves together and made coverings for themselves.

Our help is in the name of the L

ord

,
the Maker of heaven and earth.

He has made everything beautiful in its time. He has also set eternity in the human heart; yet no one can fathom what God has done from beginning to end.

No one has ever seen God, but the one and only Son, who is himself God and is in closest relationship with the Father, has made him known.

There is nothing concealed that will not be disclosed, or hidden that will not be made known.

There is no fear in love. But perfect love drives out fear, because fear has to do with punishment. The one who fears is not made perfect in love.

You make your saving help my shield,
and your right hand sustains me;
your help has made me great.
You provide a broad path for my feet,
so that my ankles do not give way.
The L

ord

has done it this very day;
let us rejoice today and be glad.
For you created my inmost being;
you knit me together in my mother's womb.
I praise you because I am fearfully and wonderfully made;
your works are wonderful,
I know that full well.
For this is what the Lord has commanded us:
"I have made you a light for the Gentiles,
that you may bring salvation to the ends of the earth."

No one has ever seen God; but if we love one another, God lives in us and his love is made complete in us.

But because of his great love for us, God, who is rich in mercy, made us alive with Christ even when we were dead in transgressions—it is by grace you have been saved.

For since the creation of the world God's invisible qualities—his eternal power and divine nature—have been clearly seen, being understood from what has been made, so that people are without excuse.
Not to us, Lord, not to us but to your name be the glory, because of your love and faithfulness.
Personal Bible reading plan
Create an account to configure your Bible reading plan and you will see your progress and the next chapter to read here!
Read more...