Bible Verses about 'Or'
«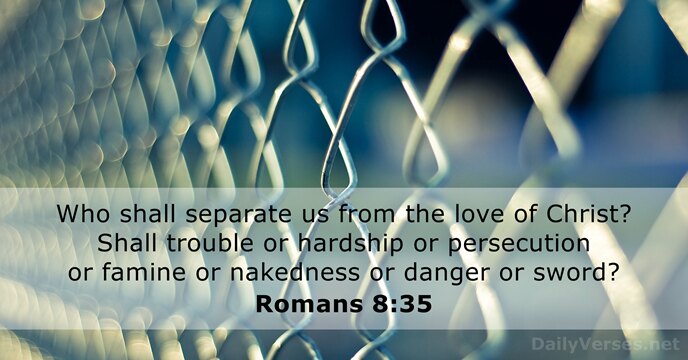 »
Who shall separate us from the love of Christ? Shall trouble or hardship or persecution or famine or nakedness or danger or sword?

So whether you eat or drink or whatever you do, do it all for the glory of God.

"Truly I tell you," Jesus replied, "no one who has left home or brothers or sisters or mother or father or children or fields for me and the gospel will fail to receive a hundred times as much in this present age: homes, brothers, sisters, mothers, children and fields—along with persecutions—and in the age to come eternal life."

Therefore do not let anyone judge you by what you eat or drink, or with regard to a religious festival, a New Moon celebration or a Sabbath day. These are a shadow of the things that were to come; the reality, however, is found in Christ.

You shall not covet your neighbor's house. You shall not covet your neighbor's wife, or his male or female servant, his ox or donkey, or anything that belongs to your neighbor.

For where two or three gather in my name, there am I with them.

Above all, my brothers and sisters, do not swear—not by heaven or by earth or by anything else. All you need to say is a simple "Yes" or "No." Otherwise you will be condemned.

Am I now trying to win the approval of human beings, or of God? Or am I trying to please people? If I were still trying to please people, I would not be a servant of Christ.

I also want the women to dress modestly, with decency and propriety, adorning themselves, not with elaborate hairstyles or gold or pearls or expensive clothes, but with good deeds, appropriate for women who profess to worship God.

For we were all baptized by one Spirit so as to form one body—whether Jews or Gentiles, slave or free—and we were all given the one Spirit to drink.

If I speak in the tongues of men or of angels, but do not have love, I am only a resounding gong or a clanging cymbal.

But among you there must not be even a hint of sexual immorality, or of any kind of impurity, or of greed, because these are improper for God's holy people.

Do not turn to the right or the left;
keep your foot from evil.

Do not think that I have come to abolish the Law or the Prophets; I have not come to abolish them but to fulfill them.

Dear children, let us not love with words or speech but with actions and in truth.

If we live, we live for the Lord; and if we die, we die for the Lord. So, whether we live or die, we belong to the Lord.

Blessed is the one
who does not walk in step with the wicked
or stand in the way that sinners take
or sit in the company of mockers.

Therefore let us stop passing judgment on one another. Instead, make up your mind not to put any stumbling block or obstacle in the way of a brother or sister.

And whatever you do, whether in word or deed, do it all in the name of the Lord Jesus, giving thanks to God the Father through him.

Therefore I tell you, do not worry about your life, what you will eat or drink; or about your body, what you will wear. Is not life more than food, and the body more than clothes?

Do nothing out of selfish ambition or vain conceit. Rather, in humility value others above yourselves.

Each of you should give what you have decided in your heart to give, not reluctantly or under compulsion, for God loves a cheerful giver.

Whatever you have learned or received or heard from me, or seen in me—put it into practice. And the God of peace will be with you.

Before the mountains were born
or you brought forth the whole world,
from everlasting to everlasting you are God.

Do not judge, or you too will be judged.
A wicked person earns deceptive wages, but the one who sows righteousness reaps a sure reward.
Personal Bible reading plan
Create an account to configure your Bible reading plan and you will see your progress and the next chapter to read here!
Read more...