Bible Verses about 'Or'
«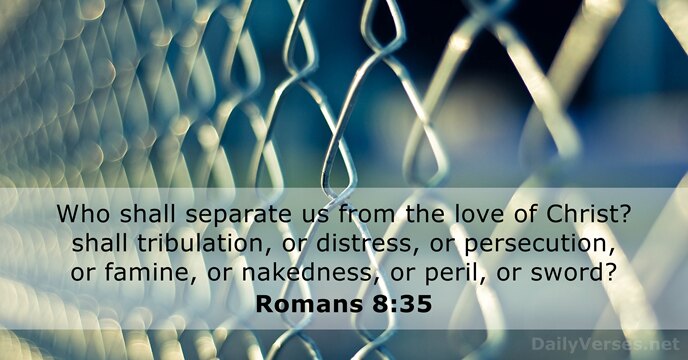 »
Who shall separate us from the love of Christ? shall tribulation, or distress, or persecution, or famine, or nakedness, or peril, or sword?

Whether therefore ye eat, or drink, or whatsoever ye do, do all to the glory of God.

Let no man therefore judge you in meat, or in drink, or in respect of an holyday, or of the new moon, or of the sabbath days: Which are a shadow of things to come; but the body is of Christ.

And Jesus answered and said, Verily I say unto you, There is no man that hath left house, or brethren, or sisters, or father, or mother, or wife, or children, or lands, for my sake, and the gospel's, But he shall receive an hundredfold now in this time, houses, and brethren, and sisters, and mothers, and children, and lands, with persecutions; and in the world to come eternal life.

For do I now persuade men, or God? or do I seek to please men? for if I yet pleased men, I should not be the servant of Christ.

In like manner also, that women adorn themselves in modest apparel, with shamefacedness and sobriety; not with broided hair, or gold, or pearls, or costly array; But (which becometh women professing godliness) with good works.

For by one Spirit are we all baptized into one body, whether we be Jews or Gentiles, whether we be bond or free; and have been all made to drink into one Spirit.

For where two or three are gathered together in my name, there am I in the midst of them.

For who is God save the L

ord

?
or who is a rock save our God?

Think not that I am come to destroy the law, or the prophets: I am not come to destroy, but to fulfil.

But fornication, and all uncleanness, or covetousness, let it not be once named among you, as becometh saints.

Though I speak with the tongues of men and of angels, and have not charity, I am become as sounding brass, or a tinkling cymbal.

Let nothing be done through strife or vainglory; but in lowliness of mind let each esteem other better than themselves.

And whatsoever ye do in word or deed, do all in the name of the Lord Jesus, giving thanks to God and the Father by him.

For whether we live, we live unto the Lord; and whether we die, we die unto the Lord: whether we live therefore, or die, we are the Lord's.

Every man according as he purposeth in his heart, so let him give; not grudgingly, or of necessity: for God loveth a cheerful giver.

For what is a man profited, if he shall gain the whole world, and lose his own soul? or what shall a man give in exchange for his soul?

Before the mountains were brought forth,
or ever thou hadst formed the earth and the world,
even from everlasting to everlasting, thou art God.

Let us not therefore judge one another any more: but judge this rather, that no man put a stumblingblock or an occasion to fall in his brother's way.

He therefore that ministereth to you the Spirit, and worketh miracles among you, doeth he it by the works of the law, or by the hearing of faith?

Not rendering evil for evil, or railing for railing: but contrariwise blessing; knowing that ye are thereunto called, that ye should inherit a blessing.

Who art thou that judgest another man's servant? to his own master he standeth or falleth. Yea, he shall be holden up: for God is able to make him stand.

No man, when he hath lighted a candle, covereth it with a vessel, or putteth it under a bed; but setteth it on a candlestick, that they which enter in may see the light.

God is not a man, that he should lie; neither the son of man, that he should repent: hath he said, and shall he not do it? or hath he spoken, and shall he not make it good?

No man can serve two masters: for either he will hate the one, and love the other; or else he will hold to the one, and despise the other. Ye cannot serve God and mammon.
Sing unto God, sing praises to his name: extol him that rideth upon the heavens by his name Jah, and rejoice before him. A father of the fatherless, and a judge of the widows, is God in his holy habitation.
Personal Bible reading plan
Create an account to configure your Bible reading plan and you will see your progress and the next chapter to read here!
Read more...