Bible Verses about 'Practice'
«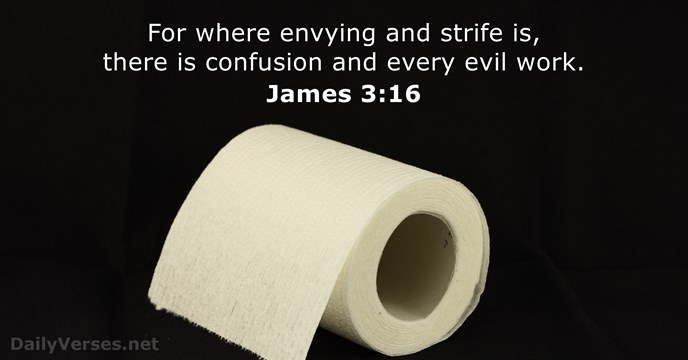 »
For where envying and strife is, there is confusion and every evil work.

If we say that we have fellowship with him, and walk in darkness, we lie, and do not the truth.

Those things, which ye have both learned, and received, and heard, and seen in me, do: and the God of peace shall be with you.

Whosoever committeth sin transgresseth also the law: for sin is the transgression of the law.

Therefore thou art inexcusable, O man, whosoever thou art that judgest: for wherein thou judgest another, thou condemnest thyself; for thou that judgest doest the same things.

The fear of the L

ord

is the beginning of wisdom:
a good understanding have all they that do his commandments:
his praise endureth for ever.

Therefore whosoever heareth these sayings of mine, and doeth them, I will liken him unto a wise man, which built his house upon a rock.

He that committeth sin is of the devil; for the devil sinneth from the beginning. For this purpose the Son of God was manifested, that he might destroy the works of the devil.

Wherefore the rather, brethren, give diligence to make your calling and election sure: for if ye do these things, ye shall never fall: For so an entrance shall be ministered unto you abundantly into the everlasting kingdom of our Lord and Saviour Jesus Christ.

Know ye not that the unrighteous shall not inherit the kingdom of God? Be not deceived: neither fornicators, nor idolaters, nor adulterers, nor effeminate, nor abusers of themselves with mankind, Nor thieves, nor covetous, nor drunkards, nor revilers, nor extortioners, shall inherit the kingdom of God.

Lie not one to another, seeing that ye have put off the old man with his deeds; And have put on the new man, which is renewed in knowledge after the image of him that created him.

Jesus answered them, Verily, verily, I say unto you, Whosoever committeth sin is the servant of sin.

Let every thing that hath breath praise the L

ord

.
Praise ye the L

ord

.
Be ye not as your fathers, unto whom the former prophets have cried, saying, Thus saith the L

ord

of hosts; Turn ye now from your evil ways, and from your evil doings: but they did not hear, nor hearken unto me, saith the L

ord

.

And at midnight Paul and Silas prayed, and sang praises unto God: and the prisoners heard them.

I will praise thee, O L

ord

, among the people:
and I will sing praises unto thee among the nations.

Whosoever therefore shall break one of these least commandments, and shall teach men so, he shall be called the least in the kingdom of heaven: but whosoever shall do and teach them, the same shall be called great in the kingdom of heaven.

Continue in prayer, and watch in the same with thanksgiving.

The wise in heart will receive commandments:
but a prating fool shall fall.
Great is the L

ord

, and greatly to be praised;
and his greatness is unsearchable.

For the customs of the people are vain: for one cutteth a tree out of the forest, the work of the hands of the workman, with the axe. They deck it with silver and with gold; they fasten it with nails and with hammers, that it move not. They are upright as the palm tree, but speak not: they must needs be borne, because they cannot go. Be not afraid of them; for they cannot do evil, neither also is it in them to do good.

Let my mouth be filled with thy praise
and with thy honour all the day.

Rejoicing in hope; patient in tribulation; continuing instant in prayer.

And all things, whatsoever ye shall ask in prayer, believing, ye shall receive.

I will bless the L

ord

at all times:
his praise shall continually be in my mouth.
Not unto us, O Lord, not unto us, but unto thy name give glory, for thy mercy, and for thy truth's sake.
Personal Bible reading plan
Create an account to configure your Bible reading plan and you will see your progress and the next chapter to read here!
Read more...