Bible Verses about 'Surely'
«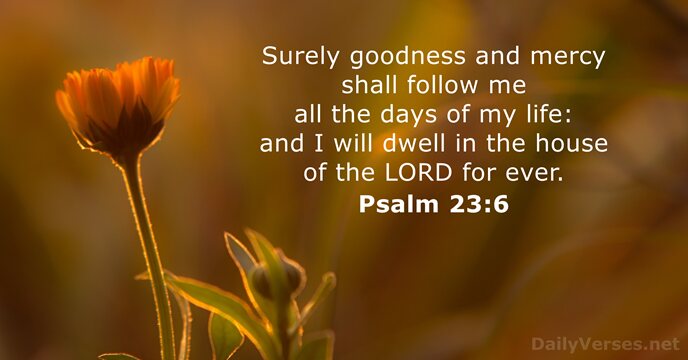 »
Surely goodness and mercy shall follow me
all the days of my life:
and I will dwell in the house of the L

ord


for ever.
Surely he shall not be moved for ever:
the righteous shall be in everlasting remembrance.
Surely the Lord G

od

will do nothing,
but he revealeth his secret
unto his servants the prophets.

He which testifieth these things saith, Surely I come quickly. Amen. Even so, come, Lord Jesus.

Surely he hath borne our griefs,
and carried our sorrows:
yet we did esteem him stricken,
smitten of God, and afflicted.

But if the wicked will turn from all his sins that he hath committed, and keep all my statutes, and do that which is lawful and right, he shall surely live, he shall not die.

He that walketh uprightly walketh surely:
but he that perverteth his ways shall be known.

Ye shall not afflict any widow, or fatherless child. If thou afflict them in any wise, and they cry at all unto me, I will surely hear their cry; And my wrath shall wax hot, and I will kill you with the sword; and your wives shall be widows, and your children fatherless.

For it is written, As I live, saith the Lord, every knee shall bow to me, and every tongue shall confess to God.

Behold, God is mine helper:
the Lord is with them that uphold my soul.

Faithful is he that calleth you, who also will do it.

Beloved, if God so loved us, we ought also to love one another.

The vine is dried up,
and the fig tree languisheth;
the pomegranate tree,
the palm tree also,
and the apple tree,
even all the trees of the field, are withered:
because joy is withered away
from the sons of men.
Turn you at my reproof:
behold, I will pour out my spirit unto you,
I will make known my words unto you.

Out of the same mouth proceedeth blessing and cursing. My brethren, these things ought not so to be.

Wilt thou set thine eyes upon that which is not?
for riches certainly make themselves wings;
they fly away as an eagle toward heaven.

Can any man forbid water, that these should not be baptized, which have received the Holy Ghost as well as we?

Marriage is honourable in all, and the bed undefiled: but whoremongers and adulterers God will judge.

In the day of prosperity be joyful, but in the day of adversity consider: God also hath set the one over against the other, to the end that man should find nothing after him.

Can a woman forget her sucking child,
that she should not have compassion on the son of her womb?
yea, they may forget,
yet will I not forget thee.
Behold, I have graven thee upon the palms of my hands;
thy walls are continually before me.
Turn again, and tell Hezekiah the captain of my people, Thus saith the L

ord

, the God of David thy father, I have heard thy prayer, I have seen thy tears: behold, I will heal thee: on the third day thou shalt go up unto the house of the L

ord

.

Go ye therefore, and teach all nations, baptizing them in the name of the Father, and of the Son, and of the Holy Ghost: Teaching them to observe all things whatsoever I have commanded you: and, lo, I am with you always, even unto the end of the world.

Thou shalt not hate thy brother in thine heart: thou shalt in any wise rebuke thy neighbour, and not suffer sin upon him. Thou shalt not avenge, nor bear any grudge against the children of thy people, but thou shalt love thy neighbour as thyself: I am the L

ord

.
And if we know that he hear us, whatsoever we ask, we know that we have the petitions that we desired of him.
Personal Bible reading plan
Create an account to configure your Bible reading plan and you will see your progress and the next chapter to read here!
Read more...