Bible Verses about 'Them'
«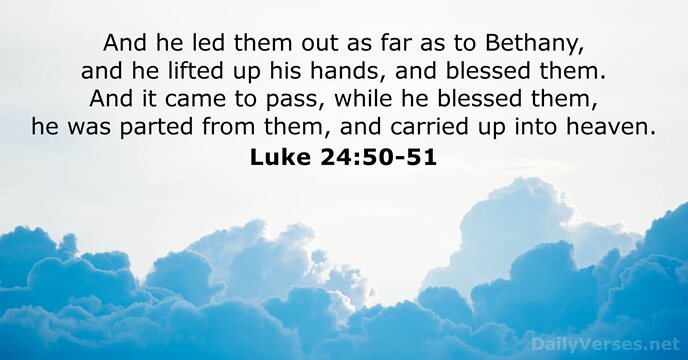 »
He sent his word, and healed them,
and delivered them from their destructions.

And when they had fasted and prayed, and laid their hands on them, they sent them away.

And he led them out as far as to Bethany, and he lifted up his hands, and blessed them. And it came to pass, while he blessed them, he was parted from them, and carried up into heaven.

And I have declared unto them thy name, and will declare it: that the love wherewith thou hast loved me may be in them, and I in them.

I pray not that thou shouldest take them out of the world, but that thou shouldest keep them from the evil.

And I will strengthen the house of Judah,
and I will save the house of Joseph,
and I will bring them again to place them;
for I have mercy upon them:
and they shall be as though I had not cast them off:
for I am the L

ord

their God, and will hear them.

And I give unto them eternal life; and they shall never perish, neither shall any man pluck them out of my hand. My Father, which gave them me, is greater than all; and no man is able to pluck them out of my Father's hand. I and my Father are one.

The integrity of the upright shall guide them:
but the perverseness of transgressors shall destroy them.

Nevertheless for thy great mercies' sake thou didst not utterly consume them, nor forsake them; for thou art a gracious and merciful God.

And there appeared unto them cloven tongues like as of fire, and it sat upon each of them. And they were all filled with the Holy Ghost, and began to speak with other tongues, as the Spirit gave them utterance.

When goods increase, they are increased that eat them: and what good is there to the owners thereof, saving the beholding of them with their eyes?

My son, attend to my words;
incline thine ear unto my sayings.
Let them not depart from thine eyes;
keep them in the midst of thine heart.

But Jesus beheld them, and said unto them, With men this is impossible; but with God all things are possible.

Therefore shall ye keep my commandments, and do them: I am the L

ord

.
I will never forget thy precepts:
for with them thou hast quickened me.

And it came to pass, because the midwives feared God, that he made them houses.

Great peace have they which love thy law:
and nothing shall offend them.

For where two or three are gathered together in my name, there am I in the midst of them.

And as I began to speak, the Holy Ghost fell on them, as on us at the beginning.

Unto Adam also and to his wife did the L

ord

God make coats of skins, and clothed them.

And heal the sick that are therein, and say unto them, The kingdom of God is come nigh unto you.

And he said unto them, Go ye into all the world, and preach the gospel to every creature.

Let not mercy and truth forsake thee:
bind them about thy neck;
write them upon the table of thine heart:
So shalt thou find favour and good understanding
in the sight of God and man.
Many are the afflictions of the righteous:
but the L

ord

delivereth him out of them all.

When they heard this, they were baptized in the name of the Lord Jesus. And when Paul had laid his hands upon them, the Holy Ghost came on them; and they spake with tongues, and prophesied.
Now I beseech you, brethren, by the name of our Lord Jesus Christ, that ye all speak the same thing, and that there be no divisions among you; but that ye be perfectly joined together in the same mind and in the same judgment.
Personal Bible reading plan
Create an account to configure your Bible reading plan and you will see your progress and the next chapter to read here!
Read more...