Versículos de la Biblia sobre la Paz
«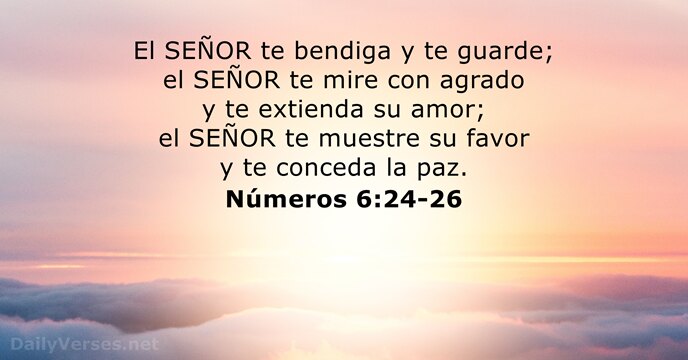 »
El S

eñor

te bendiga y te guarde; el S

eñor

te mire con agrado y te extienda su amor; el S

eñor

te muestre su favor y te conceda la paz.
The L

ord

bless you and keep you; The L

ord

make His face shine upon you, And be gracious to you; The L

ord

lift up His countenance upon you, And give you peace.

Yo les he dicho estas cosas para que en mí hallen paz. En este mundo afrontarán aflicciones, pero ¡anímense! Yo he vencido al mundo.

These things I have spoken to you, that in Me you may have peace. In the world you will have tribulation; but be of good cheer, I have overcome the world.

La paz les dejo; mi paz les doy. Yo no se la doy a ustedes como la da el mundo. No se angustien ni se acobarden.

Peace I leave with you, My peace I give to you; not as the world gives do I give to you. Let not your heart be troubled, neither let it be afraid.

No se inquieten por nada; más bien, en toda ocasión, con oración y ruego, presenten sus peticiones a Dios y denle gracias. Y la paz de Dios, que sobrepasa todo entendimiento, cuidará sus corazones y sus pensamientos en Cristo Jesús.

Be anxious for nothing, but in everything by prayer and supplication, with thanksgiving, let your requests be made known to God; and the peace of God, which surpasses all understanding, will guard your hearts and minds through Christ Jesus.

Dichosos los que trabajan por la paz, porque serán llamados hijos de Dios.

Blessed are the peacemakers, For they shall be called sons of God.

En efecto, «el que quiera amar la vida y gozar de días felices, que refrene su lengua de hablar el mal y sus labios de proferir engaños; que se aparte del mal y haga el bien; que busque la paz y la siga.»

For "He who would love life And see good days, Let him refrain his tongue from evil, And his lips from speaking deceit. Let him turn away from evil and do good; Let him seek peace and pursue it."

Que el Señor de paz les conceda su paz siempre y en todas las circunstancias. El Señor sea con todos ustedes.

Now may the Lord of peace Himself give you peace always in every way. The Lord be with you all.
En paz me acuesto y me duermo, porque solo tú, S

eñor

, me haces vivir confiado.
I will both lie down in peace, and sleep; For You alone, O L

ord

, make me dwell in safety.

Al de carácter firme lo guardarás en perfecta paz, porque en ti confía.

You will keep him in perfect peace, Whose mind is stayed on You, Because he trusts in You.

Que gobierne en sus corazones la paz de Cristo, a la cual fueron llamados en un solo cuerpo. Y sean agradecidos.

And let the peace of God rule in your hearts, to which also you were called in one body; and be thankful.

De modo que se toleren unos a otros y se perdonen si alguno tiene queja contra otro. Así como el Señor los perdonó, perdonen también ustedes.

Bearing with one another, and forgiving one another, if anyone has a complaint against another; even as Christ forgave you, so you also must do.

Que reciban misericordia, paz y amor en abundancia.

Mercy, peace, and love be multiplied to you.

Más vale ser paciente que valiente; más vale el dominio propio que conquistar ciudades.

He who is slow to anger is better than the mighty, And he who rules his spirit than he who takes a city.

En fin, el fruto de la justicia se siembra en paz para los que hacen la paz.

Now the fruit of righteousness is sown in peace by those who make peace.

Que se aparte del mal y haga el bien; que busque la paz y la siga.

Depart from evil and do good; Seek peace and pursue it.

Busquen la paz con todos, y la santidad, sin la cual nadie verá al Señor.

Pursue peace with all people, and holiness, without which no one will see the Lord.

Esfuércense por mantener la unidad del Espíritu mediante el vínculo de la paz.

Endeavoring to keep the unity of the Spirit in the bond of peace.

Los que aman tu ley disfrutan de gran bienestar, y nada los hace tropezar.

Great peace have those who love Your law, And nothing causes them to stumble.

En cambio, la sabiduría que desciende del cielo es ante todo pura, y además pacífica, bondadosa, dócil, llena de compasión y de buenos frutos, imparcial y sincera.

But the wisdom that is from above is first pure, then peaceable, gentle, willing to yield, full of mercy and good fruits, without partiality and without hypocrisy.

Quédense quietos, reconozcan que yo soy Dios. ¡Yo seré exaltado entre las naciones! ¡Yo seré enaltecido en la tierra!

Be still, and know that I am God; I will be exalted among the nations, I will be exalted in the earth!

Pongan en práctica lo que de mí han aprendido, recibido y oído, y lo que han visto en mí, y el Dios de paz estará con ustedes.

The things which you learned and received and heard and saw in me, these do, and the God of peace will be with you.

La mentalidad pecaminosa es muerte, mientras que la mentalidad que proviene del Espíritu es vida y paz.

For to be carnally minded is death, but to be spiritually minded is life and peace.

¡Qué hermosos son, sobre los montes, los pies del que trae buenas nuevas; del que proclama la paz, del que anuncia buenas noticias, del que proclama la salvación, del que dice a Sión: «Tu Dios reina»!

How beautiful upon the mountains Are the feet of him who brings good news, Who proclaims peace, Who brings glad tidings of good things, Who proclaims salvation, Who says to Zion, "Your God reigns!"

Honroso es al hombre evitar la contienda, pero no hay necio que no inicie un pleito.

It is honorable for a man to stop striving, Since any fool can start a quarrel.

Ciertamente, ninguna disciplina, en el momento de recibirla, parece agradable, sino más bien penosa; sin embargo, después produce una cosecha de justicia y paz para quienes han sido entrenados por ella.

Now no chastening seems to be joyful for the present, but painful; nevertheless, afterward it yields the peaceable fruit of righteousness to those who have been trained by it.
Por eso, si les dicen: "¡Miren que está en el desierto!", no salgan; o: "¡Miren que está en la casa!", no lo crean. Porque así como el relámpago que sale del oriente se ve hasta en el occidente, así será la venida del Hijo del hombre.
Plan de lectura de la Biblia
Registrar y configurar su plan de lectura de la Biblia que desea ver su progreso y el siguiente capítulo para leer aquí!