«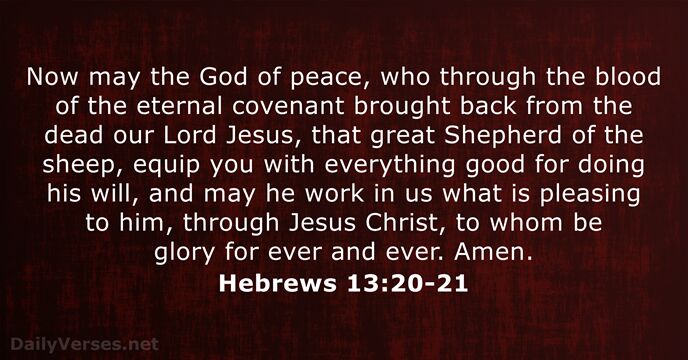 »
Now may the God of peace, who through the blood of the eternal covenant brought back from the dead our Lord Jesus, that great Shepherd of the sheep, equip you with everything good for doing his will, and may he work in us what is pleasing to him, through Jesus Christ, to whom be glory for ever and ever. Amen.

Ora, o Deus de paz, que pelo sangue do concerto eterno tornou a trazer dos mortos a nosso Senhor Jesus Cristo, grande Pastor das ovelhas, vos aperfeiçoe em toda a boa obra, para fazerdes a sua vontade, operando em vós o que perante ele é agradável por Cristo Jesus, ao qual seja glória para todo o sempre. Amém!

For truly I tell you, until heaven and earth disappear, not the smallest letter, not the least stroke of a pen, will by any means disappear from the Law until everything is accomplished.

Porque em verdade vos digo que, até que o céu e a terra passem, nem um jota ou um til se omitirá da lei sem que tudo seja cumprido.

Everyone who sins breaks the law; in fact, sin is lawlessness.

Qualquer que pratica o pecado também pratica iniquidade, porque o pecado é iniquidade.

I will praise you with an upright heart as I learn your righteous laws.

Louvar-te-ei com retidão de coração, quando tiver aprendido os teus justos juízos.

'Honor your father and mother,' and 'love your neighbor as yourself.'

Honra teu pai e tua mãe, e amarás o teu próximo como a ti mesmo.

Do not add to what I command you and do not subtract from it, but keep the commands of the L

ord

your God that I give you.
Nada acrescentareis à palavra que vos mando, nem diminuireis dela, para que guardeis os mandamentos do S

enhor

, vosso Deus, que eu vos mando.

And I will put my Spirit in you and move you to follow my decrees and be careful to keep my laws.

E porei dentro de vós o meu espírito e farei que andeis nos meus estatutos, e guardeis os meus juízos, e os observeis.

Therefore anyone who sets aside one of the least of these commands and teaches others accordingly will be called least in the kingdom of heaven, but whoever practices and teaches these commands will be called great in the kingdom of heaven.

Qualquer, pois, que violar um destes menores mandamentos e assim ensinar aos homens será chamado o menor no Reino dos céus; aquele, porém, que os cumprir e ensinar será chamado grande no Reino dos céus.
The fear of the L

ord

is the beginning of wisdom; all who follow his precepts have good understanding. To him belongs eternal praise.
O temor do S

enhor

é o princípio da sabedoria; bom entendimento têm todos os que lhe obedecem; o seu louvor permanece para sempre.
The way of the L

ord

is a refuge for the blameless, but it is the ruin of those who do evil.
O caminho do S

enhor

é fortaleza para os retos, mas ruína virá aos que praticam a iniquidade.

A new command I give you: Love one another. As I have loved you, so you must love one another.

Um novo mandamento vos dou: Que vos ameis uns aos outros; como eu vos amei a vós, que também vós uns aos outros vos ameis.

I do not set aside the grace of God, for if righteousness could be gained through the law, Christ died for nothing!

Não aniquilo a graça de Deus; porque, se a justiça provém da lei, segue-se que Cristo morreu debalde.
Keep my commands and follow them. I am the L

ord

.
Pelo que guardareis os meus mandamentos e os fareis. Eu sou o S

enhor

.

There is only one Lawgiver and Judge, the one who is able to save and destroy. But you—who are you to judge your neighbor?

Há só um Legislador e um Juiz, que pode salvar e destruir. Tu, porém, quem és, que julgas a outrem?

You will have these tassels to look at and so you will remember all the commands of the L

ord

, that you may obey them and not prostitute yourselves by chasing after the lusts of your own hearts and eyes.
E nas franjas vos estará, para que o vejais, e vos lembreis de todos os mandamentos do S

enhor

, e os façais; e não seguireis após o vosso coração, nem após os vossos olhos, após os quais andais adulterando.

If you follow my decrees and are careful to obey my commands, I will send you rain in its season, and the ground will yield its crops and the trees their fruit.

Se andardes nos meus estatutos, e guardardes os meus mandamentos, e os fizerdes, então, eu vos darei as vossas chuvas a seu tempo; e a terra dará a sua novidade, e a árvore do campo dará o seu fruto.

I will make your descendants as numerous as the stars in the sky and will give them all these lands, and through your offspring all nations on earth will be blessed, because Abraham obeyed me and did everything I required of him, keeping my commands, my decrees and my instructions.

E multiplicarei a tua semente como as estrelas dos céus e darei à tua semente todas estas terras. E em tua semente serão benditas todas as nações da terra, porquanto Abraão obedeceu à minha voz e guardou o meu mandado, os meus preceitos, os meus estatutos e as minhas leis.

And the second is like it: 'Love your neighbor as yourself.'

E o segundo, semelhante a este, é: Amarás o teu próximo como a ti mesmo.
The L

ord

said to Moses, "Come up to me on the mountain and stay here, and I will give you the tablets of stone with the law and commandments I have written for their instruction."
Então, disse o S

enhor

a Moisés: Sobe a mim, ao monte, e fica lá; e dar-te-ei tábuas de pedra, e a lei, e os mandamentos que tenho escrito, para os ensinares.
You shall not misuse the name of the L

ord

your God, for the L

ord

will not hold anyone guiltless who misuses his name.
Não tomarás o nome do S

enhor

, teu Deus, em vão, porque o S

enhor

não terá por inocente ao que tomar o seu nome em vão.

He declared to you his covenant, the Ten Commandments, which he commanded you to follow and then wrote them on two stone tablets.

Então, vos anunciou ele o seu concerto, que vos prescreveu, os dez mandamentos, e os escreveu em duas tábuas de pedra.

Be sure to keep the commands of the L

ord

your God and the stipulations and decrees he has given you.
Diligentemente guardareis os mandamentos do S

enhor

, vosso Deus, como também os seus testemunhos e seus estatutos, que te tem mandado.
Keep his decrees and commands, which I am giving you today, so that it may go well with you and your children after you and that you may live long in the land the L

ord

your God gives you for all time.
E guardarás os seus estatutos e os seus mandamentos, que te ordeno hoje, para que bem te vá a ti e a teus filhos depois de ti e para que prolongues os dias na terra que o S

enhor

, teu Deus, te dá para todo o sempre.

I have not departed from the commands of his lips; I have treasured the words of his mouth more than my daily bread.

Do preceito de seus lábios nunca me apartei e as palavras da sua boca prezei mais do que o meu alimento.

You shall not covet your neighbor's house. You shall not covet your neighbor's wife, or his male or female servant, his ox or donkey, or anything that belongs to your neighbor.

Não cobiçarás a casa do teu próximo; não cobiçarás a mulher do teu próximo, nem o seu servo, nem a sua serva, nem o seu boi, nem o seu jumento, nem coisa alguma do teu próximo.
This is the confidence we have in approaching God: that if we ask anything according to his will, he hears us.
Personal Bible reading plan
Create an account to configure your Bible reading plan and you will see your progress and the next chapter to read here!
Read more...