Bible Verses about 'Go'
«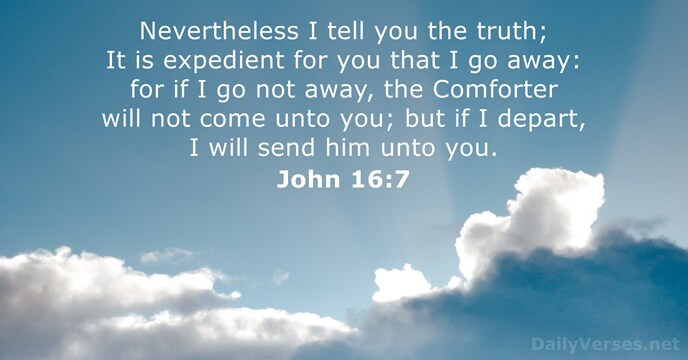 »
Nevertheless I tell you the truth; It is expedient for you that I go away: for if I go not away, the Comforter will not come unto you; but if I depart, I will send him unto you.

And he said unto them, Go ye into all the world, and preach the gospel to every creature.

Train up a child in the way he should go:
and when he is old, he will not depart from it.

I am the door: by me if any man enter in, he shall be saved, and shall go in and out, and find pasture.

I will instruct thee and teach thee in the way which thou shalt go:
I will guide thee with mine eye.

Be ye angry, and sin not: let not the sun go down upon your wrath: Neither give place to the devil.

Go thy way, eat thy bread with joy, and drink thy wine with a merry heart; for God now accepteth thy works.

Can one go upon hot coals,
and his feet not be burned?

Go, gather together all the Jews that are present in Shushan, and fast ye for me, and neither eat nor drink three days, night or day: I also and my maidens will fast likewise; and so will I go in unto the king, which is not according to the law: and if I perish, I perish.

And Jesus said unto him, Go thy way; thy faith hath made thee whole. And immediately he received his sight, and followed Jesus in the way.

But go ye and learn what that meaneth, I will have mercy, and not sacrifice: for I am not come to call the righteous, but sinners to repentance.

In my Father's house are many mansions: if it were not so, I would have told you. I go to prepare a place for you.

Then shall ye call upon me, and ye shall go and pray unto me, and I will hearken unto you.

Whither shall I go from thy spirit?
or whither shall I flee from thy presence?
If I ascend up into heaven, thou art there:
if I make my bed in hell, behold, thou art there.

Then said Jesus unto them, Yet a little while am I with you, and then I go unto him that sent me.

Moreover if thy brother shall trespass against thee, go and tell him his fault between thee and him alone: if he shall hear thee, thou hast gained thy brother.

But unto you that fear my name shall the Sun of righteousness arise with healing in his wings; and ye shall go forth, and grow up as calves of the stall.

Jesus said unto him, If thou wilt be perfect, go and sell that thou hast, and give to the poor, and thou shalt have treasure in heaven: and come and follow me.

I came forth from the Father, and am come into the world: again, I leave the world, and go to the Father.

Thine own friend, and thy father's friend, forsake not;
neither go into thy brother's house in the day of thy calamity:
for better is a neighbour that is near than a brother far off.

Jesus saith unto her, Touch me not; for I am not yet ascended to my Father: but go to my brethren, and say unto them, I ascend unto my Father, and your Father; and to my God, and your God.

As he came forth of his mother's womb, naked shall he return to go as he came, and shall take nothing of his labour, which he may carry away in his hand.

Is not this the fast that I have chosen?
to loose the bands of wickedness,
to undo the heavy burdens,
and to let the oppressed go free,
and that ye break every yoke?

Ye have not chosen me, but I have chosen you, and ordained you, that ye should go and bring forth fruit, and that your fruit should remain: that whatsoever ye shall ask of the Father in my name, he may give it you.

Turn again, and tell Hezekiah the captain of my people, Thus saith the L

ord

, the God of David thy father, I have heard thy prayer, I have seen thy tears: behold, I will heal thee: on the third day thou shalt go up unto the house of the L

ord

.
Not unto us, O Lord, not unto us, but unto thy name give glory, for thy mercy, and for thy truth's sake.
Personal Bible reading plan
Create an account to configure your Bible reading plan and you will see your progress and the next chapter to read here!
Read more...