Bible Verses about 'Leads'
«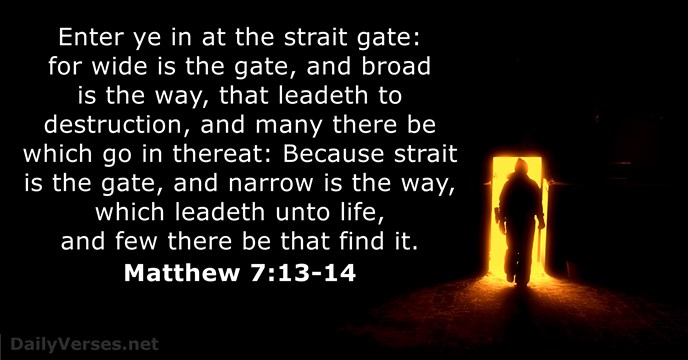 »
Enter ye in at the strait gate: for wide is the gate, and broad is the way, that leadeth to destruction, and many there be which go in thereat: Because strait is the gate, and narrow is the way, which leadeth unto life, and few there be that find it.

The L

ord

is my shepherd; I shall not want.
He maketh me to lie down in green pastures:
he leadeth me beside the still waters.
In all labour there is profit:
but the talk of the lips tendeth only to penury.
He is in the way of life that keepeth instruction:
but he that refuseth reproof erreth.
God setteth the solitary in families:
he bringeth out those which are bound with chains:
but the rebellious dwell in a dry land.

But now being made free from sin, and become servants to God, ye have your fruit unto holiness, and the end everlasting life.

There is a way which seemeth right unto a man,
but the end thereof are the ways of death.
Good and upright is the L

ord

:
therefore will he teach sinners in the way.
The meek will he guide in judgment:
and the meek will he teach his way.

But ye, beloved, building up yourselves on your most holy faith, praying in the Holy Ghost, Keep yourselves in the love of God, looking for the mercy of our Lord Jesus Christ unto eternal life.

For thou art my rock and my fortress;
therefore for thy name's sake lead me, and guide me.
Lead me in thy truth, and teach me:
for thou art the God of my salvation;
on thee do I wait all the day.
Teach me to do thy will;
for thou art my God:
thy spirit is good;
lead me into the land of uprightness.
And lead us not into temptation,
but deliver us from evil:
For thine is the kingdom, and the power, and the glory, for ever. Amen.
Search me, O God, and know my heart:
try me, and know my thoughts:
And see if there be any wicked way in me,
and lead me in the way everlasting.

But when they shall lead you, and deliver you up, take no thought beforehand what ye shall speak, neither do ye premeditate: but whatsoever shall be given you in that hour, that speak ye: for it is not ye that speak, but the Holy Ghost.

They shall hunger no more, neither thirst any more; neither shall the sun light on them, nor any heat. For the Lamb which is in the midst of the throne shall feed them, and shall lead them unto living fountains of waters: and God shall wipe away all tears from their eyes.

And he was teaching in one of the synagogues on the sabbath. And, behold, there was a woman which had a spirit of infirmity eighteen years, and was bowed together, and could in no wise lift up herself. And when Jesus saw her, he called her to him, and said unto her, Woman, thou art loosed from thine infirmity. And he laid his hands on her: and immediately she was made straight, and glorified God. And the ruler of the synagogue answered with indignation, because that Jesus had healed on the sabbath day, and said unto the people, There are six days in which men ought to work: in them therefore come and be healed, and not on the sabbath day. The Lord then answered him, and said, Thou hypocrite, doth not each one of you on the sabbath loose his ox or his ass from the stall, and lead him away to watering? And ought not this woman, being a daughter of Abraham, whom Satan hath bound, lo, these eighteen years, be loosed from this bond on the sabbath day? And when he had said these things, all his adversaries were ashamed: and all the people rejoiced for all the glorious things that were done by him.
Then shall ye call upon me, and ye shall go and pray unto me, and I will hearken unto you.
Personal Bible reading plan
Create an account to configure your Bible reading plan and you will see your progress and the next chapter to read here!
Read more...