19 Bible Verses about Worrying
«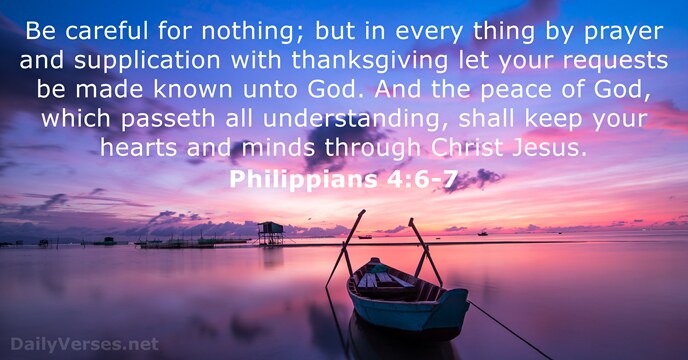 »
Be careful for nothing; but in every thing by prayer and supplication with thanksgiving let your requests be made known unto God. And the peace of God, which passeth all understanding, shall keep your hearts and minds through Christ Jesus.

Sorgt euch um nichts, sondern in allen Dingen lasst eure Bitten in Gebet und Flehen mit Danksagung vor Gott kundwerden! Und der Friede Gottes, der höher ist als alle Vernunft, wird eure Herzen und Sinne in Christus Jesus bewahren.

Fear thou not; for I am with thee: be not dismayed; for I am thy God: I will strengthen thee; yea, I will help thee; yea, I will uphold thee with the right hand of my righteousness.

Fürchte dich nicht, ich bin mit dir; weiche nicht, denn ich bin dein Gott. Ich stärke dich, ich helfe dir auch, ich halte dich durch die rechte Hand meiner Gerechtigkeit.

Therefore I say unto you, Take no thought for your life, what ye shall eat, or what ye shall drink; nor yet for your body, what ye shall put on. Is not the life more than meat, and the body than raiment?

Darum sage ich euch: Sorgt euch nicht um euer Leben, was ihr essen und trinken werdet; auch nicht um euren Leib, was ihr anziehen werdet. Ist nicht das Leben mehr als die Nahrung und der Leib mehr als die Kleidung?

Casting all your care upon him; for he careth for you.

Alle eure Sorge werft auf ihn; denn er sorgt für euch.

Take therefore no thought for the morrow: for the morrow shall take thought for the things of itself. Sufficient unto the day is the evil thereof.

Darum sorgt nicht für morgen, denn der morgige Tag wird für das Seine sorgen. Es ist genug, dass jeder Tag seine eigene Plage hat.

In the multitude of my thoughts within me thy comforts delight my soul.

Ich hatte viel Bekümmernis in meinem Herzen, aber deine Tröstungen erquickten meine Seele.

Let not your heart be troubled: ye believe in God, believe also in me.

Euer Herz erschrecke nicht! Glaubt an Gott und glaubt an mich!

Peace I leave with you, my peace I give unto you: not as the world giveth, give I unto you. Let not your heart be troubled, neither let it be afraid.

Frieden lasse ich euch, meinen Frieden gebe ich euch. Nicht gebe ich euch, wie die Welt gibt. Euer Herz erschrecke nicht und fürchte sich nicht.

Heaviness in the heart of man maketh it stoop: but a good word maketh it glad.

Sorge im Herzen bedrückt den Menschen; aber ein freundliches Wort erfreut ihn.

Lord, all my desire is before thee; and my groaning is not hid from thee.

Herr, du kennst all mein Begehren, und mein Seufzen ist dir nicht verborgen.

For in much wisdom is much grief: and he that increaseth knowledge increaseth sorrow.

Denn wo viel Weisheit ist, da ist viel Grämen, und wer viel lernt, der muss viel leiden.

Take no thought for your life, what ye shall eat; neither for the body, what ye shall put on. The life is more than meat, and the body is more than raiment.

Sorgt euch nicht um das Leben, was ihr essen sollt, auch nicht um den Leib, was ihr anziehen sollt. Denn das Leben ist mehr als die Nahrung und der Leib mehr als die Kleidung.

And God is able to make all grace abound toward you; that ye, always having all sufficiency in all things, may abound to every good work.

Gott aber kann machen, dass alle Gnade unter euch reichlich sei, damit ihr in allen Dingen allezeit volle Genüge habt und noch reich seid zu jedem guten Werk.

Therefore remove sorrow from thy heart, and put away evil from thy flesh: for childhood and youth are vanity.

Lass Unmut fern sein von deinem Herzen und halte das Übel fern von deinem Leibe; denn Jugend und dunkles Haar sind eitel.

But when they shall lead you, and deliver you up, take no thought beforehand what ye shall speak, neither do ye premeditate: but whatsoever shall be given you in that hour, that speak ye: for it is not ye that speak, but the Holy Ghost.

Und wenn sie euch hinführen und überantworten werden, so sorgt euch nicht vorher, was ihr reden sollt; sondern was euch in jener Stunde gegeben wird, das redet. Denn ihr seid's nicht, die da reden, sondern der Heilige Geist.

He also that received seed among the thorns is he that heareth the word; and the care of this world, and the deceitfulness of riches, choke the word, and he becometh unfruitful.

Der aber unter die Dornen gesät ist, das ist, der das Wort hört, und die Sorge der Welt und der trügerische Reichtum ersticken das Wort, und er bringt keine Frucht.

And I heard a great voice out of heaven saying, Behold, the tabernacle of God is with men, and he will dwell with them, and they shall be his people, and God himself shall be with them, and be their God. And God shall wipe away all tears from their eyes; and there shall be no more death, neither sorrow, nor crying, neither shall there be any more pain: for the former things are passed away.

Und ich hörte eine große Stimme von dem Thron her, die sprach: Siehe da, die Hütte Gottes bei den Menschen! Und er wird bei ihnen wohnen, und sie werden seine Völker sein, und er selbst, Gott mit ihnen, wird ihr Gott sein; und Gott wird abwischen alle Tränen von ihren Augen, und der Tod wird nicht mehr sein, noch Leid noch Geschrei noch Schmerz wird mehr sein; denn das Erste ist vergangen.

Then Job arose, and rent his mantle, and shaved his head, and fell down upon the ground, and worshipped, And said, Naked came I out of my mother's womb, and naked shall I return thither: the L

ord

gave, and the L

ord

hath taken away; blessed be the name of the L

ord

.
Da stand Hiob auf und zerriss sein Kleid und schor sein Haupt und fiel auf die Erde und neigte sich tief und sprach: Ich bin nackt von meiner Mutter Leibe gekommen, nackt werde ich wieder dahinfahren. Der

HERR

hat's gegeben, der

HERR

hat's genommen; der Name des

HERRN

sei gelobt!

Consider the ravens: for they neither sow nor reap; which neither have storehouse nor barn; and God feedeth them: how much more are ye better than the fowls?

Seht die Raben: Sie säen nicht, sie ernten nicht, sie haben keinen Keller und keine Scheune, und Gott ernährt sie doch. Wie viel mehr seid ihr als die Vögel!
He that loveth silver shall not be satisfied with silver; nor he that loveth abundance with increase: this is also vanity.
And he answered and said unto them, Have ye not read, that he which made them at the beginning made them male and female, And said, For this cause shall a man leave father and mother, and shall cleave to his wife: and they twain shall be one flesh? Wherefore they are no more twain, but one flesh. What therefore God hath joined together, let not man put asunder.
Read more
He that loveth silver shall not be satisfied with silver; nor he that loveth abundance with increase: this is also vanity.
Personal Bible reading plan
Create an account to configure your Bible read plan and you will see your progress and the next chapter to read here!
Read more...