Bible Verses about 'Lead'
«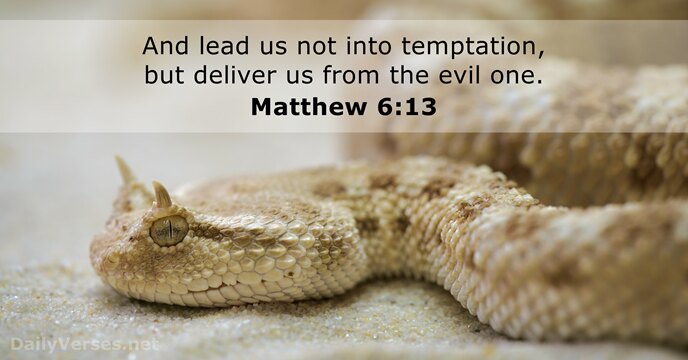 »
And lead us not into temptation,
but deliver us from the evil one.
Since you are my rock and my fortress,
for the sake of your name lead and guide me.
Teach me to do your will,
for you are my God;
may your good Spirit
lead me on level ground.
Search me, God, and know my heart;
test me and know my anxious thoughts.
See if there is any offensive way in me,
and lead me in the way everlasting.
I instruct you in the way of wisdom
and lead you along straight paths.
Guide me in your truth and teach me,
for you are God my Savior,
and my hope is in you all day long.
'Never again will they hunger;
never again will they thirst.
The sun will not beat down on them,'
nor any scorching heat.
For the Lamb at the center of the throne
will be their shepherd;
'he will lead them to springs of living water.'
'And God will wipe away every tear from their eyes.'

Enter through the narrow gate. For wide is the gate and broad is the road that leads to destruction, and many enter through it. But small is the gate and narrow the road that leads to life, and only a few find it.

How much more, then, will the blood of Christ, who through the eternal Spirit offered himself unblemished to God, cleanse our consciences from acts that lead to death, so that we may serve the living God!

The L

ord

is my shepherd, I lack nothing.
He makes me lie down in green pastures,
he leads me beside quiet waters.
All hard work brings a profit,
but mere talk leads only to poverty.
Whoever heeds discipline shows the way to life,
but whoever ignores correction leads others astray.
There is a way that appears to be right,
but in the end it leads to death.
God sets the lonely in families,
he leads out the prisoners with singing;
but the rebellious live in a sun-scorched land.

But now that you have been set free from sin and have become slaves of God, the benefit you reap leads to holiness, and the result is eternal life.

On a Sabbath Jesus was teaching in one of the synagogues, and a woman was there who had been crippled by a spirit for eighteen years. She was bent over and could not straighten up at all. When Jesus saw her, he called her forward and said to her, "Woman, you are set free from your infirmity." Then he put his hands on her, and immediately she straightened up and praised God. Indignant because Jesus had healed on the Sabbath, the synagogue leader said to the people, "There are six days for work. So come and be healed on those days, not on the Sabbath." The Lord answered him, "You hypocrites! Doesn't each of you on the Sabbath untie your ox or donkey from the stall and lead it out to give it water? Then should not this woman, a daughter of Abraham, whom Satan has kept bound for eighteen long years, be set free on the Sabbath day from what bound her?" When he said this, all his opponents were humiliated, but the people were delighted with all the wonderful things he was doing.

Each of us should please our neighbors for their good, to build them up.

Whenever you are arrested and brought to trial, do not worry beforehand about what to say. Just say whatever is given you at the time, for it is not you speaking, but the Holy Spirit.

See to it, brothers and sisters, that none of you has a sinful, unbelieving heart that turns away from the living God.

Go back and tell Hezekiah, the ruler of my people, 'This is what the L

ord

, the God of your father David, says: I have heard your prayer and seen your tears; I will heal you. On the third day from now you will go up to the temple of the L

ord

.'

So that, just as sin reigned in death, so also grace might reign through righteousness to bring eternal life through Jesus Christ our Lord.

Good and upright is the L

ord

;
therefore he instructs sinners in his ways.
He guides the humble in what is right
and teaches them his way.

But you, dear friends, by building yourselves up in your most holy faith and praying in the Holy Spirit, keep yourselves in God's love as you wait for the mercy of our Lord Jesus Christ to bring you to eternal life.
For where your treasure is, there your heart will be also.
Personal Bible reading plan
Create an account to configure your Bible reading plan and you will see your progress and the next chapter to read here!
Read more...