Bible Verses about 'On'
«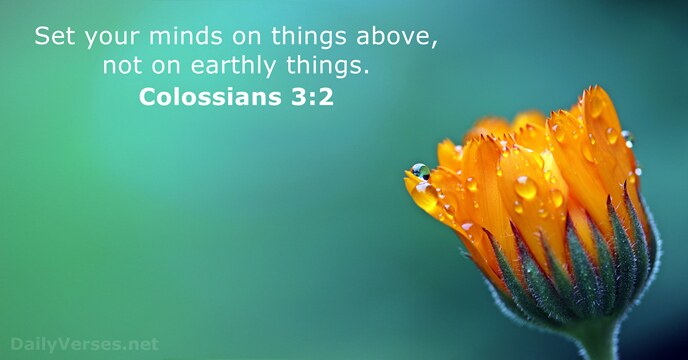 »
Set your minds on things above, not on earthly things.

As I began to speak, the Holy Spirit came on them as he had come on us at the beginning.

Glory to God in the highest heaven,
and on earth peace to those on whom his favor rests.
The L

ord

is near to all who call on him,
to all who call on him in truth.
But the eyes of the L

ord

are on those who fear him,
on those whose hope is in his unfailing love.

You are the light of the world. A town built on a hill cannot be hidden.

On hearing this, they were baptized in the name of the Lord Jesus. When Paul placed his hands on them, the Holy Spirit came on them, and they spoke in tongues and prophesied.

I will give you the keys of the kingdom of heaven; whatever you bind on earth will be bound in heaven, and whatever you loose on earth will be loosed in heaven.

So after they had fasted and prayed, they placed their hands on them and sent them off.

And everyone who calls on the name of the Lord will be saved.

And over all these virtues put on love, which binds them all together in perfect unity.

Can a man walk on hot coals
without his feet being scorched?

For, "Everyone who calls on the name of the Lord will be saved."

Before a word is on my tongue
you, L

ord

, know it completely.

Put on the full armor of God, so that you can take your stand against the devil's schemes.

To the one who is victorious, I will give the right to sit with me on my throne, just as I was victorious and sat down with my Father on his throne.

And now what are you waiting for? Get up, be baptized and wash your sins away, calling on his name.

How much more valuable is a person than a sheep! Therefore it is lawful to do good on the Sabbath.

Whoever believes in the Son has eternal life, but whoever rejects the Son will not see life, for God's wrath remains on them.

Then I heard every creature in heaven and on earth and under the earth and on the sea, and all that is in them, saying: "To him who sits on the throne and to the Lamb be praise and honor and glory and power, for ever and ever!"

Cast all your anxiety on him because he cares for you.

As a father has compassion on his children,
so the L

ord

has compassion on those who fear him.

If it is possible, as far as it depends on you, live at peace with everyone.

I cried out to him with my mouth;
his praise was on my tongue.
And a highway will be there;
it will be called the Way of Holiness;
it will be for those who walk on that Way.
The unclean will not journey on it;
wicked fools will not go about on it.
For where your treasure is, there your heart will be also.
Personal Bible reading plan
Create an account to configure your Bible reading plan and you will see your progress and the next chapter to read here!
Read more...