Bible Verses about 'Thing'
«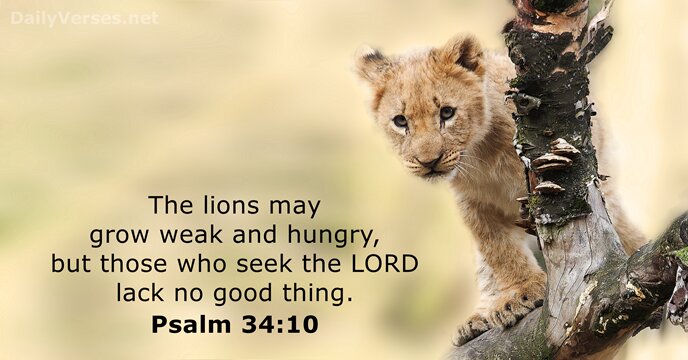 »
The lions may grow weak and hungry,
but those who seek the L

ord

lack no good thing.
I say to the L

ord

, "You are my Lord;
apart from you I have no good thing."

But do not forget this one thing, dear friends: With the Lord a day is like a thousand years, and a thousand years are like a day.

One thing I ask from the L

ord

,
this only do I seek:
that I may dwell in the house of the L

ord


all the days of my life,
to gaze on the beauty of the L

ord


and to seek him in his temple.
He who finds a wife finds what is good
and receives favor from the L

ord

.

For in Christ Jesus neither circumcision nor uncircumcision has any value. The only thing that counts is faith expressing itself through love.

This is also why you pay taxes, for the authorities are God's servants, who give their full time to governing.

Through him all things were made; without him nothing was made that has been made.

The beginning of wisdom is this: Get wisdom.
Though it cost all you have, get understanding.

Everything that lives and moves about will be food for you. Just as I gave you the green plants, I now give you everything. But you must not eat meat that has its lifeblood still in it.

Then Peter said, "Ananias, how is it that Satan has so filled your heart that you have lied to the Holy Spirit and have kept for yourself some of the money you received for the land? Didn't it belong to you before it was sold? And after it was sold, wasn't the money at your disposal? What made you think of doing such a thing? You have not lied just to human beings but to God."

So is my word that goes out from my mouth:
It will not return to me empty,
but will accomplish what I desire
and achieve the purpose for which I sent it.

When anyone becomes aware that they are guilty in any of these matters, they must confess in what way they have sinned.

For where you have envy and selfish ambition, there you find disorder and every evil practice.

Being confident of this, that he who began a good work in you will carry it on to completion until the day of Christ Jesus.

God blessed them and said to them, "Be fruitful and increase in number; fill the earth and subdue it. Rule over the fish in the sea and the birds in the sky and over every living creature that moves on the ground."

Then God said, "Let us make mankind in our image, in our likeness, so that they may rule over the fish in the sea and the birds in the sky, over the livestock and all the wild animals, and over all the creatures that move along the ground."

A gossip betrays a confidence,
but a trustworthy person keeps a secret.
Now I am about to go the way of all the earth. You know with all your heart and soul that not one of all the good promises the L

ord

your God gave you has failed. Every promise has been fulfilled; not one has failed.
Let everything that has breath praise the L

ord

.
Praise the L

ord

.

I appeal to you, brothers and sisters, in the name of our Lord Jesus Christ, that all of you agree with one another in what you say and that there be no divisions among you, but that you be perfectly united in mind and thought.

I am the L

ord

, the God of all mankind. Is anything too hard for me?
There is a time for everything,
and a season for every activity under the heavens.

For I resolved to know nothing while I was with you except Jesus Christ and him crucified.

Let no debt remain outstanding, except the continuing debt to love one another, for whoever loves others has fulfilled the law.
The Lord will vindicate me; your love, Lord, endures forever— do not abandon the works of your hands.
Personal Bible reading plan
Create an account to configure your Bible reading plan and you will see your progress and the next chapter to read here!
Read more...