Bible Verses about Understanding
«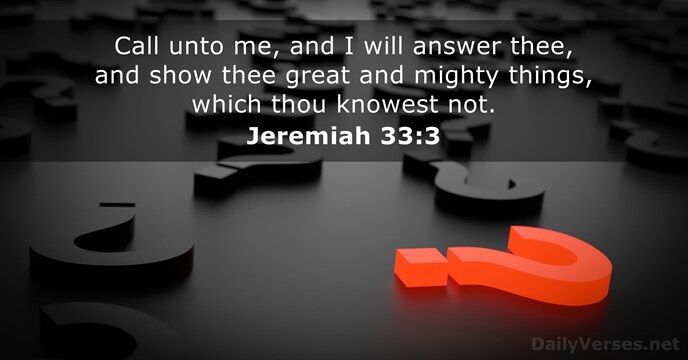 »
Call unto me, and I will answer thee, and show thee great and mighty things, which thou knowest not.

Clama a mí y yo te responderé, y te enseñaré cosas grandes y ocultas que tú no conoces.

As thou knowest not what is the way of the spirit, nor how the bones do grow in the womb of her that is with child: even so thou knowest not the works of God who maketh all.

Así como tú no sabes cuál es el camino del viento ni cómo crecen los huesos en el vientre de la mujer encinta, así también ignoras la obra de Dios, el cual hace todas las cosas.

He that is slow to wrath is of great understanding: but he that is hasty of spirit exalteth folly.

El que tarda en airarse es grande de entendimiento; el impaciente de espíritu pone de manifiesto su necedad.

Wisdom is the principal thing; therefore get wisdom: and with all thy getting get understanding.

Sabiduría ante todo, ¡adquiere sabiduría! Sobre todo lo que posees, ¡adquiere inteligencia!

I will instruct thee and teach thee in the way which thou shalt go: I will guide thee with mine eye.

Te haré entender y te enseñaré el camino en que debes andar; sobre ti fijaré mis ojos.

Every way of a man is right in his own eyes: but the L

ord

pondereth the hearts.

Todo camino del hombre es recto en su propia opinión, pero Jehová pesa los corazones.

While we look not at the things which are seen, but at the things which are not seen: for the things which are seen are temporal; but the things which are not seen are eternal.

No mirando nosotros las cosas que se ven, sino las que no se ven, pues las cosas que se ven son temporales, pero las que no se ven son eternas.

There are many devices in a man's heart; nevertheless the counsel of the L

ord

, that shall stand.

Muchos pensamientos hay en el corazón del hombre, pero el consejo de Jehová es el que permanece.

That the God of our Lord Jesus Christ, the Father of glory, may give unto you the spirit of wisdom and revelation in the knowledge of him.

Para que el Dios de nuestro Señor Jesucristo, el Padre de gloria, os dé espíritu de sabiduría y de revelación en el conocimiento de él.

Prove all things; hold fast that which is good. Abstain from all appearance of evil.

Examinadlo todo y retened lo bueno. Absteneos de toda especie de mal.

The entrance of thy words giveth light; it giveth understanding unto the simple.

La exposición de tus palabras alumbra; hace entender a los sencillos.

But Jesus beheld them, and said unto them, With men this is impossible; but with God all things are possible.

Mirándolos Jesús, les dijo: —Para los hombres esto es imposible, pero para Dios todo es posible.

For as the heavens are higher than the earth, so are my ways higher than your ways, and my thoughts than your thoughts.

Como son más altos los cielos que la tierra, así son mis caminos más altos que vuestros caminos y mis pensamientos, más que vuestros pensamientos.

Hast thou not known? hast thou not heard, that the everlasting God, the L

ord

, the Creator of the ends of the earth, fainteth not, neither is weary? there is no searching of his understanding.

¿No has sabido, no has oído que el Dios eterno es Jehová, el cual creó los confines de la tierra? No desfallece ni se fatiga con cansancio, y su entendimiento no hay quien lo alcance.

For though we walk in the flesh, we do not war after the flesh.

Aunque andamos en la carne, no militamos según la carne.

Woe unto him that striveth with his Maker! Let the potsherd strive with the potsherds of the earth. Shall the clay say to him that fashioneth it, What makest thou? or thy work, He hath no hands?

¡Ay del que, no siendo más que un tiesto como cualquier tiesto de la tierra, pleitea con su Hacedor! ¿Dirá el barro al que lo modela: "¿Qué haces?", o: "Tu obra, ¿no tiene manos?"?

O the depth of the riches both of the wisdom and knowledge of God! how unsearchable are his judgments, and his ways past finding out!

¡Profundidad de las riquezas, de la sabiduría y del conocimiento de Dios! ¡Cuán insondables son sus juicios e inescrutables sus caminos!

But grow in grace, and in the knowledge of our Lord and Saviour Jesus Christ. To him be glory both now and for ever. Amen.

Antes bien, creced en la gracia y el conocimiento de nuestro Señor y Salvador Jesucristo. A él sea gloria ahora y hasta el día de la eternidad. Amén.

Let no man say when he is tempted, I am tempted of God: for God cannot be tempted with evil, neither tempteth he any man.

Cuando alguno es tentado no diga que es tentado de parte de Dios, porque Dios no puede ser tentado por el mal ni él tienta a nadie.

There is neither Jew nor Greek, there is neither bond nor free, there is neither male nor female: for ye are all one in Christ Jesus. And if ye be Christ's, then are ye Abraham's seed, and heirs according to the promise.

Ya no hay judío ni griego; no hay esclavo ni libre; no hay hombre ni mujer, porque todos vosotros sois uno en Cristo Jesús. Y si vosotros sois de Cristo, ciertamente descendientes de Abraham sois, y herederos según la promesa.

Jesus answered and said unto him, Verily, verily, I say unto thee, Except a man be born again, he cannot see the kingdom of God.

Le respondió Jesús: —De cierto, de cierto te digo que el que no nace de nuevo no puede ver el reino de Dios.

For a thousand years in thy sight are but as yesterday when it is past, and as a watch in the night.

Ciertamente mil años delante de tus ojos son como el día de ayer, que pasó, y como una de las vigilias de la noche.

And he sat down, and called the twelve, and saith unto them, If any man desire to be first, the same shall be last of all, and servant of all.

Entonces él se sentó, llamó a los doce y les dijo: —Si alguno quiere ser el primero, será el último de todos y el servidor de todos.

Great is the L

ord

, and greatly to be praised; and his greatness is unsearchable.

Grande es Jehová y digno de suprema alabanza; su grandeza es insondable.

Before the mountains were brought forth, or ever thou hadst formed the earth and the world, even from everlasting to everlasting, thou art God.

Antes que nacieran los montes y formaras la tierra y el mundo, desde el siglo y hasta el siglo, tú eres Dios.
Lead me in thy truth, and teach me: for thou art the God of my salvation; on thee do I wait all the day.
Personal Bible reading plan
Create an account to configure your Bible reading plan and you will see your progress and the next chapter to read here!
Read more...