Bible Verses about 'An'
«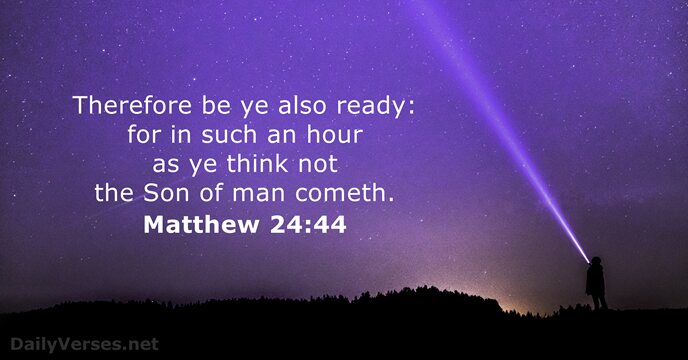 »
Therefore be ye also ready: for in such an hour as ye think not the Son of man cometh.

Wilt thou set thine eyes upon that which is not?
for riches certainly make themselves wings;
they fly away as an eagle toward heaven.

Let no man despise thy youth; but be thou an example of the believers, in word, in conversation, in charity, in spirit, in faith, in purity.

Though an host should encamp against me,
my heart shall not fear:
though war should rise against me,
in this will I be confident.

For even hereunto were ye called: because Christ also suffered for us, leaving us an example, that ye should follow his steps.

Take heed, brethren, lest there be in any of you an evil heart of unbelief, in departing from the living God.

But if any provide not for his own, and specially for those of his own house, he hath denied the faith, and is worse than an infidel.

And every man that striveth for the mastery is temperate in all things. Now they do it to obtain a corruptible crown; but we an incorruptible.

For, brethren, ye have been called unto liberty; only use not liberty for an occasion to the flesh, but by love serve one another.

It is an honour for a man to cease from strife:
but every fool will be meddling.
Lying lips are abomination to the L

ord

:
but they that deal truly are his delight.

A good man out of the good treasure of his heart bringeth forth that which is good; and an evil man out of the evil treasure of his heart bringeth forth that which is evil: for of the abundance of the heart his mouth speaketh.

Ye are the light of the world. A city that is set on an hill cannot be hid.

Ye adulterers and adulteresses, know ye not that the friendship of the world is enmity with God? whosoever therefore will be a friend of the world is the enemy of God.

Pleasant words are as an honeycomb,
sweet to the soul, and health to the bones.
A fool's wrath is presently known:
but a prudent man covereth shame.

And walk in love, as Christ also hath loved us, and hath given himself for us an offering and a sacrifice to God for a sweetsmelling savour.

House and riches are the inheritance of fathers:
and a prudent wife is from the L

ord

.
The rich man's wealth is his strong city,
and as an high wall in his own conceit.
I will praise thee with uprightness of heart,
when I shall have learned thy righteous judgments.
A man hath joy by the answer of his mouth:
and a word spoken in due season, how good is it!

Rejoice greatly, O daughter of Zion; shout, O daughter of Jerusalem: behold, thy King cometh unto thee: he is just, and having salvation; lowly, and riding upon an ass, and upon a colt the foal of an ass.

But let judgment run down as waters,
and righteousness as a mighty stream.
Thy testimonies have I taken as an heritage for ever:
for they are the rejoicing of my heart.

For we know that if our earthly house of this tabernacle were dissolved, we have a building of God, an house not made with hands, eternal in the heavens.
Blessed is the man that walketh not in the counsel of the ungodly, nor standeth in the way of sinners, nor sitteth in the seat of the scornful.
Personal Bible reading plan
Create an account to configure your Bible reading plan and you will see your progress and the next chapter to read here!
Read more...