Bible Verses about 'Take'
«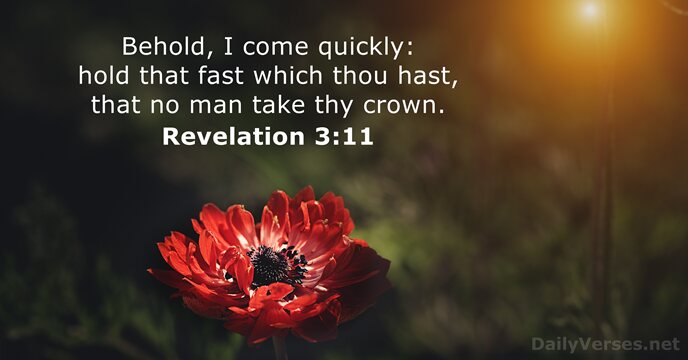 »
Behold, I come quickly: hold that fast which thou hast, that no man take thy crown.

I pray not that thou shouldest take them out of the world, but that thou shouldest keep them from the evil.

And he said to them all, If any man will come after me, let him deny himself, and take up his cross daily, and follow me.

Take therefore no thought for the morrow: for the morrow shall take thought for the things of itself. Sufficient unto the day is the evil thereof.

And he said, Abba, Father, all things are possible unto thee; take away this cup from me: nevertheless not what I will, but what thou wilt.

And ye shall serve the L

ord

your God, and he shall bless thy bread, and thy water; and I will take sickness away from the midst of thee.

As he came forth of his mother's womb, naked shall he return to go as he came, and shall take nothing of his labour, which he may carry away in his hand.

Wherefore take unto you the whole armour of God, that ye may be able to withstand in the evil day, and having done all, to stand.

Thou shalt not take the name of the L

ord

thy God in vain: for the L

ord

will not hold him guiltless that taketh his name in vain.

Take my yoke upon you, and learn of me; for I am meek and lowly in heart: and ye shall find rest unto your souls. For my yoke is easy, and my burden is light.

And when he had called the people unto him with his disciples also, he said unto them, Whosoever will come after me, let him deny himself, and take up his cross, and follow me.

But he knoweth the way that I take:
when he hath tried me, I shall come forth as gold.
My foot hath held his steps,
his way have I kept, and not declined.

And he said unto them, Take heed, and beware of covetousness: for a man's life consisteth not in the abundance of the things which he possesseth.

Take heed, brethren, lest there be in any of you an evil heart of unbelief, in departing from the living God.

And he that taketh not his cross, and followeth after me, is not worthy of me.

A new heart also will I give you, and a new spirit will I put within you: and I will take away the stony heart out of your flesh, and I will give you an heart of flesh.

Therefore I take pleasure in infirmities, in reproaches, in necessities, in persecutions, in distresses for Christ's sake: for when I am weak, then am I strong.

But while he thought on these things, behold, the angel of the Lord appeared unto him in a dream, saying, Joseph, thou son of David, fear not to take unto thee Mary thy wife: for that which is conceived in her is of the Holy Ghost.

It is better to trust in the L

ord


than to put confidence in man.

Take no thought for your life, what ye shall eat; neither for the body, what ye shall put on. The life is more than meat, and the body is more than raiment.

Preserve me, O God:
for in thee do I put my trust.
Only by pride cometh contention:
but with the well advised is wisdom.

Every man also to whom God hath given riches and wealth, and hath given him power to eat thereof, and to take his portion, and to rejoice in his labour; this is the gift of God.

Therefore I say unto you, Take no thought for your life, what ye shall eat, or what ye shall drink; nor yet for your body, what ye shall put on. Is not the life more than meat, and the body than raiment?

But take diligent heed to do the commandment and the law, which Moses the servant of the L

ord

charged you, to love the L

ord

your God, and to walk in all his ways, and to keep his commandments, and to cleave unto him, and to serve him with all your heart and with all your soul.
He that covereth a transgression seeketh love; but he that repeateth a matter separateth very friends.
Personal Bible reading plan
Create an account to configure your Bible reading plan and you will see your progress and the next chapter to read here!
Read more...