«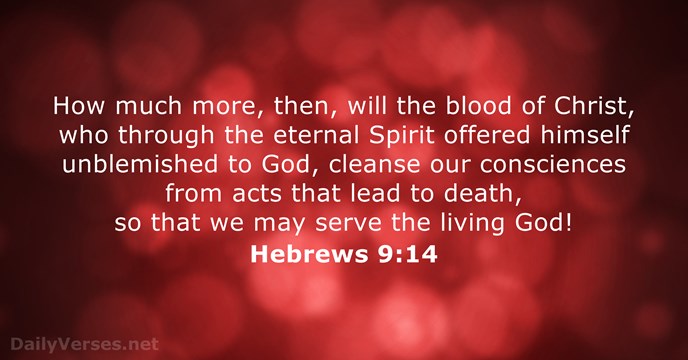 »
But the gift is not like the trespass. For if the many died by the trespass of the one man, how much more did God's grace and the gift that came by the grace of the one man, Jesus Christ, overflow to the many!

Omdat God zoveel van ons houdt, gaf God toen Jezus als geschenk aan ons. En dat Geschenk is véél machtiger dan de ongehoorzaamheid van Adam. Want door de ongehoorzaamheid van één mens (namelijk Adam) zijn heel veel mensen gestorven. Maar Gods Geschenk, Jezus Christus, is zó machtig dat heel veel mensen erdoor kunnen worden gered.

How much more, then, will the blood of Christ, who through the eternal Spirit offered himself unblemished to God, cleanse our consciences from acts that lead to death, so that we may serve the living God!

Nu heeft Christus door de eeuwige Geest zijn eigen bloed aan God geofferd. Omdat Hij God nooit ongehoorzaam was geweest, was zijn offer volmaakt. Het is dus duidelijk, dat zijn volmaakte offer ons nog veel méér zal vrijspreken van schuld. Want zijn bloed reinigt ons geweten van alle dingen waar God niets aan heeft. Daardoor kunnen we nu de levende God werkelijk dienen.

He reveals deep and hidden things; he knows what lies in darkness, and light dwells with him.

Hij laat dingen zien die tot dan toe verborgen waren. Hij weet wat er in het donker verborgen is, want bij Hem is alles licht.

But if you do not forgive others their sins, your Father will not forgive your sins.

Maar als jullie andere mensen niet vergeven, zal jullie Vader jullie ook niet vergeven.

Better the little that the righteous have than the wealth of many wicked; for the power of the wicked will be broken, but the L

ord

upholds the righteous.

Het is beter om arm te zijn maar eerlijk, dan rijk te zijn en slecht. Want de Heer breekt de macht van de mensen die zich niets van Hem aantrekken. Maar Hij helpt de mensen die leven zoals Hij het wil.

You belong to your father, the devil, and you want to carry out your father's desires. He was a murderer from the beginning, not holding to the truth, for there is no truth in him. When he lies, he speaks his native language, for he is a liar and the father of lies.

De duivel is jullie vader en jullie doen dezelfde dingen als jullie vader. Hij is altijd een moordenaar geweest. Hij kan niets goeds doen, want er is helemaal geen waarheid in hem. Hij is een leugenaar en kan niets anders dan liegen. Hij is de bron van alle leugens.

"Come now, let us settle the matter," says the L

ord

. "Though your sins are like scarlet, they shall be as white as snow; though they are red as crimson, they shall be like wool."

Kom, laat Mij over jullie rechtspreken, zegt de Heer. Jullie daden zijn zo rood als bloed. Toch zullen ze zo wit worden als witte wol, als sneeuw.

Who gave himself for us to redeem us from all wickedness and to purify for himself a people that are his very own, eager to do what is good.

Hij heeft zijn leven voor ons gegeven om ons te bevrijden van het kwaad. Zo heeft Hij van ons een zuiver volk gemaakt. En dat volk is zijn eigendom. Het is de bedoeling dat dat volk zijn best doet om het goede te doen.

For he has rescued us from the dominion of darkness and brought us into the kingdom of the Son he loves, in whom we have redemption, the forgiveness of sins.

Hij heeft ons gered uit de macht van de duisternis. En Hij heeft ons overgeplaatst in het Koninkrijk van zijn Zoon, van wie Hij heel veel houdt. Hij heeft ons gered door de dood van zijn Zoon. Want dankzij zijn dood heeft God ons al onze ongehoorzaamheid kunnen vergeven.

For I will forgive their wickedness and will remember their sins no more.

Ik zal al hun ongehoorzaamheid vergeven. Ik zal er zelfs niet meer aan denken.

When God raised up his servant, he sent him first to you to bless you by turning each of you from your wicked ways.

God heeft zijn Zoon Jezus naar jullie toe gestuurd en uit de dood teruggeroepen en weer levend gemaakt. Dat heeft Hij in de eerste plaats voor júllie gedaan. Hij wil dat jullie allemaal stoppen met het doen van slechte dingen en weer gaan leven zoals Hij het wil. Want dan kan Hij goed voor jullie zijn.

If your brother or sister sins against you, rebuke them; and if they repent, forgive them. Even if they sin against you seven times in a day and seven times come back to you saying 'I repent,' you must forgive them.

Jezus zei: "Als je ziet dat iemand iets verkeerds tegen je doet, spreek daar dan streng met hem over. Als hij er spijt van heeft, vergeef het hem dan. Zelfs als hij zeven keer per dag iets verkeerds tegen je doet, en zeven keer bij je terug komt en zegt: 'Het spijt me,' dan moet je hem vergeven."

And so I tell you, every kind of sin and slander can be forgiven, but blasphemy against the Spirit will not be forgiven.

Daarom zeg Ik jullie dat de mensen vergeving kunnen krijgen voor alles waarin ze ongehoorzaam zijn geweest aan God. Maar als iemand expres de Heilige Geest beledigt, zal God hem dat niet vergeven.
For just as we share abundantly in the sufferings of Christ, so also our comfort abounds through Christ.
Personal Bible reading plan
Create an account to configure your Bible reading plan and you will see your progress and the next chapter to read here!
Read more...