Bible Verses about Creation
«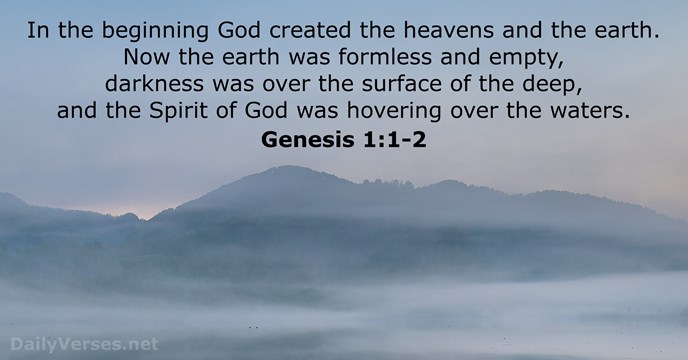 »
In the beginning God created the heavens and the earth. Now the earth was formless and empty, darkness was over the surface of the deep, and the Spirit of God was hovering over the waters.

No princípio, criou Deus os céus e a terra. E a terra era sem forma e vazia; e havia trevas sobre a face do abismo; e o Espírito de Deus se movia sobre a face das águas.

For you created my inmost being; you knit me together in my mother's womb. I praise you because I am fearfully and wonderfully made; your works are wonderful, I know that full well.

Pois possuíste o meu interior; entreteceste-me no ventre de minha mãe. Eu te louvarei, porque de um modo terrível e tão maravilhoso fui formado; maravilhosas são as tuas obras, e a minha alma o sabe muito bem.

For every house is built by someone, but God is the builder of everything.

Porque toda casa é edificada por alguém, mas o que edificou todas as coisas é Deus.

For since the creation of the world God's invisible qualities—his eternal power and divine nature—have been clearly seen, being understood from what has been made, so that people are without excuse.

Porque as suas coisas invisíveis, desde a criação do mundo, tanto o seu eterno poder como a sua divindade, se entendem e claramente se veem pelas coisas que estão criadas, para que eles fiquem inescusáveis.

Then God blessed the seventh day and made it holy, because on it he rested from all the work of creating that he had done.

E abençoou Deus o dia sétimo e o santificou; porque nele descansou de toda a sua obra, que Deus criara e fizera.

Ah, Sovereign L

ord

, you have made the heavens and the earth by your great power and outstretched arm. Nothing is too hard for you.
Ah! Senhor J

eová

! Eis que tu fizeste os céus e a terra com o teu grande poder e com o teu braço estendido; não te é maravilhosa demais coisa alguma.

For from him and through him and for him are all things. To him be the glory forever! Amen.

Porque dele, e por ele, e para ele são todas as coisas; glória, pois, a ele eternamente. Amém!

I lift up my eyes to the mountains— where does my help come from? My help comes from the L

ord

, the Maker of heaven and earth.
Elevo os olhos para os montes: de onde me virá o socorro? O meu socorro vem do S

enhor

, que fez o céu e a terra.

For we are God's handiwork, created in Christ Jesus to do good works, which God prepared in advance for us to do.

Porque somos feitura sua, criados em Cristo Jesus para as boas obras, as quais Deus preparou para que andássemos nelas.

So God created mankind in his own image, in the image of God he created them; male and female he created them.

E criou Deus o homem à sua imagem; à imagem de Deus o criou; macho e fêmea os criou.

Do you not know? Have you not heard? The L

ord

is the everlasting God, the Creator of the ends of the earth. He will not grow tired or weary, and his understanding no one can fathom.
Não sabes, não ouviste que o eterno Deus, o S

enhor

, o Criador dos confins da terra, nem se cansa, nem se fatiga? Não há esquadrinhação do seu entendimento.
By the word of the L

ord

the heavens were made, their starry host by the breath of his mouth.
Pela palavra do S

enhor

foram feitos os céus; e todo o exército deles, pelo espírito da sua boca.

Before the mountains were born or you brought forth the whole world, from everlasting to everlasting you are God.

Antes que os montes nascessem, ou que tu formasses a terra e o mundo, sim, de eternidade a eternidade, tu és Deus.

For the creation waits in eager expectation for the children of God to be revealed.

Porque a ardente expectação da criatura espera a manifestação dos filhos de Deus.

Then God said, "Let us make mankind in our image, in our likeness, so that they may rule over the fish in the sea and the birds in the sky, over the livestock and all the wild animals, and over all the creatures that move along the ground."

E disse Deus: Façamos o homem à nossa imagem, conforme a nossa semelhança; e domine sobre os peixes do mar, e sobre as aves dos céus, e sobre o gado, e sobre toda a terra, e sobre todo réptil que se move sobre a terra.

The L

ord

has done it this very day; let us rejoice today and be glad.
Este é o dia que fez o S

enhor

; regozijemo-nos e alegremo-nos nele.
He builds his lofty palace in the heavens and sets its foundation on the earth; he calls for the waters of the sea and pours them out over the face of the land— the L

ord

is his name.
Ele é o que edifica as suas câmaras no céu, e a sua abóbada fundou na terra, e o que chama as águas do mar, e as derrama sobre a terra; o S

enhor

é o seu nome.

Therefore, if anyone is in Christ, the new creation has come: The old has gone, the new is here!

Assim que, se alguém está em Cristo, nova criatura é: as coisas velhas já passaram; eis que tudo se fez novo.

Our help is in the name of the L

ord

, the Maker of heaven and earth.
O nosso socorro está em o nome do S

enhor

, que fez o céu e a terra.

Then I heard every creature in heaven and on earth and under the earth and on the sea, and all that is in them, saying: "To him who sits on the throne and to the Lamb be praise and honor and glory and power, for ever and ever!"

E ouvi a toda criatura que está no céu, e na terra, e debaixo da terra, e que está no mar, e a todas as coisas que neles há, dizer: Ao que está assentado sobre o trono e ao Cordeiro sejam dadas ações de graças, e honra, e glória, e poder para todo o sempre.

'For in him we live and move and have our being.' As some of your own poets have said, 'We are his offspring.'

Porque nele vivemos, e nos movemos, e existimos, como também alguns dos vossos poetas disseram: Pois somos também sua geração.

He chose to give us birth through the word of truth, that we might be a kind of firstfruits of all he created.

Segundo a sua vontade, ele nos gerou pela palavra da verdade, para que fôssemos como primícias das suas criaturas.

The L

ord

God said, "It is not good for the man to be alone. I will make a helper suitable for him."
E disse o S

enhor

Deus: Não é bom que o homem esteja só; far-lhe-ei uma adjutora que esteja como diante dele.

Woe to those who quarrel with their Maker, those who are nothing but potsherds among the potsherds on the ground. Does the clay say to the potter, 'What are you making?' Does your work say, 'The potter has no hands'?

Ai daquele que contende com o seu Criador, caco entre outros cacos de barro! Porventura, dirá o barro ao que o formou: Que fazes? Ou a tua obra: Não tens mãos?

Come, let us bow down in worship, let us kneel before the L

ord

our Maker.
Ó, vinde, adoremos e prostremo-nos! Ajoelhemos diante do S

enhor

que nos criou.
Those who guard their lips preserve their lives, but those who speak rashly will come to ruin.
Personal Bible reading plan
Create an account to configure your Bible reading plan and you will see your progress and the next chapter to read here!
Read more...