Bible Verses about Creation
«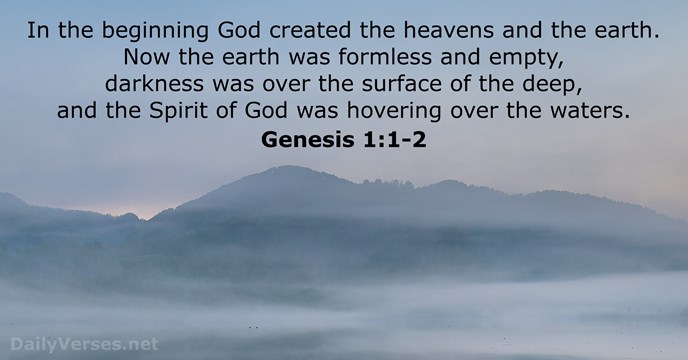 »
In the beginning God created the heavens and the earth. Now the earth was formless and empty, darkness was over the surface of the deep, and the Spirit of God was hovering over the waters.

In het begin maakte God de hemel en de aarde. De aarde was leeg en verlaten. Overal was water, en alles was donker. En er waaide een hevige wind over het water.

For you created my inmost being; you knit me together in my mother's womb. I praise you because I am fearfully and wonderfully made; your works are wonderful, I know that full well.

U maakte mij in de buik van mijn moeder. Elk deel van mijn lichaam hebt u gevormd. Ik dank u daarvoor. Want het is een wonder, zoals ik gemaakt ben. Alles wat u maakt, is een wonder. Dat weet ik heel goed.

For every house is built by someone, but God is the builder of everything.

Jezus deed wat God wilde. Ook Mozes deed wat God wilde, toen hij Gods volk hielp. Maar Jezus heeft van God wel meer eer gekregen dan Mozes. Zo gaat dat: niet iedereen krijgt evenveel eer. Denk bijvoorbeeld aan iemand die een huis bouwt. De bouwer krijgt meer eer dan het gebouw. Of denk aan God. Hij heeft alles gemaakt, en daarom krijgt hij de meeste eer.

For since the creation of the world God's invisible qualities—his eternal power and divine nature—have been clearly seen, being understood from what has been made, so that people are without excuse.

Want ook al kun je God niet zien, je kunt wel zien wat hij gedaan heeft. God heeft de wereld gemaakt. Zo kan iedereen die verstand heeft, Gods eeuwige macht zien, en begrijpen dat hij God is. Daarom hebben mensen die God niet eren, geen enkel excuus!

Then God blessed the seventh day and made it holy, because on it he rested from all the work of creating that he had done.

God zegende de zevende dag. Hij maakte van die dag een bijzondere dag. Want op die dag was hij klaar met de schepping en rustte hij uit van al zijn werk.

Ah, Sovereign L

ord

, you have made the heavens and the earth by your great power and outstretched arm. Nothing is too hard for you.

Heer, mijn God, u hebt met uw grote kracht de hemel en de aarde gemaakt. Voor u is alles mogelijk!

For from him and through him and for him are all things. To him be the glory forever! Amen.

God heeft alles gemaakt. Alles bestaat dankzij hem, en alles bestaat tot zijn eer. Alle eer aan God, voor eeuwig! Amen.

I lift up my eyes to the mountains— where does my help come from? My help comes from the L

ord

, the Maker of heaven and earth.

Ik kijk omhoog naar de bergen. Daar komt mijn hulp vandaan. Daar is de Heer, hij helpt mij. Hij heeft de hemel en de aarde gemaakt.

For we are God's handiwork, created in Christ Jesus to do good works, which God prepared in advance for us to do.

God heeft nieuwe mensen van ons gemaakt. Want door Jezus Christus zijn wij mensen geworden die goed leven. Dat was Gods bedoeling, daarvoor heeft hij ons bestemd.

So God created mankind in his own image, in the image of God he created them; male and female he created them.

Toen maakte God de mensen. Hij maakte ze zo dat ze op hem leken. Hij maakte ze als man en als vrouw.

Do you not know? Have you not heard? The L

ord

is the everlasting God, the Creator of the ends of the earth. He will not grow tired or weary, and his understanding no one can fathom.

Jullie weten toch dat de Heer voor altijd regeert? Hij heeft de hele aarde gemaakt. Hij wordt nooit moe, hij blijft altijd sterk. Niemand is zo wijs als hij.

By the word of the L

ord

the heavens were made, their starry host by the breath of his mouth.

De Heer heeft de hemel gemaakt. De sterren zijn er omdat hij heeft gesproken.

Before the mountains were born or you brought forth the whole world, from everlasting to everlasting you are God.

God, u bent er altijd geweest. U was er eerder dan de bergen, al voordat de aarde bestond. U was er al voordat alles begon, en u zult er altijd zijn.

For the creation waits in eager expectation for the children of God to be revealed.

Alles op aarde wordt bedreigd door de macht van de dood. Dat is niet de schuld van de aarde, maar het is de straf van God voor de slechtheid van de mensen. Toch is er hoop! Want ooit wordt de aarde bevrijd. Dan komt er een eind aan de macht van de dood. De aarde verlangt hevig naar dat moment van bevrijding. Dan zal God aan zijn kinderen het eeuwige leven geven. En dan zullen zij voor altijd op aarde leven.

Then God said, "Let us make mankind in our image, in our likeness, so that they may rule over the fish in the sea and the birds in the sky, over the livestock and all the wild animals, and over all the creatures that move along the ground."

God zei: 'Nu wil ik mensen maken. Ze moeten op mij lijken. Ze zullen de baas zijn over de vissen in de zee en de vogels in de lucht. En ook over het vee, over alle kleine dieren en over de hele aarde.'

The L

ord

has done it this very day; let us rejoice today and be glad.

Op deze dag heeft de Heer overwonnen, laten we blij zijn en juichen.

He builds his lofty palace in the heavens and sets its foundation on the earth; he calls for the waters of the sea and pours them out over the face of the land— the L

ord

is his name.

God heeft zijn woning gebouwd in de hemel, en die hemel steunt op de aarde. God laat het water van de zee opstijgen, en hij laat het weer neerkomen op de aarde. Zijn naam is: Heer.

Therefore, if anyone is in Christ, the new creation has come: The old has gone, the new is here!

Iedereen die bij Christus hoort, hoort bij het nieuwe leven. De oude tijd is voorbij, de nieuwe tijd is gekomen.

Our help is in the name of the L

ord

, the Maker of heaven and earth.

De Heer is machtig, hij helpt ons altijd. Hij heeft de hemel en de aarde gemaakt.

Then I heard every creature in heaven and on earth and under the earth and on the sea, and all that is in them, saying: "To him who sits on the throne and to the Lamb be praise and honor and glory and power, for ever and ever!"

En ik hoorde iedereen zingen, in de hemel, op de aarde, onder de aarde en in de zee: 'God en het lam verdienen alle eer, alle macht en alle kracht, altijd en overal.'

'For in him we live and move and have our being.' As some of your own poets have said, 'We are his offspring.'

Want God laat ons leven, bewegen en bestaan. Eén van jullie Griekse dichters heeft gezegd: 'God heeft ons gemaakt. Wij lijken op hem.'

He chose to give us birth through the word of truth, that we might be a kind of firstfruits of all he created.

Het was Gods besluit dat wij de waarheid over hem zouden horen. Hij besloot om nieuwe mensen van ons te maken. Want hij wil dat zijn nieuwe wereld met ons begint.

The L

ord

God said, "It is not good for the man to be alone. I will make a helper suitable for him."

Daarna dacht God, de Heer: Het is niet goed dat de mens alleen is. Ik zal iemand maken die bij hem past.

Woe to those who quarrel with their Maker, those who are nothing but potsherds among the potsherds on the ground. Does the clay say to the potter, 'What are you making?' Does your work say, 'The potter has no hands'?

Ik heb ook de mensen gemaakt. De mensen kunnen daarom geen kritiek op mij hebben. Klei zegt toch ook niet tegen de pottenbakker: 'Wat maak jij eigenlijk?' Of: 'Dat vind ik niet mooi!'

Come, let us bow down in worship, let us kneel before the L

ord

our Maker.

Laten we knielen voor de Heer, laten we diep voor hem buigen, want hij heeft ons gemaakt.
Those who guard their lips preserve their lives, but those who speak rashly will come to ruin.
Personal Bible reading plan
Create an account to configure your Bible reading plan and you will see your progress and the next chapter to read here!
Read more...