71 Bible Verses about Reliability (3/3)
«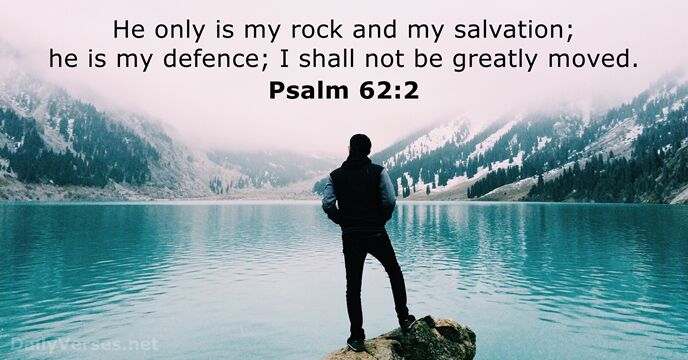 »
He only is my rock and my salvation;
he is my defence; I shall not be greatly moved.
The L

ord

our God be with us, as he was with our fathers: let him not leave us, nor forsake us.
But he that glorieth, let him glory in the Lord. For not he that commendeth himself is approved, but whom the Lord commendeth.
Withhold not thou thy tender mercies from me, O L

ord

:
let thy lovingkindness and thy truth continually preserve me.
So shall my word be that goeth forth out of my mouth:
it shall not return unto me void,
but it shall accomplish that which I please,
and it shall prosper in the thing whereto I sent it.
And, behold, this day I am going the way of all the earth: and ye know in all your hearts and in all your souls, that not one thing hath failed of all the good things which the L

ord

your God spake concerning you; all are come to pass unto you, and not one thing hath failed thereof.
For the mountains shall depart,
and the hills be removed;
but my kindness shall not depart from thee,
neither shall the covenant of my peace be removed,
saith the L

ord

that hath mercy on thee.
It is a faithful saying:
For if we be dead with him,
we shall also live with him.
Let thine eyes look right on,
and let thine eyelids look straight before thee.
For who is God, save the L

ord

?
and who is a rock, save our God?
Thou shalt do no murder, Thou shalt not commit adultery, Thou shalt not steal, Thou shalt not bear false witness, Honour thy father and thy mother: and, Thou shalt love thy neighbour as thyself.
Therefore say unto them, Thus saith the Lord G

od

; There shall none of my words be prolonged any more, but the word which I have spoken shall be done, saith the Lord G

od

.
Behold, his soul which is lifted up is not upright in him:
but the just shall live by his faith.
Turn ye unto me, saith the L

ord

of hosts, and I will turn unto you, saith the L

ord

of hosts.
He loveth righteousness and judgment:
the earth is full of the goodness of the L

ord

.
Lying lips are abomination to the L

ord

:
but they that deal truly are his delight.
Thy word is true from the beginning:
and every one of thy righteous judgments endureth for ever.
For verily I say unto you, Till heaven and earth pass, one jot or one tittle shall in no wise pass from the law, till all be fulfilled.
Surely the Lord G

od

will do nothing,
but he revealeth his secret
unto his servants the prophets.
The way of the L

ord

is strength to the upright:
but destruction shall be to the workers of iniquity.
A faithful witness will not lie:
but a false witness will utter lies.
Previous
1
2
3
Next
Read more
Receive the Daily Bible Verse: