Bible Verses about Sadness
«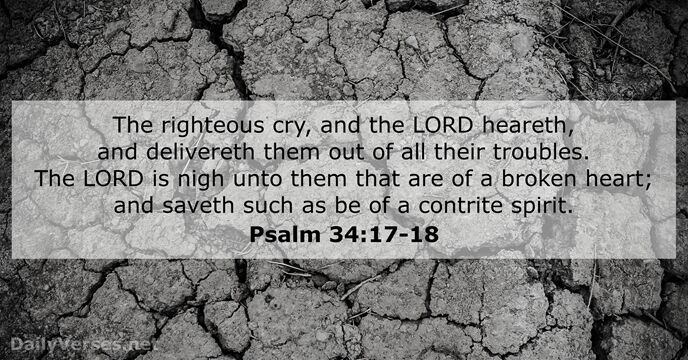 »
The righteous cry, and the L

ord

heareth, and delivereth them out of all their troubles. The L

ord

is nigh unto them that are of a broken heart; and saveth such as be of a contrite spirit.

De Heer luistert als mensen om hulp roepen. Hij redt hen uit alle gevaar. De Heer is dicht bij mensen die geen hoop meer hebben, hij helpt mensen die de moed verliezen.

And the L

ord

, he it is that doth go before thee; he will be with thee, he will not fail thee, neither forsake thee: fear not, neither be dismayed.

De Heer zal zelf met je meegaan. Hij zal je helpen. Hij blijft steeds bij je, hij zal je niet in de steek laten. Je hoeft echt niet bang te zijn.

Blessed are they that mourn: for they shall be comforted.

Het echte geluk is voor mensen die verdriet hebben. Want God zal hen troosten.

Casting all your care upon him; for he careth for you.

Vertrouw op hem als het leven zwaar is, want hij zal voor je zorgen.

For his anger endureth but a moment; in his favour is life: weeping may endure for a night, but joy cometh in the morning.

De woede van de Heer duurt kort, maar zijn liefde duurt een leven lang! Ook al val je 's avonds huilend in slaap, 's ochtends sta je juichend weer op.

For in much wisdom is much grief: and he that increaseth knowledge increaseth sorrow.

Want hoe wijzer je wordt, hoe meer verdriet je hebt. Hoe meer je begrijpt, hoe ongelukkiger je wordt.

Lord, all my desire is before thee; and my groaning is not hid from thee.

Heer, u weet wat ik nodig heb, u kent mijn verdriet.

And I heard a great voice out of heaven saying, Behold, the tabernacle of God is with men, and he will dwell with them, and they shall be his people, and God himself shall be with them, and be their God. And God shall wipe away all tears from their eyes; and there shall be no more death, neither sorrow, nor crying, neither shall there be any more pain: for the former things are passed away.

Uit de richting van de troon hoorde ik een luide stem, die zei: 'Nu is God zelf op aarde. Vanaf nu zal hij bij de mensen wonen. De mensen zullen zijn volk zijn, en hij zal hun God zijn. Hij zal al hun tranen drogen. Niemand zal meer sterven, en er zal geen verdriet en geen pijn meer zijn. Want alles van vroeger is verdwenen.'

Therefore remove sorrow from thy heart, and put away evil from thy flesh: for childhood and youth are vanity.

Houd verdriet en zorgen ver bij je vandaan, want je jeugd is snel voorbij.

As sorrowful, yet alway rejoicing; as poor, yet making many rich; as having nothing, and yet possessing all things.

Ik heb verdriet, maar toch ben ik altijd blij. Ik ben arm, maar ik maak veel mensen rijk. Ik bezit niets, en toch heb ik alles!

Rejoice with them that do rejoice, and weep with them that weep.

Jullie moeten altijd met elkaar meeleven, in vreugde en in verdriet.

They shall hunger no more, neither thirst any more; neither shall the sun light on them, nor any heat. For the Lamb which is in the midst of the throne shall feed them, and shall lead them unto living fountains of waters: and God shall wipe away all tears from their eyes.

Ze zullen geen honger of dorst meer hebben. Ze zullen geen last hebben van de hete wind en de brandende zon. Want het lam, dat vlak bij Gods troon staat, zal hen beschermen. Het lam brengt hen naar een bron met water dat eeuwig leven geeft. En dan zal God al hun tranen drogen.

Therefore also now, saith the L

ord

, turn ye even to me with all your heart, and with fasting, and with weeping, and with mourning.

De Heer zegt: 'Ik wil dat jullie mij weer gehoorzamen. Ga vasten, en laat je verdriet en je tranen aan mij zien.'

Then Job arose, and rent his mantle, and shaved his head, and fell down upon the ground, and worshipped, And said, Naked came I out of my mother's womb, and naked shall I return thither: the L

ord

gave, and the L

ord

hath taken away; blessed be the name of the L

ord

.

Toen Job dat hoorde, scheurde hij van verdriet zijn kleren kapot. Hij knipte zijn hoofd helemaal kaal, en liet zich van ellende op de grond vallen. Hij zei: 'Ik had niets toen ik geboren werd. Ik zal ook niets hebben als ik begraven word. De Heer heeft mij alles gegeven, en de Heer heeft alles weer van mij afgenomen. Toch blijf ik de Heer danken!'

Turn again, and tell Hezekiah the captain of my people, Thus saith the L

ord

, the God of David thy father, I have heard thy prayer, I have seen thy tears: behold, I will heal thee: on the third day thou shalt go up unto the house of the L

ord

.

Jesaja wilde weggaan. Maar al voordat hij het paleis uit was, stuurde de Heer hem terug naar Hizkia, met deze boodschap: 'Hizkia, jij bent de koning van mijn volk. Ik ben de Heer, de God van je voorvader David. Ik heb je gebed gehoord en ik heb je tranen gezien. Ik zal zorgen dat je beter wordt. Over twee dagen zul je weer naar mijn tempel kunnen gaan.'

A wise son maketh a glad father: but a foolish son is the heaviness of his mother.

Wijze kinderen geven hun ouders vreugde, maar dwaze kinderen doen hun ouders verdriet.

The L

ord

openeth the eyes of the blind: the L

ord

raiseth them that are bowed down: the L

ord

loveth the righteous.

De Heer laat blinden weer zien. Mensen die gevallen zijn, helpt hij overeind. De Heer heeft goede mensen lief.

The vine is dried up, and the fig tree languisheth; the pomegranate tree, the palm tree also, and the apple tree, even all the trees of the field, are withered: because joy is withered away from the sons of men.

De oogst is helemaal verwoest, en ook in de wijngaard is geen werk meer. Want alle druivenplanten en fruitbomen zijn dood, alle vruchten zijn verdwenen. En ook het plezier van de mensen is verdwenen.

And grieve not the holy Spirit of God, whereby ye are sealed unto the day of redemption.

Doe de heilige Geest van God geen verdriet. De heilige Geest is in jullie aanwezig, als bewijs dat jullie bij God horen. Daardoor worden jullie gered op de dag dat God de christenen komt bevrijden.

Hear my prayer, O L

ord

, and give ear unto my cry; hold not thy peace at my tears: for I am a stranger with thee, and a sojourner, as all my fathers were.

Heer, hoor mijn gebed. Hoor hoe ik om hulp roep, hoor hoe ik huil. Ik ben maar kort op aarde, net zoals mijn voorouders. Ik ben hier niet voor altijd.
Be not wise in thine own eyes: fear the Lord, and depart from evil. It shall be health to thy navel, and marrow to thy bones.
Personal Bible reading plan
Create an account to configure your Bible reading plan and you will see your progress and the next chapter to read here!
Read more...