Bible Verses about 'Any'
«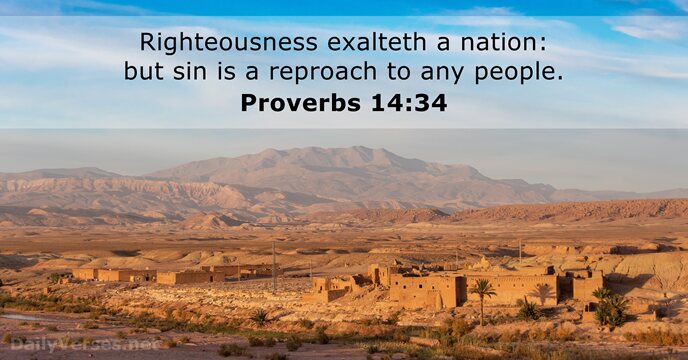 »
Righteousness exalteth a nation:
but sin is a reproach to any people.

If any of you lack wisdom, let him ask of God, that giveth to all men liberally, and upbraideth not; and it shall be given him.

Forbearing one another, and forgiving one another, if any man have a quarrel against any: even as Christ forgave you, so also do ye.

Take heed, brethren, lest there be in any of you an evil heart of unbelief, in departing from the living God.

Search me, O God, and know my heart:
try me, and know my thoughts:
And see if there be any wicked way in me,
and lead me in the way everlasting.

All things were made by him; and without him was not any thing made that was made.

Therefore say unto them, Thus saith the Lord G

od

; There shall none of my words be prolonged any more, but the word which I have spoken shall be done, saith the Lord G

od

.

And the multitude of them that believed were of one heart and of one soul: neither said any of them that ought of the things which he possessed was his own; but they had all things common.

And it shall be, when he shall be guilty in one of these things, that he shall confess that he hath sinned in that thing.

And if a soul sin, and commit any of these things which are forbidden to be done by the commandments of the L

ord

; though he wist it not, yet is he guilty, and shall bear his iniquity.
There is none holy as the L

ord

:
for there is none beside thee:
neither is there any rock like our God.
The young lions do lack, and suffer hunger:
but they that seek the L

ord

shall not want any good thing.

What shall we say then? Shall we continue in sin, that grace may abound? God forbid. How shall we, that are dead to sin, live any longer therein?

If any man serve me, let him follow me; and where I am, there shall also my servant be: if any man serve me, him will my Father honour.

When a man hath taken a new wife, he shall not go out to war, neither shall he be charged with any business: but he shall be free at home one year, and shall cheer up his wife which he hath taken.

Ye shall not afflict any widow, or fatherless child. If thou afflict them in any wise, and they cry at all unto me, I will surely hear their cry; And my wrath shall wax hot, and I will kill you with the sword; and your wives shall be widows, and your children fatherless.

Let us not therefore judge one another any more: but judge this rather, that no man put a stumblingblock or an occasion to fall in his brother's way.

No man hath seen God at any time. If we love one another, God dwelleth in us, and his love is perfected in us.

They shall hunger no more, neither thirst any more; neither shall the sun light on them, nor any heat. For the Lamb which is in the midst of the throne shall feed them, and shall lead them unto living fountains of waters: and God shall wipe away all tears from their eyes.

No man hath seen God at any time, the only begotten Son, which is in the bosom of the Father, he hath declared him.

For the word of God is quick, and powerful, and sharper than any twoedged sword, piercing even to the dividing asunder of soul and spirit, and of the joints and marrow, and is a discerner of the thoughts and intents of the heart.

Neither is there salvation in any other: for there is none other name under heaven given among men, whereby we must be saved.

Keep the sabbath day to sanctify it, as the L

ord

thy God hath commanded thee. Six days thou shalt labour, and do all thy work: But the seventh day is the sabbath of the L

ord

thy God: in it thou shalt not do any work, thou, nor thy son, nor thy daughter, nor thy manservant, nor thy maidservant, nor thine ox, nor thine ass, nor any of thy cattle, nor thy stranger that is within thy gates; that thy manservant and thy maidservant may rest as well as thou.

But above all things, my brethren, swear not, neither by heaven, neither by the earth, neither by any other oath: but let your yea be yea; and your nay, nay; lest ye fall into condemnation.

For in Jesus Christ neither circumcision availeth any thing, nor uncircumcision; but faith which worketh by love.
But our God is in the heavens: he hath done whatsoever he hath pleased.
Personal Bible reading plan
Create an account to configure your Bible reading plan and you will see your progress and the next chapter to read here!
Read more...