Bible Verses about 'Away'
«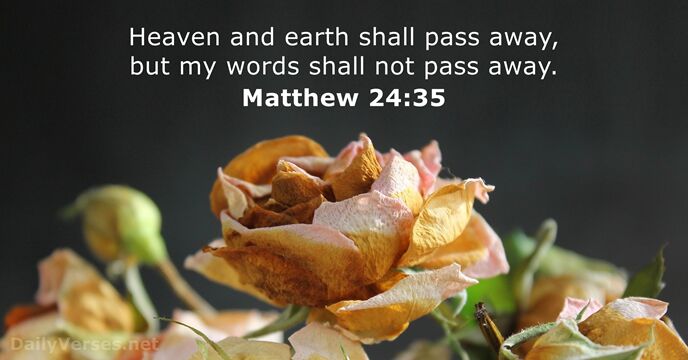 »
Heaven and earth shall pass away, but my words shall not pass away.

A soft answer turneth away wrath:
but grievous words stir up anger.

Nevertheless I tell you the truth; It is expedient for you that I go away: for if I go not away, the Comforter will not come unto you; but if I depart, I will send him unto you.

Put away from thee a froward mouth,
and perverse lips put far from thee.

And the world passeth away, and the lust thereof: but he that doeth the will of God abideth for ever.

And now why tarriest thou? arise, and be baptized, and wash away thy sins, calling on the name of the Lord.

Give to every man that asketh of thee; and of him that taketh away thy goods ask them not again.

And when they had fasted and prayed, and laid their hands on them, they sent them away.

And ye shall serve the L

ord

your God, and he shall bless thy bread, and thy water; and I will take sickness away from the midst of thee.

Therefore remove sorrow from thy heart, and put away evil from thy flesh: for childhood and youth are vanity.

Therefore if any man be in Christ, he is a new creature: old things are passed away; behold, all things are become new.

Let the brother of low degree rejoice in that he is exalted: But the rich, in that he is made low: because as the flower of the grass he shall pass away.

Wash you, make you clean;
put away the evil of your doings
from before mine eyes;
cease to do evil.
For the L

ord

your God is gracious and merciful, and will not turn away his face from you, if ye return unto him.

As he came forth of his mother's womb, naked shall he return to go as he came, and shall take nothing of his labour, which he may carry away in his hand.

Get wisdom, get understanding: forget it not;
neither decline from the words of my mouth.

Unto you first God, having raised up his Son Jesus, sent him to bless you, in turning away every one of you from his iniquities.

And he said, Abba, Father, all things are possible unto thee; take away this cup from me: nevertheless not what I will, but what thou wilt.

Wilt thou set thine eyes upon that which is not?
for riches certainly make themselves wings;
they fly away as an eagle toward heaven.

And I heard a great voice out of heaven saying, Behold, the tabernacle of God is with men, and he will dwell with them, and they shall be his people, and God himself shall be with them, and be their God. And God shall wipe away all tears from their eyes; and there shall be no more death, neither sorrow, nor crying, neither shall there be any more pain: for the former things are passed away.

Help us, O God of our salvation,
for the glory of thy name:
and deliver us, and purge away our sins,
for thy name's sake.

The vine is dried up, and the fig tree languisheth; the pomegranate tree, the palm tree also, and the apple tree, even all the trees of the field, are withered: because joy is withered away from the sons of men.

Then Job arose, and rent his mantle, and shaved his head, and fell down upon the ground, and worshipped,
And said, Naked came I out of my mother's womb, and naked shall I return thither: the L

ord

gave, and the L

ord

hath taken away; blessed be the name of the L

ord

.
When I kept silence,
my bones waxed old
through my roaring all the day long.

They shall hunger no more, neither thirst any more; neither shall the sun light on them, nor any heat. For the Lamb which is in the midst of the throne shall feed them, and shall lead them unto living fountains of waters: and God shall wipe away all tears from their eyes.
For I have satiated the weary soul, and I have replenished every sorrowful soul.
Personal Bible reading plan
Create an account to configure your Bible reading plan and you will see your progress and the next chapter to read here!
Read more...