Bible Verses about 'Person'
«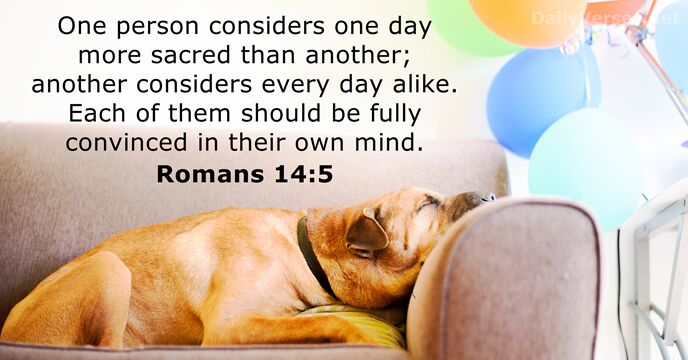 »
One person considers one day more sacred than another; another considers every day alike. Each of them should be fully convinced in their own mind.

Very rarely will anyone die for a righteous person, though for a good person someone might possibly dare to die. But God demonstrates his own love for us in this: While we were still sinners, Christ died for us.

As iron sharpens iron,
so one person sharpens another.

God "will repay each person according to what they have done."

But if a wicked person turns away from all the sins they have committed and keeps all my decrees and does what is just and right, that person will surely live; they will not die.

Pride brings a person low,
but the lowly in spirit gain honor.
A gossip betrays a confidence,
but a trustworthy person keeps a secret.
What a person desires is unfailing love;
better to be poor than a liar.
A person finds joy in giving an apt reply—
and how good is a timely word!
A person may think their own ways are right,
but the L

ord

weighs the heart.
A perverse person stirs up conflict,
and a gossip separates close friends.
A generous person will prosper;
whoever refreshes others will be refreshed.
Like a city whose walls are broken through
is a person who lacks self-control.

He went on: "What comes out of a person is what defiles them. For it is from within, out of a person's heart, that evil thoughts come—sexual immorality, theft, murder, adultery, greed, malice, deceit, lewdness, envy, slander, arrogance and folly. All these evils come from inside and defile a person."

How can a young person stay on the path of purity?
By living according to your word.
The righteous person may have many troubles,
but the L

ord

delivers him from them all.
Better a patient person than a warrior,
one with self-control than one who takes a city.

Therefore confess your sins to each other and pray for each other so that you may be healed. The prayer of a righteous person is powerful and effective.

A wicked person earns deceptive wages,
but the one who sows righteousness reaps a sure reward.

How much more valuable is a person than a sheep! Therefore it is lawful to do good on the Sabbath.

See, the enemy is puffed up;
his desires are not upright—
but the righteous person will live by his faithfulness.

Look, I am coming soon! My reward is with me, and I will give to each person according to what they have done.

If anyone destroys God's temple, God will destroy that person; for God's temple is sacred, and you together are that temple.

Do not envy the violent
or choose any of their ways.
For the L

ord

detests the perverse
but takes the upright into his confidence.

For who knows a person's thoughts except their own spirit within them? In the same way no one knows the thoughts of God except the Spirit of God.
For where your treasure is, there your heart will be also.
Personal Bible reading plan
Create an account to configure your Bible reading plan and you will see your progress and the next chapter to read here!
Read more...