Bible Verses about Strength
«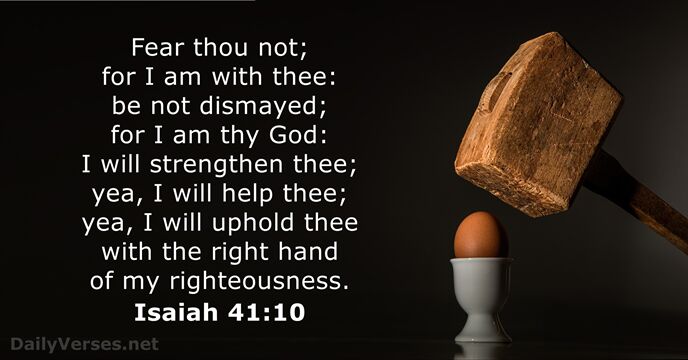 »
Fear thou not; for I am with thee: be not dismayed; for I am thy God: I will strengthen thee; yea, I will help thee; yea, I will uphold thee with the right hand of my righteousness.

– Älä pelkää, minä olen sinun kanssasi! Älä arkana pälyile ympärillesi – minä olen sinun Jumalasi. Minä vahvistan sinua, minä autan sinua, minä tuen sinua vakaalla, lujalla kädelläni.

But they that wait upon the L

ord

shall renew their strength; they shall mount up with wings as eagles; they shall run, and not be weary; and they shall walk, and not faint.

Mutta kaikki, jotka Herraa odottavat, saavat uuden voiman, he kohoavat siivilleen kuin kotkat. He juoksevat eivätkä uuvu, he vaeltavat eivätkä väsy.

My flesh and my heart faileth: but God is the strength of my heart, and my portion for ever.

Vaikka ruumiini ja sieluni nääntyy, Jumala on kallioni, minun osani iankaikkisesti.

I can do all things through Christ which strengtheneth me.

Kestän kaiken hänen avullaan, joka antaa minulle voimaa.

He giveth power to the faint; and to them that have no might he increaseth strength.

Hän virvoittaa väsyneen ja antaa heikolle voimaa.

Therefore I take pleasure in infirmities, in reproaches, in necessities, in persecutions, in distresses for Christ's sake: for when I am weak, then am I strong.

Siksi iloitsen heikkoudesta, loukkauksista, vaikeuksista, vainoista ja ahdingoista, joihin joudun Kristuksen tähden. Juuri heikkona olen voimakas.

For God hath not given us the spirit of fear; but of power, and of love, and of a sound mind.

Eihän Jumala ole antanut meille pelkuruuden henkeä, vaan voiman, rakkauden ja terveen harkinnan hengen.

I will love thee, O L

ord

, my strength. The L

ord

is my rock, and my fortress, and my deliverer; my God, my strength, in whom I will trust; my buckler, and the horn of my salvation, and my high tower.

Minä rakastan sinua, Herra, sinä olet minun voimani. Sinä päästit minut turvaan, sinä olet vuorilinnani. Jumalani, sinuun minä turvaudun, sinä olet kallio, olet kilpeni, sinulta saan avun ja suojan.

Seek the L

ord

and his strength, seek his face continually.

Turvautukaa Herraan ja hänen voimaansa, etsikää aina hänen kasvojaan.

But the Lord is faithful, who shall stablish you, and keep you from evil.

Mutta Herra on uskollinen, ja hän on vahvistava teitä ja varjeleva teitä pahalta.

Watch ye, stand fast in the faith, quit you like men, be strong.

Valvokaa, pysykää uskossanne lujina, olkaa urheita, olkaa vahvoja.

But I will sing of thy power; yea, I will sing aloud of thy mercy in the morning: for thou hast been my defence and refuge in the day of my trouble.

Mutta minä laulan sinun voimastasi ja ylistän sinun uskollisuuttasi joka aamu, sillä sinä olet turvani, pakopaikka hädän päivänä.

Ah Lord G

od

! behold, thou hast made the heaven and the earth by thy great power and stretched out arm, and there is nothing too hard for thee.

Oi Herra, Jumalani! Suurella voimallasi ja väkevällä kädelläsi sinä olet luonut taivaan ja maan. Mikään ei ole sinulle mahdotonta!

The L

ord

is my strength and my shield; my heart trusted in him, and I am helped: therefore my heart greatly rejoiceth; and with my song will I praise him.

Herra on minun voimani ja kilpeni, häneen minä luotan. Minä sain avun, ja minun sydämeni riemuitsee, minä laulan ja ylistän Herraa.

The L

ord

God is my strength, and he will make my feet like hinds' feet, and he will make me to walk upon mine high places.

Herra, minun Jumalani, on voimani. Hän tekee jalkani nopeiksi kuin kauriin jalat ja ohjaa kulkuni kukkuloille.

Finally, my brethren, be strong in the Lord, and in the power of his might.

Lopuksi: vahvistukaa Herrassa, ottakaa voimaksenne hänen väkevyytensä.

For the word of God is quick, and powerful, and sharper than any twoedged sword, piercing even to the dividing asunder of soul and spirit, and of the joints and marrow, and is a discerner of the thoughts and intents of the heart.

Jumalan sana on elävä ja väkevä. Se on terävämpi kuin mikään kaksiteräinen miekka, se iskee syvään ja viiltää halki sielun ja hengen, nivelet ja luiden ytimet, se paljastaa sisimmät aikeemme ja ajatuksemme.

Now unto him that is able to do exceeding abundantly above all that we ask or think, according to the power that worketh in us, Unto him be glory in the church by Christ Jesus throughout all ages, world without end. Amen.

Jumalalle, joka meissä vaikuttavalla voimallaan kykenee tekemään monin verroin enemmän kuin osaamme pyytää tai edes ajatella, olkoon ylistys seurakunnassa ja Kristuksessa Jeesuksessa kautta kaikkien sukupolvien, aina ja ikuisesti. Aamen.

And thou shalt love the Lord thy God with all thy heart, and with all thy soul, and with all thy mind, and with all thy strength: this is the first commandment.

Rakasta Herraa, Jumalaasi, koko sydämestäsi, koko sielustasi ja mielestäsi ja koko voimallasi.

Thine, O L

ord

is the greatness, and the power, and the glory, and the victory, and the majesty: for all that is in the heaven and in the earth is thine; thine is the kingdom, O L

ord

, and thou art exalted as head above all.

Sinun, Herra, on suuruus ja voima, kunnia, kirkkaus ja valta, sillä sinun on kaikki, mitä on taivaassa ja maan päällä. Sinun on kuninkuus, sinä olet kaikkea muuta korkeammalla.

This is the word of the L

ord

unto Zerubbabel, saying, Not by might, nor by power, but by my spirit, saith the L

ord

of hosts.

Näin kuuluu Herran sana Serubbabelille: – Ei väellä eikä voimalla, vaan minun hengelläni, sanoo Herra Sebaot.

For the preaching of the cross is to them that perish foolishness; but unto us which are saved it is the power of God.

Puhe rististä on hulluutta niiden mielestä, jotka joutuvat kadotukseen, mutta meille, jotka pelastumme, se on Jumalan voima.

For who is God save the L

ord

? or who is a rock save our God?

Kuka on Jumala, jollei Herra, kuka on turvamme, jollei Jumalamme?

For they got not the land in possession by their own sword, neither did their own arm save them: but thy right hand, and thine arm, and the light of thy countenance, because thou hadst a favour unto them.

He eivät vallanneet maata omalla miekallaan, ei heidän oma voimansa vienyt heitä voittoon, vaan sinun oikea kätesi, sinun voimasi ja kirkkautesi, sillä sinä rakastit heitä.

For the invisible things of him from the creation of the world are clearly seen, being understood by the things that are made, even his eternal power and Godhead; so that they are without excuse.

Hänen näkymättömät ominaisuutensa, hänen ikuinen voimansa ja jumaluutensa, ovat maailman luomisesta asti olleet nähtävissä ja havaittavissa hänen teoissaan. Sen vuoksi he eivät voi puolustautua.
Charge them that are rich in this world, that they be not highminded, nor trust in uncertain riches, but in the living God, who giveth us richly all things to enjoy.
Personal Bible reading plan
Create an account to configure your Bible reading plan and you will see your progress and the next chapter to read here!
Read more...