Bible Verses about the Word of God
«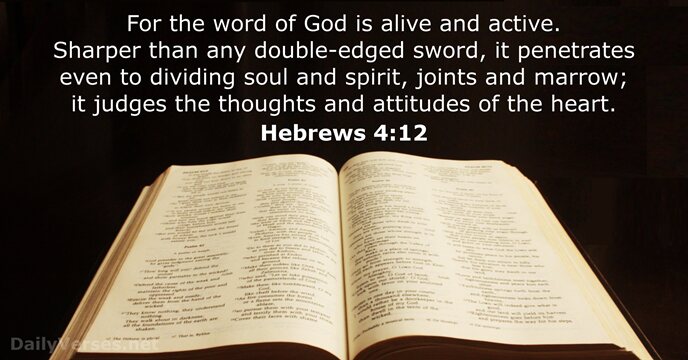 »
For the word of God is alive and active. Sharper than any double-edged sword, it penetrates even to dividing soul and spirit, joints and marrow; it judges the thoughts and attitudes of the heart.

Porque la palabra de Dios es viva y eficaz, y más cortante que toda espada de dos filos; y penetra hasta partir el alma y el espíritu, las coyunturas y los tuétanos, y discierne los pensamientos y las intenciones del corazón.

All Scripture is God-breathed and is useful for teaching, rebuking, correcting and training in righteousness, so that the servant of God may be thoroughly equipped for every good work.

Toda la Escritura es inspirada por Dios, y útil para enseñar, para redargüir, para corregir, para instruir en justicia, a fin de que el hombre de Dios sea perfecto, enteramente preparado para toda buena obra.

Your word is a lamp for my feet, a light on my path.

Lámpara es a mis pies tu palabra, Y lumbrera a mi camino.

Do not merely listen to the word, and so deceive yourselves. Do what it says.

Pero sed hacedores de la palabra, y no tan solamente oidores, engañándoos a vosotros mismos.

How can a young person stay on the path of purity? By living according to your word.

¿Con qué limpiará el joven su camino? Con guardar tu palabra.

He replied, "Blessed rather are those who hear the word of God and obey it."

Y él dijo: Antes bienaventurados los que oyen la palabra de Dios, y la guardan.

The grass withers and the flowers fall, but the word of our God endures forever.

Sécase la hierba, marchítase la flor; mas la palabra del Dios nuestro permanece para siempre.

As for God, his way is perfect: The L

ord

's word is flawless; he shields all who take refuge in him.

En cuanto a Dios, perfecto es su camino, Y acrisolada la palabra de Jehová; Escudo es a todos los que en él esperan.

Therefore everyone who hears these words of mine and puts them into practice is like a wise man who built his house on the rock.

Cualquiera, pues, que me oye estas palabras, y las hace, le compararé a un hombre prudente, que edificó su casa sobre la roca.

Heaven and earth will pass away, but my words will never pass away.

El cielo y la tierra pasarán, pero mis palabras no pasarán.

Do everything without grumbling or arguing, so that you may become blameless and pure, "children of God without fault in a warped and crooked generation." Then you will shine among them like stars in the sky as you hold firmly to the word of life.

Haced todo sin murmuraciones y contiendas, para que seáis irreprensibles y sencillos, hijos de Dios sin mancha en medio de una generación maligna y perversa, en medio de la cual resplandecéis como luminares en el mundo; asidos de la palabra de vida.

The unfolding of your words gives light; it gives understanding to the simple.

La exposición de tus palabras alumbra; Hace entender a los simples.

Jesus answered, "It is written: 'Man shall not live on bread alone, but on every word that comes from the mouth of God.'"

El respondió y dijo: Escrito está: No sólo de pan vivirá el hombre, sino de toda palabra que sale de la boca de Dios.

In the beginning was the Word, and the Word was with God, and the Word was God.

En el principio era el Verbo, y el Verbo era con Dios, y el Verbo era Dios.

For the word of the L

ord

is right and true; he is faithful in all he does.

Porque recta es la palabra de Jehová, Y toda su obra es hecha con fidelidad.

Whoever believes in me, as Scripture has said, rivers of living water will flow from within them.

El que cree en mí, como dice la Escritura, de su interior correrán ríos de agua viva.

In God, whose word I praise— in God I trust and am not afraid. What can mere mortals do to me?

En Dios alabaré su palabra; En Dios he confiado; no temeré; ¿Qué puede hacerme el hombre?

Like newborn babies, crave pure spiritual milk, so that by it you may grow up in your salvation.

Desead, como niños recién nacidos, la leche espiritual no adulterada, para que por ella crezcáis para salvación.

For the L

ord

gives wisdom; from his mouth come knowledge and understanding.

Porque Jehová da la sabiduría, Y de su boca viene el conocimiento y la inteligencia.

To the Jews who had believed him, Jesus said, "If you hold to my teaching, you are really my disciples. Then you will know the truth, and the truth will set you free."

Dijo entonces Jesús a los judíos que habían creído en él: Si vosotros permaneciereis en mi palabra, seréis verdaderamente mis discípulos; y conoceréis la verdad, y la verdad os hará libres.

Therefore, get rid of all moral filth and the evil that is so prevalent and humbly accept the word planted in you, which can save you.

Por lo cual, desechando toda inmundicia y abundancia de malicia, recibid con mansedumbre la palabra implantada, la cual puede salvar vuestras almas.

You make your saving help my shield, and your right hand sustains me; your help has made me great. You provide a broad path for my feet, so that my ankles do not give way.

Me diste asimismo el escudo de tu salvación; Tu diestra me sustentó, Y tu benignidad me ha engrandecido. Ensanchaste mis pasos debajo de mí, Y mis pies no han resbalado.

He humbled you, causing you to hunger and then feeding you with manna, which neither you nor your ancestors had known, to teach you that man does not live on bread alone but on every word that comes from the mouth of the L

ord

.

Y te afligió, y te hizo tener hambre, y te sustentó con maná, comida que no conocías tú, ni tus padres la habían conocido, para hacerte saber que no sólo de pan vivirá el hombre, mas de todo lo que sale de la boca de Jehová vivirá el hombre.

The Word became flesh and made his dwelling among us. We have seen his glory, the glory of the one and only Son, who came from the Father, full of grace and truth.

Y aquel Verbo fue hecho carne, y habitó entre nosotros (y vimos su gloria, gloria como del unigénito del Padre), lleno de gracia y de verdad.

The Son is the radiance of God's glory and the exact representation of his being, sustaining all things by his powerful word. After he had provided purification for sins, he sat down at the right hand of the Majesty in heaven.

El cual, siendo el resplandor de su gloria, y la imagen misma de su sustancia, y quien sustenta todas las cosas con la palabra de su poder, habiendo efectuado la purificación de nuestros pecados por medio de sí mismo, se sentó a la diestra de la Majestad en las alturas.
Do not judge, or you too will be judged.
Personal Bible reading plan
Create an account to configure your Bible reading plan and you will see your progress and the next chapter to read here!
Read more...