Bible Verses about Love
«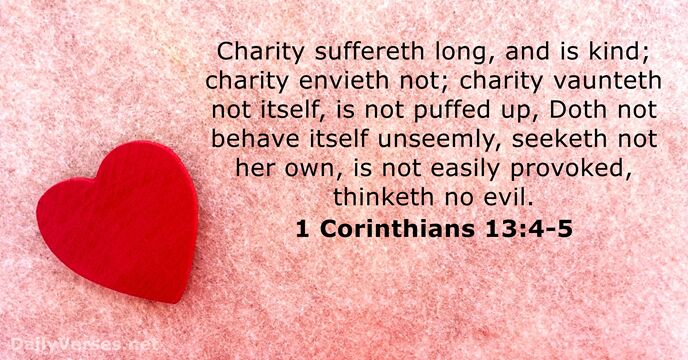 »
| | |
| --- | --- |
| Charity suffereth long, and is kind; charity envieth not; charity vaunteth not itself, is not puffed up, Doth not behave itself unseemly, seeketh not her own, is not easily provoked, thinketh no evil. | Liefde is: geduldig en vriendelijk zijn. Liefde is: niet jaloers zijn, niet vertellen hoe goed je bent, jezelf niet belangrijker vinden dan een ander. Liefde is: een ander niet beledigen, niet alleen aan jezelf denken, geen ruzie maken en geen wraak willen nemen. |
| Let all your things be done with charity. | En behandel elkaar altijd met liefde! |
| Cause me to hear thy lovingkindness in the morning; for in thee do I trust: cause me to know the way wherein I should walk; for I lift up my soul unto thee. | Laat mij elke ochtend uw liefde zien. Zeg me wat ik moet doen, want op u vertrouw ik, naar u verlang ik. |
| And above all these things put on charity, which is the bond of perfectness. | Maar het allerbelangrijkste is: houd van elkaar. Want liefde maakt van jullie een volmaakte eenheid. |
| Let not mercy and truth forsake thee: bind them about thy neck; write them upon the table of thine heart: So shalt thou find favour and good understanding in the sight of God and man. | Wees altijd goed en trouw. Denk steeds aan mijn lessen, denk er altijd aan. Dan zullen God en de mensen van je houden. Ze zullen respect voor je hebben. |
| And we have known and believed the love that God hath to us. God is love; and he that dwelleth in love dwelleth in God, and God in him. | We hebben Gods liefde leren kennen toen we in Christus gingen geloven. Gods liefde is in ons. God is liefde. Iedereen die in liefde leeft, hoort voor altijd bij God. En God blijft voor altijd in hem. |
| With all lowliness and meekness, with longsuffering, forbearing one another in love. | Denk daarom niet aan jezelf, maar wees altijd vriendelijk en geduldig. Verdraag elkaars fouten, en houd van elkaar. |
| We love him, because he first loved us. | Wij leven in liefde omdat God ons eerst heeft liefgehad. |
| And now abideth faith, hope, charity, these three; but the greatest of these is charity. | Dit is dus waar het om gaat: geloof, vertrouwen en liefde. Dat moet steeds het belangrijkste in ons leven zijn. Maar het allerbelangrijkste is de liefde. |
| And above all things have fervent charity among yourselves: for charity shall cover the multitude of sins. | Het allerbelangrijkste is nu dat jullie veel van elkaar houden. Want door liefde kun je elkaar veel fouten vergeven. |
| Let love be without dissimulation. Abhor that which is evil; cleave to that which is good. | Jullie liefde voor elkaar moet echt zijn. Blijf ver weg van alles wat slecht is, en houd vast aan alles wat goed is. |
| That he would grant you, according to the riches of his glory, to be strengthened with might by his Spirit in the inner man; That Christ may dwell in your hearts by faith; that ye, being rooted and grounded in love. | Gods macht is groot. Daarom bid ik dat God jullie diep van binnen kracht wil geven door zijn Geest. Ik bid dat hij jullie geloof zo groot maakt dat Christus altijd in jullie aanwezig is. En ik bid dat God door de liefde van Christus de kerk sterk wil maken en wil laten groeien. |
| And though I have the gift of prophecy, and understand all mysteries, and all knowledge; and though I have all faith, so that I could remove mountains, and have not charity, I am nothing. | Als je geen liefde hebt voor anderen, beteken je niets. Zelfs al laat God je zijn boodschap bekendmaken en krijg je van hem al zijn geheime kennis. En zelfs al heb je zo'n groot geloof dat je bergen kunt verplaatsen. |
| This is my commandment, That ye love one another, as I have loved you. | Ik geef jullie deze regel: Houd van elkaar, net zoals ik van jullie houd. |
| Can a woman forget her sucking child, that she should not have compassion on the son of her womb? yea, they may forget, yet will I not forget thee. Behold, I have graven thee upon the palms of my hands; thy walls are continually before me. | Maar de Heer zegt: 'Jeruzalem, ik heb je naam in mijn hart bewaard. Ik zal altijd aan je denken. Een moeder zorgt toch ook goed voor het kind dat ze in haar buik gedragen heeft? Ze vergeet haar kind nooit. En zelfs al zou een moeder haar kind vergeten, ik zal jou nooit vergeten!' |
| Be kindly affectioned one to another with brotherly love; in honour preferring one another. | Houd van elkaar zoals broers en zussen van elkaar houden. Laat altijd zien dat je respect hebt voor de ander. |
| And the Lord direct your hearts into the love of God, and into the patient waiting for Christ. | Ik bid dat de Heer zal zorgen dat jullie met heel je hart van God houden, en dat jullie trouw zijn aan Christus. |
| Husbands, love your wives, even as Christ also loved the church, and gave himself for it; That he might sanctify and cleanse it with the washing of water by the word. | Mannen, jullie moeten van je vrouw houden. Net zo veel als Christus van de kerk houdt. Hij heeft zelfs zijn leven gegeven voor de kerk. Door zijn liefde horen de gelovigen nu bij God. Want ze zijn gedoopt en ze geloven het goede nieuws. |
| No man hath seen God at any time. If we love one another, God dwelleth in us, and his love is perfected in us. | Niemand heeft God ooit gezien. Maar als we van elkaar houden, blijft God in ons. Dan is zijn liefde in ons volmaakt geworden. |
| If a man say, I love God, and hateth his brother, he is a liar: for he that loveth not his brother whom he hath seen, how can he love God whom he hath not seen? | Stel dat iemand zegt dat hij God liefheeft, maar intussen haat hij een andere gelovige. Dan is hij een leugenaar. Als je niet houdt van gelovigen die je om je heen ziet, dan kun je ook niet houden van God, die je niet ziet. |
| Greater love hath no man than this, that a man lay down his life for his friends. | Het grootste bewijs van liefde is dat iemand wil sterven voor zijn vrienden. |
| Since thou wast precious in my sight, thou hast been honourable, and I have loved thee: therefore will I give men for thee, and people for thy life. | Israël, jij bent heel belangrijk voor mij, je bent heel veel waard. Ik houd zo veel van je! Voor jou gaf ik Egypte, Nubië en Seba weg. Voor jou geef ik alles weg, alle mensen en alle volken van de wereld. |
| But as it is written, Eye hath not seen, nor ear heard, neither have entered into the heart of man, the things which God hath prepared for them that love him. | Het staat al in de heilige boeken: «Geen mens kent Gods wijze plan, geen mens heeft het bedacht of begrepen. Maar God heeft zijn plan bekendgemaakt aan de mensen die van hem houden. Zo wilde God het.» |
| Owe no man any thing, but to love one another: for he that loveth another hath fulfilled the law. | Zorg ervoor dat je niemand iets schuldig bent. Voor jullie geldt alleen deze regel: houd van elkaar. Want als je houdt van de ander, heb je precies gedaan waar het in de wet om gaat. |
| Behold, what manner of love the Father hath bestowed upon us, that we should be called the sons of God: therefore the world knoweth us not, because it knew him not. | Bedenk hoeveel de Vader van ons houdt! Zijn liefde voor ons is zo groot, dat hij ons zijn kinderen noemt. En dat zijn we ook. Maar de mensen die bij de wereld horen, begrijpen niet dat wij Gods kinderen zijn. Dat komt doordat ze God niet kennen. |
Now I beseech you, brethren, by the name of our Lord Jesus Christ, that ye all speak the same thing, and that there be no divisions among you; but that ye be perfectly joined together in the same mind and in the same judgment.
Personal Bible reading plan
Create an account to configure your Bible reading plan and you will see your progress and the next chapter to read here!
Read more...