Bible Verses about 'Ways'
«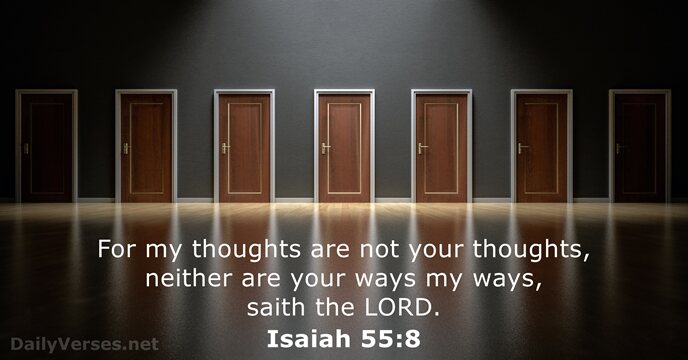 »
For my thoughts are not your thoughts,
neither are your ways my ways,
saith the L

ord

.
Shew me thy ways, O L

ord

;
teach me thy paths.
For as the heavens are higher than the earth,
so are my ways higher than your ways,
and my thoughts than your thoughts.
The L

ord

is righteous in all his ways,
and holy in all his works.
Ponder the path of thy feet,
and let all thy ways be established.
Blessed is every one that feareth the L

ord

;
that walketh in his ways.
He that keepeth the commandment keepeth his own soul;
but he that despiseth his ways shall die.
He that walketh uprightly walketh surely:
but he that perverteth his ways shall be known.
Envy thou not the oppressor,
and choose none of his ways.
For the froward is abomination to the L

ord

:
but his secret is with the righteous.
Therefore thou shalt keep the commandments of the L

ord

thy God, to walk in his ways, and to fear him.
Trust in the L

ord

with all thine heart;
and lean not unto thine own understanding.
In all thy ways acknowledge him,
and he shall direct thy paths.

Now I Nebuchadnezzar praise and extol and honour the King of heaven, all whose works are truth, and his ways judgment: and those that walk in pride he is able to abase.

O the depth of the riches both of the wisdom and knowledge of God! how unsearchable are his judgments, and his ways past finding out!

If my people, which are called by my name, shall humble themselves, and pray, and seek my face, and turn from their wicked ways; then will I hear from heaven, and will forgive their sin, and will heal their land.

There is a way which seemeth right unto a man,
but the end thereof are the ways of death.
Be ye not as your fathers, unto whom the former prophets have cried, saying, Thus saith the L

ord

of hosts; Turn ye now from your evil ways, and from your evil doings: but they did not hear, nor hearken unto me, saith the L

ord

.
The heart is deceitful above all things,
and desperately wicked: who can know it?
I the L

ord

search the heart,
I try the reins,
even to give every man according to his ways,
and according to the fruit of his doings.
Every way of a man is right in his own eyes:
but the L

ord

pondereth the hearts.

For in many things we offend all. If any man offend not in word, the same is a perfect man, and able also to bridle the whole body.

Thus saith the L

ord

,
Stand ye in the ways, and see,
and ask for the old paths,
where is the good way, and walk therein,
and ye shall find rest for your souls.
But they said, We will not walk therein.
Blessed are the undefiled in the way,
who walk in the law of the L

ord

.
Ye shall walk in all the ways which the L

ord

your God hath commanded you, that ye may live, and that it may be well with you, and that ye may prolong your days in the land which ye shall possess.
And keep the charge of the L

ord

thy God, to walk in his ways, to keep his statutes, and his commandments, and his judgments, and his testimonies, as it is written in the law of Moses, that thou mayest prosper in all that thou doest, and whithersoever thou turnest thyself.

For if ye throughly amend your ways and your doings; if ye throughly execute judgment between a man and his neighbour; If ye oppress not the stranger, the fatherless, and the widow, and shed not innocent blood in this place, neither walk after other gods to your hurt: Then will I cause you to dwell in this place, in the land that I gave to your fathers, for ever and ever.

But take diligent heed to do the commandment and the law, which Moses the servant of the L

ord

charged you, to love the L

ord

your God, and to walk in all his ways, and to keep his commandments, and to cleave unto him, and to serve him with all your heart and with all your soul.
Sing unto God, sing praises to his name: extol him that rideth upon the heavens by his name Jah, and rejoice before him. A father of the fatherless, and a judge of the widows, is God in his holy habitation.
Personal Bible reading plan
Create an account to configure your Bible reading plan and you will see your progress and the next chapter to read here!
Read more...