Bible Verses about the Word of God
«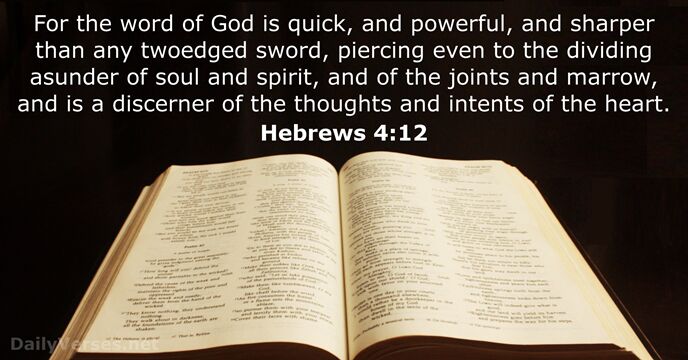 »
For the word of God is quick, and powerful, and sharper than any twoedged sword, piercing even to the dividing asunder of soul and spirit, and of the joints and marrow, and is a discerner of the thoughts and intents of the heart.

Want het woord van God is vol leven en kracht. En het is scherper dan het scherpste zwaard. Het dringt zó diep in ons door, dat het ziel en geest van elkaar kan scheiden. Het laat ons zien wat er in ons is, al zit het nóg zo diep verborgen. Het brengt onze diepst verborgen gedachten en plannen aan het licht.

All scripture is given by inspiration of God, and is profitable for doctrine, for reproof, for correction, for instruction in righteousness: That the man of God may be perfect, thoroughly furnished unto all good works.

Alles wat God daarin heeft laten opschrijven, is nuttig. Het kan de mensen iets leren, hen beschermen tegen verkeerd onderwijs over het geloof en hen opvoeden tot een leven zoals God het wil. Zo kunnen de mensen hun geloof ontwikkelen tot een volwassen geloof. Dan zullen ze geschikt zijn voor elke taak.

Thy word is a lamp unto my feet, and a light unto my path.

Uw woord leidt mij. Het is als een lamp voor mijn voeten, een licht op mijn pad.

But be ye doers of the word, and not hearers only, deceiving your own selves.

Lúister niet alleen naar het woord, maar dóe het ook. Als je alleen luistert en er niets mee doet, houd je jezelf voor de gek.

Wherewithal shall a young man cleanse his way? by taking heed thereto according to thy word.

Hoe kan een jong mens zuiver leven? Door te leven volgens uw woord.

But he said, Yea rather, blessed are they that hear the word of God, and keep it.

Maar Jezus zei: "Wat heerlijk is het als mensen Gods woorden horen en ze ook doen!"

The grass withereth, the flower fadeth: but the word of our God shall stand for ever.

Het gras verdroogt, de bloem valt af, maar het woord van God blijft voor eeuwig.

As for God, his way is perfect: the word of the L

ord

is tried: he is a buckler to all those that trust in him.

Wat God doet is volmaakt. Wat Hij zegt is altijd te vertrouwen. Hij beschermt iedereen die naar Hem toe komt voor hulp.

Therefore whosoever heareth these sayings of mine, and doeth them, I will liken him unto a wise man, which built his house upon a rock.

Jezus zei tegen zijn leerlingen: "Lúister niet alleen naar wat Ik zeg, maar dóe het ook. Dan lijk je op een verstandig man die zijn huis op rotsgrond bouwde."

Heaven and earth shall pass away, but my words shall not pass away.

De hemel en de aarde zullen ophouden te bestaan. Maar mijn woorden zullen altijd blijven.

Do all things without murmurings and disputings: That ye may be blameless and harmless, the sons of God, without rebuke, in the midst of a crooked and perverse nation, among whom ye shine as lights in the world; Holding forth the word of life.

Doe alles zonder mopperen of klagen. Zorg ervoor dat niemand iets slechts van jullie kan zeggen. Wees echte kinderen van God op wie niets valt aan te merken. Want dan zullen jullie als stralende sterren zijn, die opvallen tussen de slechte en ongehoorzame mensen van deze tijd. Blijf gehoorzaam aan het woord dat leven geeft.

The entrance of thy words giveth light; it giveth understanding unto the simple.

Uw woorden verspreiden licht. Ze geven wijsheid aan eenvoudige mensen.

But he answered and said, It is written, Man shall not live by bread alone, but by every word that proceedeth out of the mouth of God.

Maar Jezus antwoordde: "In de Boeken staat: 'Je kan niet alleen van brood leven. Alles wat God zegt, heb je óók nodig om te leven.' "

In the beginning was the Word, and the Word was with God, and the Word was God.

In het begin was het Woord er. Het Woord was bij God, en het Woord was God Zelf.

For the word of the L

ord

is right; and all his works are done in truth.

Want wat de Heer zegt, is te vertrouwen. Aan alles wat Hij doet, is te zien dat Hij trouw is.

He that believeth on me, as the scripture hath said, out of his belly shall flow rivers of living water.

Als je in Mij gelooft, zullen stromen van water dat leven geeft uit je binnenste stromen! Want dat is beloofd in de Boeken!

In God I will praise his word, in God I have put my trust; I will not fear what flesh can do unto me.

Ik vertrouw op U, mijn God, en ik prijs uw woord. Omdat ik op U vertrouw, hoef ik voor niemand bang te zijn. Wat zou een mens mij kunnen doen?

As newborn babes, desire the sincere milk of the word, that ye may grow thereby.

Verlang naar het zuivere woord van Gods waarheid, net zoals pasgeboren baby's verlangen naar pure, onverdunde melk. Want daardoor zullen jullie opgroeien.

For the L

ord

giveth wisdom: out of his mouth cometh knowledge and understanding.

Want de Heer geeft wijsheid. Alles wat Hij zegt, is wijs en verstandig.

Then said Jesus to those Jews which believed on him, If ye continue in my word, then are ye my disciples indeed; And ye shall know the truth, and the truth shall make you free.

Jezus zei tegen de Joden die in Hem geloofden: "Als jullie blijven geloven wat Ik zeg en doen wat Ik zeg, zijn jullie echte leerlingen van Mij. Dan zullen jullie de waarheid gaan begrijpen, en de waarheid zal jullie vrijmaken."

Wherefore lay apart all filthiness and superfluity of naughtiness, and receive with meekness the engrafted word, which is able to save your souls.

Doe dus niets meer wat ook maar een béétje verkeerd of slecht is. Luister liever goed naar het woord van God dat in jullie hart is gezaaid en wortels heeft gekregen. Want door het woord van God worden jullie gered.

Thou hast also given me the shield of thy salvation: and thy right hand hath holden me up, and thy gentleness hath made me great. Thou hast enlarged my steps under me, that my feet did not slip.

U beschermde me als een schild en U hielp mij. Dankzij uw goedheid ben ik machtig geworden. U heeft de weg voor mij gebaand. Ik kon gaan zonder te struikelen.

And he humbled thee, and suffered thee to hunger, and fed thee with manna, which thou knewest not, neither did thy fathers know; that he might make thee know that man doth not live by bread only, but by every word that proceedeth out of the mouth of the L

ord

doth man live.

Hij wilde dat jullie ontzag voor Hem zouden leren hebben. Daarom liet Hij jullie honger lijden. Toen gaf Hij jullie manna, iets wat jullie en jullie voorouders nog nooit hadden gezien. Want Hij wilde dat jullie zouden begrijpen dat een mens niet alleen van brood leeft. Een mens leeft óók van elk woord dat God spreekt.

And the Word was made flesh, and dwelt among us, (and we beheld his glory, the glory as of the only begotten of the Father,) full of grace and truth.

Het Woord werd een mens en Hij heeft bij ons gewoond. We hebben gezien hoe geweldig en machtig Hij is: Hij, Gods enige Zoon, met dezelfde macht als de Vader, liefdevol, vriendelijk, en vol van waarheid.

Who being the brightness of his glory, and the express image of his person, and upholding all things by the word of his power, when he had by himself purged our sins, sat down on the right hand of the Majesty on high.

De Zoon is de 'afbeelding' van God Zelf. In Hem zien we wie God is. In Hem zien we de macht en majesteit van God en het karakter van God. De Zoon zorgt ervoor dat alle dingen bestaan. Want alle dingen bestaan door zijn woord dat één en al kracht is. Eerst heeft de Zoon ervoor gezorgd dat de mensen vergeving konden krijgen voor al hun ongehoorzaamheid aan God. Daarna is Hij naar de hemel gegaan. Daar zit Hij nu naast God op de troon.
Not unto us, O Lord, not unto us, but unto thy name give glory, for thy mercy, and for thy truth's sake.
Personal Bible reading plan
Create an account to configure your Bible reading plan and you will see your progress and the next chapter to read here!
Read more...