Bible Verses about Wisdom
«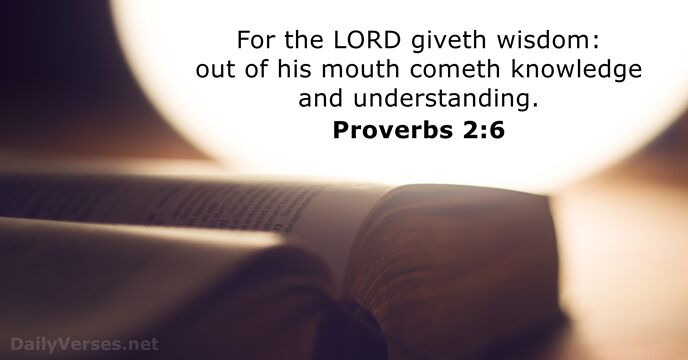 »
For the L

ord

giveth wisdom: out of his mouth cometh knowledge and understanding.

Porque Jehová da la sabiduría y de su boca proceden el conocimiento y la inteligencia.

See then that ye walk circumspectly, not as fools, but as wise, Redeeming the time, because the days are evil.

Mirad, pues, con diligencia cómo andéis, no como necios sino como sabios, aprovechando bien el tiempo, porque los días son malos.

If any of you lack wisdom, let him ask of God, that giveth to all men liberally, and upbraideth not; and it shall be given him.

Si alguno de vosotros tiene falta de sabiduría, pídala a Dios, el cual da a todos abundantemente y sin reproche, y le será dada.

But the wisdom that is from above is first pure, then peaceable, gentle, and easy to be intreated, full of mercy and good fruits, without partiality, and without hypocrisy.

Pero la sabiduría que es de lo alto es primeramente pura, después pacífica, amable, benigna, llena de misericordia y de buenos frutos, sin incertidumbre ni hipocresía.

How much better is it to get wisdom than gold! and to get understanding rather to be chosen than silver!

Mejor es adquirir sabiduría que oro fino, y adquirir inteligencia vale más que la plata.

Say not thou, What is the cause that the former days were better than these? for thou dost not enquire wisely concerning this.

Nunca digas: «¿Cuál es la causa de que los tiempos pasados fueron mejores que estos?», porque nunca hay sabiduría en esta pregunta.

Walk in wisdom toward them that are without, redeeming the time. Let your speech be always with grace, seasoned with salt, that ye may know how ye ought to answer every man.

Andad sabiamente para con los de afuera, aprovechando bien el tiempo. Sea vuestra palabra siempre con gracia, sazonada con sal, para que sepáis cómo debéis responder a cada uno.

Only by pride cometh contention: but with the well advised is wisdom.

Ciertamente la soberbia produce discordia, pero con los prudentes está la sabiduría.

He that getteth wisdom loveth his own soul: he that keepeth understanding shall find good.

El que posee entendimiento ama su alma; el que cuida la inteligencia hallará el bien.

Let no man deceive himself. If any man among you seemeth to be wise in this world, let him become a fool, that he may be wise.

Nadie se engañe a sí mismo; si alguno entre vosotros cree ser sabio en este mundo, hágase ignorante y así llegará a ser verdaderamente sabio.

He that keepeth his mouth keepeth his life: but he that openeth wide his lips shall have destruction.

El que guarda su boca guarda su vida, pero el que mucho abre sus labios acaba en desastre.

Who is a wise man and endued with knowledge among you? let him shew out of a good conversation his works with meekness of wisdom.

¿Quién es sabio y entendido entre vosotros? Muestre por la buena conducta sus obras en sabia mansedumbre.

Therefore whosoever heareth these sayings of mine, and doeth them, I will liken him unto a wise man, which built his house upon a rock.

A cualquiera, pues, que me oye estas palabras y las pone en práctica, lo compararé a un hombre prudente que edificó su casa sobre la roca.

So teach us to number our days, that we may apply our hearts unto wisdom.

Enséñanos de tal modo a contar nuestros días que traigamos al corazón sabiduría.

When pride cometh, then cometh shame: but with the lowly is wisdom.

Cuando llega la soberbia, llega también la deshonra; pero con los humildes está la sabiduría.

For whoso findeth me findeth life, and shall obtain favour of the L

ord

.

Porque el que me halle, hallará la vida y alcanzará el favor de Jehová.

For my thoughts are not your thoughts, neither are your ways my ways, saith the L

ord

.

«Porque mis pensamientos no son vuestros pensamientos ni vuestros caminos mis caminos», dice Jehová.

A fool hath no delight in understanding, but that his heart may discover itself.

No se complace el necio en la inteligencia, sino en manifestar su propia opinión.

The fear of the L

ord

is the instruction of wisdom; and before honour is humility.

El temor de Jehová es enseñanza de sabiduría, y a la honra precede la humildad.

The wise in heart will receive commandments: but a prating fool shall fall.

El de corazón sabio recibe los mandamientos, mas el de labios necios va a su ruina.

This also cometh forth from the L

ord

of hosts, which is wonderful in counsel, and excellent in working.

¡También esto salió de Jehová de los ejércitos, para hacer maravilloso el consejo y engrandecer su sabiduría!

I thank thee, and praise thee, O thou God of my fathers, who hast given me wisdom and might, and hast made known unto me now what we desired of thee: for thou hast now made known unto us the king's matter.

A ti, Dios de mis padres, te doy gracias y te alabo, porque me has dado sabiduría y fuerza, y ahora me has revelado lo que te pedimos, pues nos has dado a conocer el asunto del rey.

Even a fool, when he holdeth his peace, is counted wise: and he that shutteth his lips is esteemed a man of understanding.

Aun el necio, cuando calla, es tenido por sabio; el que cierra sus labios es inteligente.

Hast thou not known? hast thou not heard, that the everlasting God, the L

ord

, the Creator of the ends of the earth, fainteth not, neither is weary? there is no searching of his understanding.

¿No has sabido, no has oído que el Dios eterno es Jehová, el cual creó los confines de la tierra? No desfallece ni se fatiga con cansancio, y su entendimiento no hay quien lo alcance.

He that is slow to wrath is of great understanding: but he that is hasty of spirit exalteth folly.

El que tarda en airarse es grande de entendimiento; el impaciente de espíritu pone de manifiesto su necedad.
Now I beseech you, brethren, by the name of our Lord Jesus Christ, that ye all speak the same thing, and that there be no divisions among you; but that ye be perfectly joined together in the same mind and in the same judgment.
Personal Bible reading plan
Create an account to configure your Bible reading plan and you will see your progress and the next chapter to read here!
Read more...