Thursday, July 9, 2020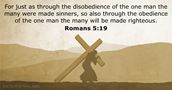 For just as through the disobedience of the one man the many were made sinners, so also through the obedience of the one man the many will be made righteous.
Wednesday, July 8, 2020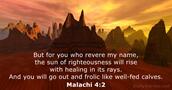 But for you who revere my name, the sun of righteousness will rise with healing in its rays. And you will go out and frolic like well-fed calves.
Tuesday, July 7, 2020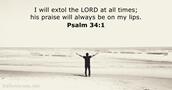 I will extol the L
ord
at all times;
his praise will always be on my lips.
Monday, July 6, 2020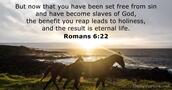 But now that you have been set free from sin and have become slaves of God, the benefit you reap leads to holiness, and the result is eternal life.
Sunday, July 5, 2020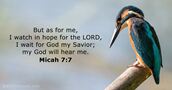 Saturday, July 4, 2020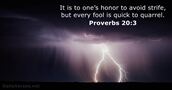 It is to one's honor to avoid strife,
but every fool is quick to quarrel.
Friday, July 3, 2020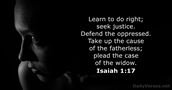 Learn to do right; seek justice.
Defend the oppressed.
Take up the cause of the fatherless;
plead the case of the widow.
Thursday, July 2, 2020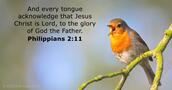 And every tongue acknowledge that Jesus Christ is Lord,
to the glory of God the Father.
Wednesday, July 1, 2020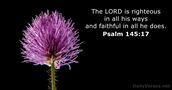 The L
ord
is righteous in all his ways
and faithful in all he does.
Receive the Daily Bible Verse: