Bible Verses about 'Become'
«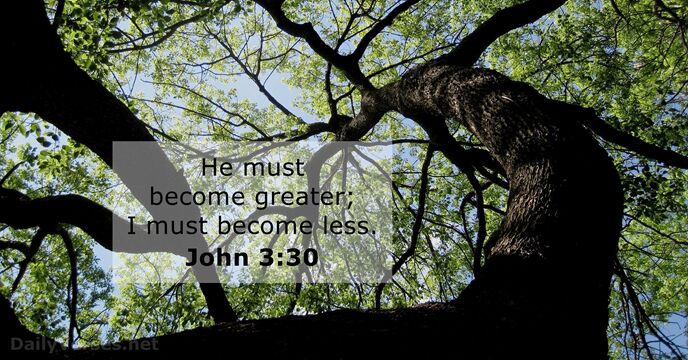 »
He must become greater; I must become less.

Do not deceive yourselves. If any of you think you are wise by the standards of this age, you should become "fools" so that you may become wise.

Jesus is 'the stone you builders rejected, which has become the cornerstone.'

Yet to all who did receive him, to those who believed in his name, he gave the right to become children of God.

God made him who had no sin to be sin for us, so that in him we might become the righteousness of God.

But now that you have been set free from sin and have become slaves of God, the benefit you reap leads to holiness, and the result is eternal life.

For this reason a man will leave his father and mother and be united to his wife, and the two will become one flesh.

Walk with the wise and become wise,
for a companion of fools suffers harm.

But whoever drinks the water I give them will never thirst. Indeed, the water I give them will become in them a spring of water welling up to eternal life.

Let us not become weary in doing good, for at the proper time we will reap a harvest if we do not give up.

Not so with you. Instead, whoever wants to become great among you must be your servant, and whoever wants to be first must be your slave.

My dear brothers and sisters, take note of this: Everyone should be quick to listen, slow to speak and slow to become angry.

Instead, speaking the truth in love, we will grow to become in every respect the mature body of him who is the head, that is, Christ.

Therefore no one will be declared righteous in God's sight by the works of the law; rather, through the law we become conscious of our sin.

Do not take advantage of the widow or the fatherless. If you do and they cry out to me, I will certainly hear their cry. My anger will be aroused, and I will kill you with the sword; your wives will become widows and your children fatherless.

Do everything without grumbling or arguing, so that you may become blameless and pure, "children of God without fault in a warped and crooked generation." Then you will shine among them like stars in the sky as you hold firmly to the word of life.

"Haven't you read," he replied, "that at the beginning the Creator 'made them male and female,' and said, 'For this reason a man will leave his father and mother and be united to his wife, and the two will become one flesh'? So they are no longer two, but one flesh. Therefore what God has joined together, let no one separate."

You, however, must teach what is appropriate to sound doctrine.

Then the L

ord

God made a woman from the rib he had taken out of the man, and he brought her to the man. The man said, "This is now bone of my bones and flesh of my flesh; she shall be called 'woman,' for she was taken out of man." That is why a man leaves his father and mother and is united to his wife, and they become one flesh.

Therefore, if anyone is in Christ, the new creation has come: The old has gone, the new is here!

If I speak in the tongues of men or of angels, but do not have love, I am only a resounding gong or a clanging cymbal.

Who is going to harm you if you are eager to do good?

Whoever walks in integrity walks securely,
but whoever takes crooked paths will be found out.

We have come to share in Christ, if indeed we hold our original conviction firmly to the very end.

No, I strike a blow to my body and make it my slave so that after I have preached to others, I myself will not be disqualified for the prize.
The Lord loves righteousness and justice; the earth is full of his unfailing love.
Personal Bible reading plan
Create an account to configure your Bible reading plan and you will see your progress and the next chapter to read here!
Read more...