Bible Verses about 'When'
«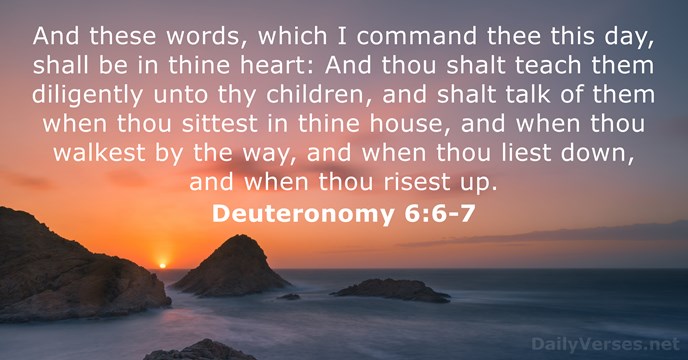 »
And these words, which I command thee this day, shall be in thine heart: And thou shalt teach them diligently unto thy children, and shalt talk of them when thou sittest in thine house, and when thou walkest by the way, and when thou liest down, and when thou risest up.

When pride cometh, then cometh shame:
but with the lowly is wisdom.

Blessed are ye, when men shall hate you, and when they shall separate you from their company, and shall reproach you, and cast out your name as evil, for the Son of man's sake.

When I kept silence,
my bones waxed old
through my roaring all the day long.
When I said, My foot slippeth;
thy mercy, O L

ord

, held me up.

And ye shall seek me, and find me, when ye shall search for me with all your heart.

My lips shall greatly rejoice when I sing unto thee;
and my soul, which thou hast redeemed.
When thou passest through the waters,
I will be with thee;
and through the rivers,
they shall not overflow thee:
when thou walkest through the fire,
thou shalt not be burned;
neither shall the flame kindle upon thee.
Train up a child in the way he should go:
and when he is old, he will not depart from it.
Withhold not good from them to whom it is due,
when it is in the power of thine hand to do it.

For when we were yet without strength, in due time Christ died for the ungodly.

But thou, when thou prayest, enter into thy closet, and when thou hast shut thy door, pray to thy Father which is in secret; and thy Father which seeth in secret shall reward thee openly.

When they heard this, they were baptized in the name of the Lord Jesus. And when Paul had laid his hands upon them, the Holy Ghost came on them; and they spake with tongues, and prophesied.

I will praise thee with uprightness of heart,
when I shall have learned thy righteous judgments.

When Jesus therefore had received the vinegar, he said, It is finished: and he bowed his head, and gave up the ghost.

And it shall be, when he shall be guilty in one of these things, that he shall confess that he hath sinned in that thing.

Even a fool, when he holdeth his peace, is counted wise:
and he that shutteth his lips is esteemed a man of understanding.

Let no man say when he is tempted, I am tempted of God: for God cannot be tempted with evil, neither tempteth he any man.

For a thousand years in thy sight
are but as yesterday when it is past,
and as a watch in the night.

Blessed are ye, when men shall revile you, and persecute you, and shall say all manner of evil against you falsely, for my sake.

But when ye pray, use not vain repetitions, as the heathen do: for they think that they shall be heard for their much speaking.

And now, little children, abide in him; that, when he shall appear, we may have confidence, and not be ashamed before him at his coming.

But when Jesus heard that, he said unto them, They that be whole need not a physician, but they that are sick.

Hope deferred maketh the heart sick:
but when the desire cometh, it is a tree of life.

And when he had spoken these things, while they beheld, he was taken up; and a cloud received him out of their sight.
We love him, because he first loved us.
Personal Bible reading plan
Create an account to configure your Bible reading plan and you will see your progress and the next chapter to read here!
Read more...