Bible Verses about 'Among'
«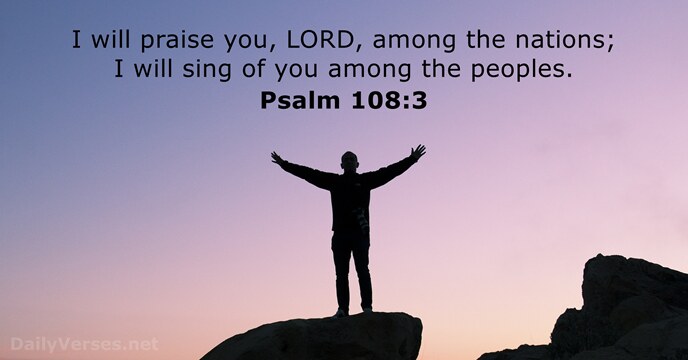 »
I will praise you, L

ord

, among the nations;
I will sing of you among the peoples.

Not so with you. Instead, whoever wants to become great among you must be your servant, and whoever wants to be first must be your slave.

Give praise to the L

ord

, proclaim his name;
make known among the nations what he has done.
He says, "Be still, and know that I am God;
I will be exalted among the nations,
I will be exalted in the earth."

But among you there must not be even a hint of sexual immorality, or of any kind of impurity, or of greed, because these are improper for God's holy people.

Who is wise and understanding among you? Let them show it by their good life, by deeds done in the humility that comes from wisdom.

So again I ask, does God give you his Spirit and work miracles among you by the works of the law, or by your believing what you heard?

To them God has chosen to make known among the Gentiles the glorious riches of this mystery, which is Christ in you, the hope of glory.

I will show the holiness of my great name, which has been profaned among the nations, the name you have profaned among them. Then the nations will know that I am the L

ord

, declares the Sovereign L

ord

, when I am proved holy through you before their eyes.
In that day you will say:
"Give praise to the L

ord

, proclaim his name;
make known among the nations what he has done,
and proclaim that his name is exalted."

The Word became flesh and made his dwelling among us. We have seen his glory, the glory of the one and only Son, who came from the Father, full of grace and truth.

The seed falling among the thorns refers to someone who hears the word, but the worries of this life and the deceitfulness of wealth choke the word, making it unfruitful.

This is how God showed his love among us: He sent his one and only Son into the world that we might live through him.

Worship the L

ord

your God, and his blessing will be on your food and water. I will take away sickness from among you.

Then he said to them, "Whoever welcomes this little child in my name welcomes me; and whoever welcomes me welcomes the one who sent me. For it is the one who is least among you all who is the greatest."

But you, Bethlehem Ephrathah,
though you are small among the clans of Judah,
out of you will come for me
one who will be ruler over Israel,
whose origins are from of old,
from ancient times.

For I resolved to know nothing while I was with you except Jesus Christ and him crucified.

I appeal to you, brothers and sisters, in the name of our Lord Jesus Christ, that all of you agree with one another in what you say and that there be no divisions among you, but that you be perfectly united in mind and thought.

Do everything without grumbling or arguing, so that you may become blameless and pure, "children of God without fault in a warped and crooked generation." Then you will shine among them like stars in the sky as you hold firmly to the word of life.

Salvation is found in no one else, for there is no other name under heaven given to mankind by which we must be saved.

Beyond all question, the mystery from which true godliness springs is great:
He appeared in the flesh,
was vindicated by the Spirit,
was seen by angels,
was preached among the nations,
was believed on in the world,
was taken up in glory.

Is anyone among you sick? Let them call the elders of the church to pray over them and anoint them with oil in the name of the Lord. And the prayer offered in faith will make the sick person well; the Lord will raise them up. If they have sinned, they will be forgiven.

Woe to those who quarrel with their Maker,
those who are nothing but potsherds
among the potsherds on the ground.
Does the clay say to the potter,
'What are you making?'
Does your work say,
'The potter has no hands'?

Do not deceive yourselves. If any of you think you are wise by the standards of this age, you should become "fools" so that you may become wise.

Let the message of Christ dwell among you richly as you teach and admonish one another with all wisdom through psalms, hymns, and songs from the Spirit, singing to God with gratitude in your hearts.
For where your treasure is, there your heart will be also.
Personal Bible reading plan
Create an account to configure your Bible reading plan and you will see your progress and the next chapter to read here!
Read more...