Bible Verses about 'Ate'
«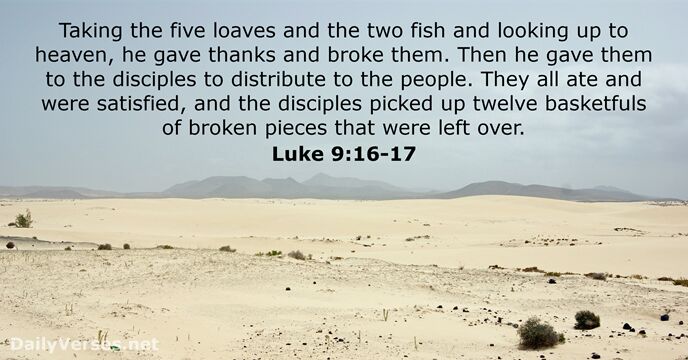 »
I ate no choice food; no meat or wine touched my lips; and I used no lotions at all until the three weeks were over.

Jesus, full of the Holy Spirit, left the Jordan and was led by the Spirit into the wilderness, where for forty days he was tempted by the devil. He ate nothing during those days, and at the end of them he was hungry.

Taking the five loaves and the two fish and looking up to heaven, he gave thanks and broke them. Then he gave them to the disciples to distribute to the people. They all ate and were satisfied, and the disciples picked up twelve basketfuls of broken pieces that were left over.

Every day they continued to meet together in the temple courts. They broke bread in their homes and ate together with glad and sincere hearts, praising God and enjoying the favor of all the people. And the Lord added to their number daily those who were being saved.

Moses was there with the L

ord

forty days and forty nights without eating bread or drinking water. And he wrote on the tablets the words of the covenant—the Ten Commandments.

One Sabbath Jesus was going through the grainfields, and as his disciples walked along, they began to pick some heads of grain. The Pharisees said to him, "Look, why are they doing what is unlawful on the Sabbath?" He answered, "Have you never read what David did when he and his companions were hungry and in need? In the days of Abiathar the high priest, he entered the house of God and ate the consecrated bread, which is lawful only for priests to eat. And he also gave some to his companions." Then he said to them, "The Sabbath was made for man, not man for the Sabbath. So the Son of Man is Lord even of the Sabbath."

So God created mankind in his own image,
in the image of God he created them;
male and female he created them.
The L

ord

is compassionate and gracious,
slow to anger, abounding in love.

You, however, must teach what is appropriate to sound doctrine.

If the world hates you, keep in mind that it hated me first.

It is a trap to dedicate something rashly
and only later to consider one's vows.

He must become greater; I must become less.

Finally, all of you, be like-minded, be sympathetic, love one another, be compassionate and humble.

Be kind and compassionate to one another, forgiving each other, just as in Christ God forgave you.

Finally, brothers and sisters, whatever is true, whatever is noble, whatever is right, whatever is pure, whatever is lovely, whatever is admirable—if anything is excellent or praiseworthy—think about such things.

A person's riches may ransom their life,
but the poor cannot respond to threatening rebukes.
A perverse person stirs up conflict,
and a gossip separates close friends.
For the L

ord

your God is gracious and compassionate. He will not turn his face from you if you return to him.

But whoever drinks the water I give them will never thirst. Indeed, the water I give them will become in them a spring of water welling up to eternal life.

"Go," said Jesus, "your faith has healed you." Immediately he received his sight and followed Jesus along the road.

Fathers, do not exasperate your children; instead, bring them up in the training and instruction of the Lord.

The L

ord

will vindicate me;
your love, L

ord

, endures forever—
do not abandon the works of your hands.

I also want the women to dress modestly, with decency and propriety, adorning themselves, not with elaborate hairstyles or gold or pearls or expensive clothes, but with good deeds, appropriate for women who profess to worship God.

Greater love has no one than this: to lay down one's life for one's friends.

I have no greater joy than to hear that my children are walking in the truth.
This is the confidence we have in approaching God: that if we ask anything according to his will, he hears us.
Personal Bible reading plan
Create an account to configure your Bible reading plan and you will see your progress and the next chapter to read here!
Read more...