Bible Verses about 'Whole'
«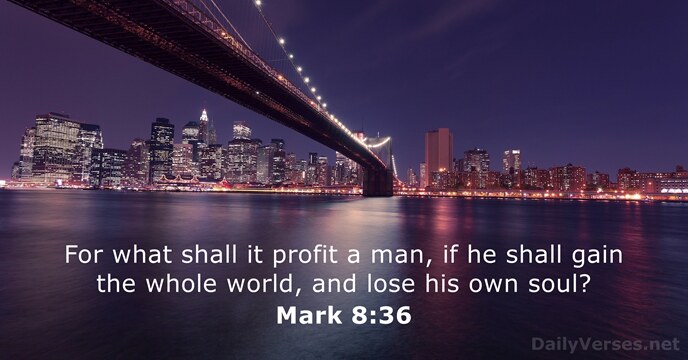 »
For what shall it profit a man, if he shall gain the whole world, and lose his own soul?

Let us hear the conclusion of the whole matter: Fear God, and keep his commandments: for this is the whole duty of man.

With my whole heart have I sought thee:
O let me not wander from thy commandments.
Blessed are they that keep his testimonies,
and that seek him with the whole heart.

And he is the propitiation for our sins: and not for ours only, but also for the sins of the whole world.

I will praise thee, O L

ord

, with my whole heart;
I will shew forth all thy marvellous works.

For what is a man profited, if he shall gain the whole world, and lose his own soul? or what shall a man give in exchange for his soul?

Put on the whole armour of God, that ye may be able to stand against the wiles of the devil.

For in many things we offend all. If any man offend not in word, the same is a perfect man, and able also to bridle the whole body.

Wherefore take unto you the whole armour of God, that ye may be able to withstand in the evil day, and having done all, to stand.

And if thy right eye offend thee, pluck it out, and cast it from thee: for it is profitable for thee that one of thy members should perish, and not that thy whole body should be cast into hell.

But when Jesus heard it, he answered him, saying, Fear not: believe only, and she shall be made whole.

I ate no pleasant bread, neither came flesh nor wine in my mouth, neither did I anoint myself at all, till three whole weeks were fulfilled.

But when Jesus heard that, he said unto them, They that be whole need not a physician, but they that are sick.

And Jesus said unto him, Go thy way; thy faith hath made thee whole. And immediately he received his sight, and followed Jesus in the way.

For all the law is fulfilled in one word, even in this; Thou shalt love thy neighbour as thyself.

O God, thou art my God;
early will I seek thee:
my soul thirsteth for thee,
my flesh longeth for thee
in a dry and thirsty land,
where no water is.
I wait for the L

ord

, my soul doth wait,
and in his word do I hope.
Bless the L

ord

, O my soul:
and all that is within me, bless his holy name.

And he said unto them, Go ye into all the world, and preach the gospel to every creature.

And when the day of Pentecost was fully come, they were all with one accord in one place. And suddenly there came a sound from heaven as of a rushing mighty wind, and it filled all the house where they were sitting.

O give thanks unto the L

ord

; call upon his name:
make known his deeds among the people.
And the L

ord

shall be king over all the earth: in that day shall there be one L

ord

, and his name one.
Before the mountains were brought forth,
or ever thou hadst formed the earth and the world,
even from everlasting to everlasting, thou art God.

For as the body is one, and hath many members, and all the members of that one body, being many, are one body: so also is Christ.
Let your conversation be without covetousness; and be content with such things as ye have: for he hath said, I will never leave thee, nor forsake thee.
Personal Bible reading plan
Create an account to configure your Bible reading plan and you will see your progress and the next chapter to read here!
Read more...