106 Bible Verses about Righteousness (4/5)
«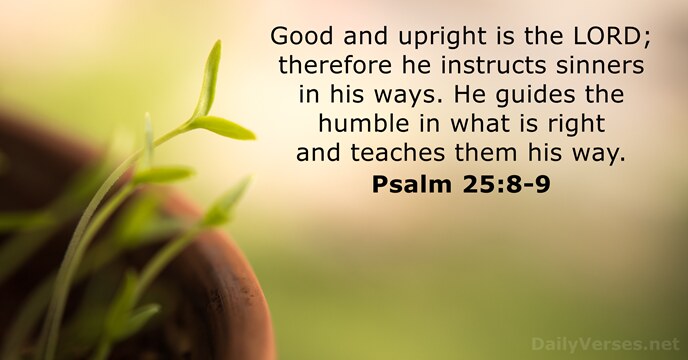 »
Good and upright is the L

ord

;
therefore he instructs sinners in his ways.
He guides the humble in what is right
and teaches them his way.

Therefore no one will be declared righteous in God's sight by the works of the law; rather, through the law we become conscious of our sin.

"If you listen carefully to the L

ord

your God and do what is right in his eyes, if you pay attention to his commands and keep all his decrees, I will not bring on you any of the diseases I brought on the Egyptians, for I am the L

ord

, who heals you."

Therefore, since we have been justified through faith, we have peace with God through our Lord Jesus Christ.

The tongue of the righteous is choice silver,
but the heart of the wicked is of little value.
I instruct you in the way of wisdom
and lead you along straight paths.
Let your eyes look straight ahead;
fix your gaze directly before you.

Do not offer any part of yourself to sin as an instrument of wickedness, but rather offer yourselves to God as those who have been brought from death to life; and offer every part of yourself to him as an instrument of righteousness.

My soul yearns for you in the night;
in the morning my spirit longs for you.
When your judgments come upon the earth,
the people of the world learn righteousness.
Do not turn to the right or the left;
keep your foot from evil.

Now I, Nebuchadnezzar, praise and exalt and glorify the King of heaven, because everything he does is right and all his ways are just. And those who walk in pride he is able to humble.

Yes, L

ord

, walking in the way of your laws,
we wait for you;
your name and renown
are the desire of our hearts.
But he knows the way that I take;
when he has tested me, I will come forth as gold.
My feet have closely followed his steps;
I have kept to his way without turning aside.
"See, the enemy is puffed up;
his desires are not upright—
but the righteous person will live by his faithfulness."

But the one who does not know and does things deserving punishment will be beaten with few blows. From everyone who has been given much, much will be demanded; and from the one who has been entrusted with much, much more will be asked.

The L

ord

gives sight to the blind,
the L

ord

lifts up those who are bowed down,
the L

ord

loves the righteous.

There is only one Lawgiver and Judge, the one who is able to save and destroy. But you—who are you to judge your neighbor?

Let the wicked forsake their ways
and the unrighteous their thoughts.
Let them turn to the L

ord

, and he will have mercy on them,
and to our God, for he will freely pardon.
Rejoice greatly, Daughter Zion!
Shout, Daughter Jerusalem!
See, your king comes to you,
righteous and victorious,
lowly and riding on a donkey,
on a colt, the foal of a donkey.

"I have the right to do anything," you say—but not everything is beneficial. "I have the right to do anything"—but not everything is constructive.

Then Peter began to speak: "I now realize how true it is that God does not show favoritism but accepts from every nation the one who fears him and does what is right."

We who are Jews by birth and not sinful Gentiles know that a person is not justified by the works of the law, but by faith in Jesus Christ. So we, too, have put our faith in Christ Jesus that we may be justified by faith in Christ and not by the works of the law, because by the works of the law no one will be justified.

The Almighty is beyond our reach and exalted in power;
in his justice and great righteousness, he does not oppress.

Come back to your senses as you ought, and stop sinning; for there are some who are ignorant of God—I say this to your shame.

For he guards the course of the just
and protects the way of his faithful ones.
Let the morning bring me word of your unfailing love,
for I have put my trust in you.
Show me the way I should go,
for to you I entrust my life.
As water reflects the face,
so one's life reflects the heart.
Read more
Let the morning bring me word of your unfailing love, for I have put my trust in you. Show me the way I should go, for to you I entrust my life.
Personal Bible reading plan
Create an account to configure your Bible read plan and you will see your progress and the next chapter to read here!
Read more...